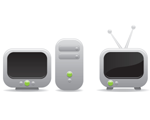 Television viewing and online video streaming go hand in hand — with the heaviest Internet users also watching the most TV, Nielsen reported Friday.
Internet users who rank among the top fifth in terms of time spent online also watch more than 250 minutes of television each day, according to Nielsen. In comparison, people who don't use the Internet at all watch just 220 minutes of TV per day.
The data comes from Nielsen's new TV/Internet Convergence Panel, which measures both TV and Internet usage within individual U.S. households. The panel consists of nearly 3,000 people in more than 1,000 households. TV viewing and Internet usage data are collected by Nielsen's electronic People Meters and NetSight meter software.
Internet and TV "multitasking" is also common among these heavy users, Nielsen found.
Almost one-third of home Internet use (31%) is accompanied by background TV viewing, while about 4% of TV viewing occurs when a consumer is also using the Internet, according to Nielsen.
Overall, more than 80% of people who watched TV and used the Internet in September used both simultaneously.
Teens were the most likely to use TV and Internet together, but adults ages 35 to 54 logged the most simultaneous Internet/TV usage minutes, according to Nielsen.
View the full press release.
Read coverage of Nielsen's findings by Reuters, the New York Post, the San Jose Mercury News, Media Post, Promo magazine, and TechRadar.com.
Submit questions about Nielsen's TV/Internet convergence research to Howard Shimmel, who oversees Nielsen's Convergence Panel, by commenting below.