The Nielsen Company today reported that as of the third quarter of 2010, 28 percent of U.S. mobile subscribers now have smartphones, cellphones with operating systems resembling those of computers.
The growing popularity of smartphones like Apple's iPhone, RIM's Blackberry devices and a variety of Google Android-based models on the market, has accelerated the adoption rate. Among those who acquired a new cellphone in the past six months, 41 percent opted for a smartphone over a standard feature phone, up from 35 percent last quarter.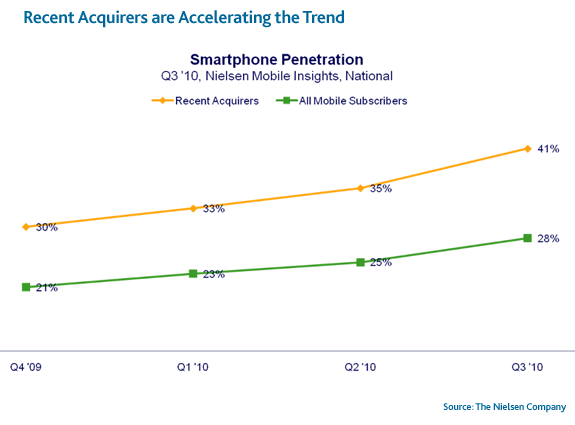 Compared to Europe, this puts the U.S. on a par with the U.K., which has a similar smartphone penetration rate, but well behind Spain, which boasted a smartphone penetration rate of 37 percent last quarter, and Italy, which had a smartphone penetration rate of 33 percent last quarter.  According to Nielsen's new Global Smartphone Report, Symbian is the most popular smartphone operating system in Europe.
In the U.S., the Apple iPhone OS has practically caught up to the RIM Blackberry OS, with 28 percent and 30 percent marketshare respectively. Meanwhile, Google's Android OS is now at 19 percent and growing. Among those who chose a device in the last six months, however, Android took the lead in Q3, while RIM Blackberry and Apple iPhone are practically tied for second place.
While owners of Android smartphones tend to be younger than those attracted to other operating systems – 50 percent of Android owners are under the age of 35 – Apple has the most smartphone users under the age of 44.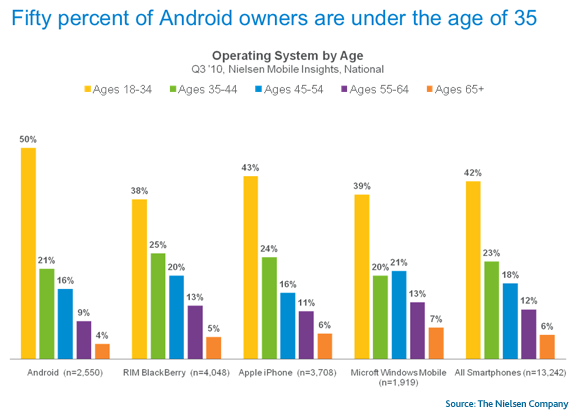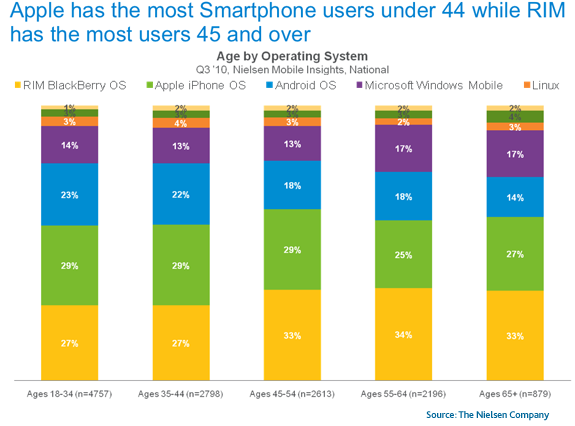 Interestingly enough, smartphone owners in the U.S. are more diverse than their featurephone counterparts: One in five smartphone owners are Latino, compared to just 9 percent of featurephone owners.