Advertising spending in Indonesia posted robust growth in 2010, rising 23% to a total of Rp 60 trillion, according to an analysis by The Nielsen Company. This marked the highest increase since 2006 and was due in large part to the number of special sports events occurring during the year, particularly the World Cup and the AFF Suzuki Cup. Broadcasts of soccer matches occupied all ten spots of the most viewed programs, with the AFF beating out the World Cup as Indonesia's national team progressed to the finals.
TV continued to be the media of choice for advertisers, accounting for more than 60% of ad spending, followed by newspapers (34%) and magazines (3%). All media showed growth during the year, but TV led the way with a 26% increase due largely to the World Cup. Newspapers were up 19% while magazine ad spending grew 10%. The telecom sector was the top advertiser, spending more than Rp 5 trillion in 2010, up 43% from 2009. Seven of the top 10 spenders in all media were telecom providers.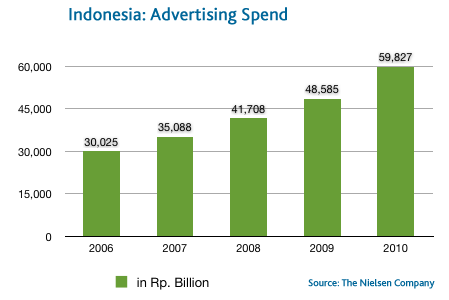 Indonesian TV viewers spent an average of 4:22 (hr:min) watching TV each day, an increase of 5 minutes from 2009. Sports programming saw an up tick in viewing (from an average of 33 hours viewed a year in 2009 to 42 hours in 2010) while soap operas saw a decline (from an average of 204 hours viewed a year in 2009 to 139 hours in 2010). TV ratings were relatively stable throughout the year, with the fourth quarter showing an 8% increase.
"The end of the year saw a number of events that boosted TV viewing. Natural disasters in Mentawai and Merapi occurred in October and November, President Obama visited Indonesia in November and of course, the live broadcast of the AFF Suzuki Cup at the end of the year all drew in more viewers," explained Irawati Pratignyo, Managing Director, Audience Measurement for Nielsen in Indonesia.