Moms are at the center of their family's offline life, so it's little surprise that they're also at the center of many of the biggest trends online as well. Whether to look up the latest product reviews or to connect with friends, families, and even brands through social networks, American moms are particularly active and influential online.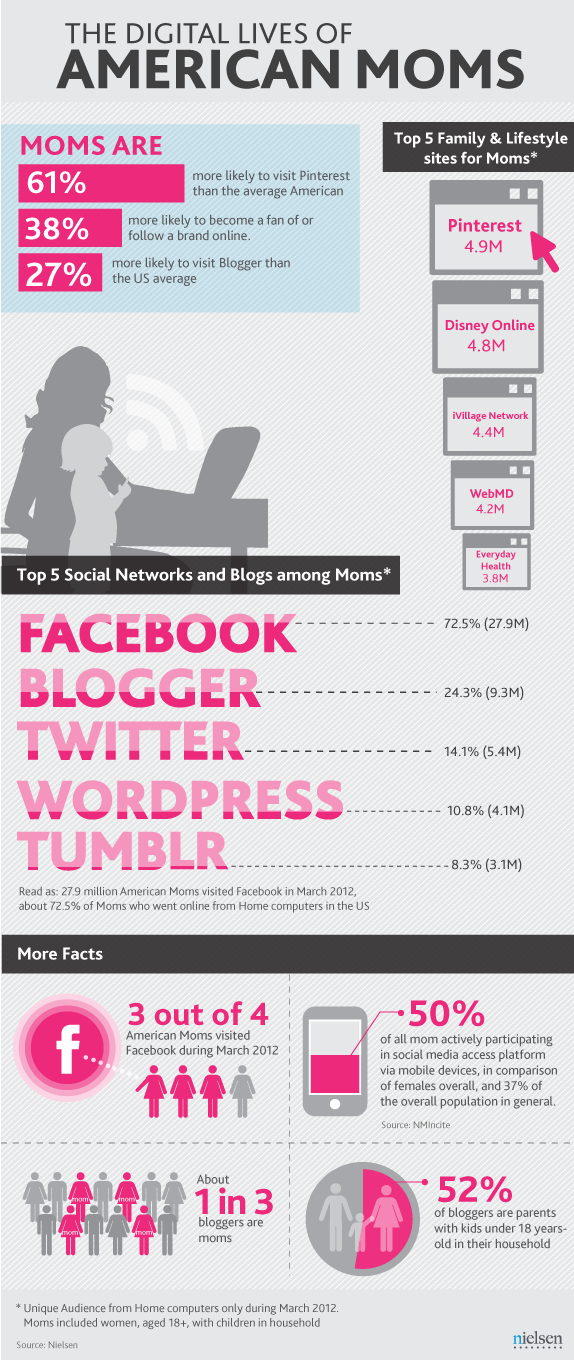 Social Networking
American moms use social media frequently, with nearly three out of four moms visiting Facebook during March 2012. When using social media, moms are 38 percent more likely to become a fan of or follow a brand online, and moms who blog are more than twice as likely to follow brands and celebrities compared to the online average.
Moms visit blogs more often, and are 27 percent more likely to visit Blogger and 26 percent more likely to visit WordPress.com than the general online population. In fact about one in three bloggers are moms, and 52 percent of bloggers are parents with kids under 18 in their household.
Shopping and Surfing
To help save time and money, many moms shop online; moms are 35 percent more likely to shop for clothes, 50 percent more likely to buy toys, 29 percent more likely to buy music, and 23 percent more likely to purchase e-books online within the past 30 days. When browsing the web Pinterest is an increasing popular as well, with almost 5 million American moms visiting the site, representing more than a third of their unique visitors from home computers during March 2012.
According to an earlier study by NM Incite, at least half of moms use social media via mobile devices, compared to 37 percent of the online population. Overall 54 percent of moms own smartphones (among US mobile subscribers), keeping them connected with family and friends.
To learn more about the digital habits of moms, sign-up for Nielsen's upcoming webinar, The American Media Mom: Always-On, In Control, and Changing the Rules for Marketers