When it comes to buying and consuming different forms of media, there is no one-size-fits-all preference. Some of us tend to be on the cutting edge of technological advances, while others enjoy reading, watching and listening in more established ways. And consumer preferences have as much to do with spending power as they do with ethnic background.
According to Nielsen's recent U.S. Consumer Entertainment Report, purchasing power affects the type of entertainment that consumers buy as well as the format that it comes in. Purchasing behavior also varies by ethnicity.
Take music for example. Physical CD buyers were least likely to be Asian-American, while streaming music buyers were most likely to be Asian-Americans.
What's more, Asian-American Internet users were also most likely to be at the point of sale when it came to buying movie and TV content, regardless of delivery. In fact, adult internet users who shelled out bucks for streaming services were 73 percent more likely than the average U.S. adult online to be Asian-American.
When it came to streaming service and digital music purchasers, Hispanic Internet users were more likely than the average Internet consumer. Adult internet users who purchased streaming services were 28 percent more likely to be Hispanic, and when it came to buying digital tunes, they were 5 percent more likely to be Hispanic.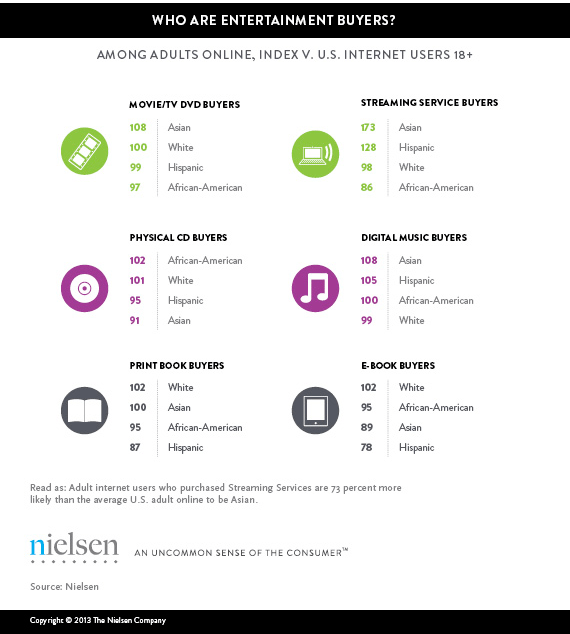 For more information on entertainment consumers, download Nielsen's U.S. Entertainment Consumer Report.