More consumers than ever are staying connected using smartphones, but which handsets are they choosing? The answers are as diverse as this still-growing segment, which accounted for 62 percent of mobile subscribers in the U.S. as of Q2 2013. The answers also vary depending on whether the tally is based on operating system or device manufacturer.
For those keeping tabs of OS share, fifty-two percent of smartphones in the U.S. run on the Android operating system, which allows manufacturers to include an array of custom configurations to meet consumer's desires—everything from sharper cameras to longer-lasting batteries.  Samsung was the largest manufacturer among Android phones, with nearly a quarter (24%) of all smartphones owned in the U.S. Adding to Android's appeal were handsets by HTC (9%), Motorola (9%) and LG (7%). The remainder of Android phones, about 3 percent, came from a dozen additional manufacturers, showing the power of branding for the tech companies better known for their Android handsets.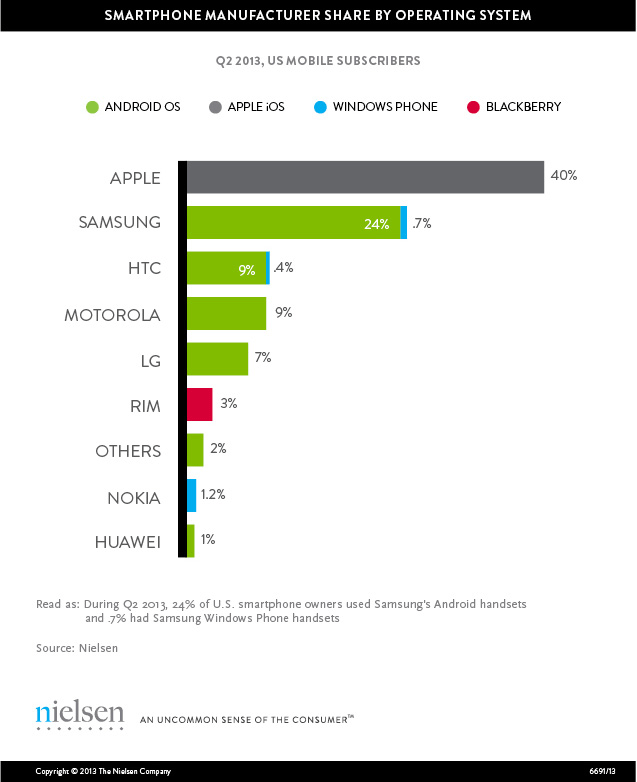 But Android's market share only tells half the story. That's because 40 percent of smartphone owners in the U.S. own an Apple iPhone. Most recently, Apple was able to increase its share among smartphone owners another 6 percentage points after releasing the iPhone 5, up from 34 percent a year earlier in Q2 2012.
Those gains came at the expense of smaller manufacturers like RIM, whose Blackberry devices now represent just 3 percent of the smartphone market in the U.S. But even while Android and iPhone dominate the smartphone market, Windows Phone continues to grow its base of mobile owners, now accounting for more than 2 percent of the smartphone market. And most Windows Phone owners choose Nokia's flagship handsets.