How much time do you spend watching TV a day? How much time do you spend online? According to the latest 2015 media survey by Nielsen Media Research, 88% of Taiwanese consumers aged 12-65 watch TV, and TV is still ranked among the top five media (TV, newspapers, magazines, radio and the Internet) First, the average time spent on TV is 2 hours and 42 minutes, a slight decrease of 8 minutes per day compared to last year.
The second largest media, the Internet, has increased its exposure ratio by 10 percentage points to 79% compared with last year, which means that nearly 80% of consumers aged 12-65 go online. Among them, among consumers aged 12-39, the Internet contact rate In addition, the Internet is also the second largest media among consumers of baby boomers aged 50-65, with 46.6% of the baby boomers going online yesterday.
Taiwanese consumers spend an average of 3 hours and 38 minutes a day online, although a slight decrease of 11 minutes from 2014, but on average they spend more than one full day (more than 25 hours) online a week.
Multi-firefly new normal
While watching TV, viewers also use other media, such as newspapers (6.7%), magazines (3.9%), and listening to the radio (2.6%), but the other two screens—the internet and mobile phones—are the most distracting for TV viewers , about a quarter (24.4%) of viewers watch TV while surfing the Internet, an increase of 6.2 percentage points compared with 2014, and more than 31.8% of viewers watch TV while playing with mobile phones, an increase of 5.6 percentage points compared with 2014 , In addition, another screen – tablet, 6.8% of TV viewers watch TV while also using a tablet.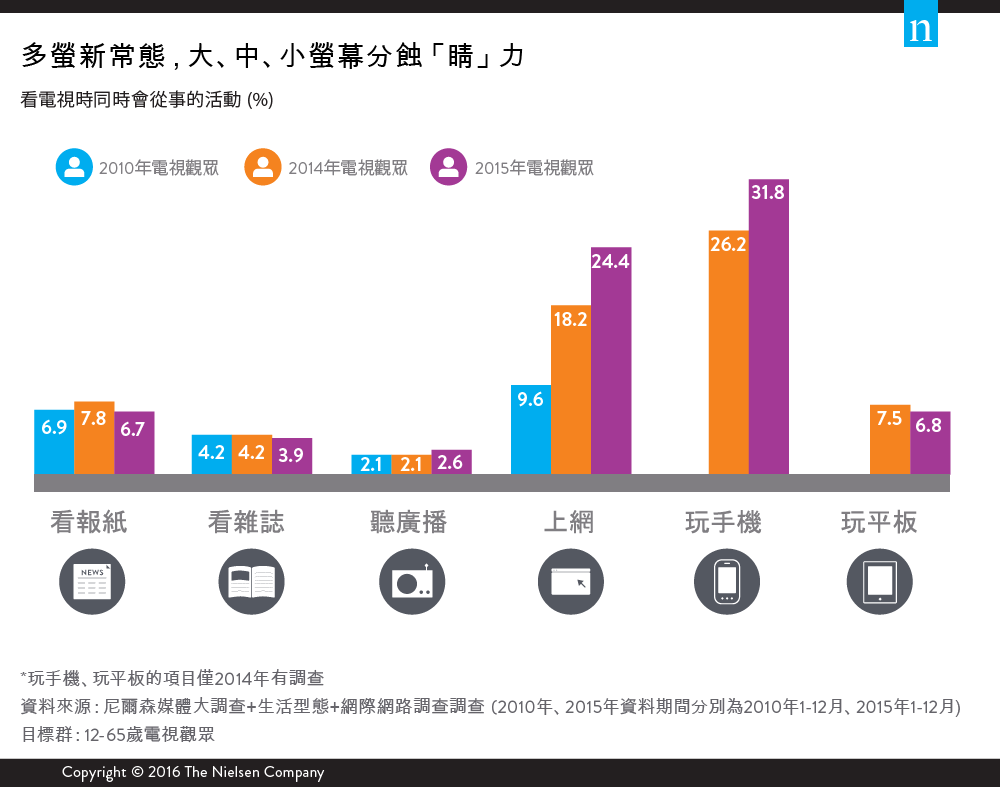 To learn more about the "2015 Nielsen Media Use Behavior Research Report", please click "Request Download Report" on the right column