If there's one thing audiences want when they tune in to watch a program, it's to see stories and experiences they can relate to. That's the basic premise of representation, and it can have a direct impact on viewership. It can also fuel an audience's appetite to watch more content—a critical component to success in an ever-growing landscape of content choice.
According to Nielsen's latest Attitudes on Representation on TV study, 34% of respondents said they don't think there is enough content that represents them. Among certain ethnic groups, the perceptions are more extreme.
Respondents in the study also noted the impact of representation on their viewing behaviors, as 53% said they would be more likely to watch inclusive content—up from 47% in 2021.
To validate the importance of representation in content, we used Gracenote Inclusion Analytics to look at the most viewed streaming programming and the representation within those programs in the 2021-22 TV season. We then applied a new Nielsen Gracenote data set that can be used to assess the likelihood that an audience will watch additional episodes. Among the more than 973 streaming titles, 326 had bingeability scores of 3 or higher. On the bingeability scale, programs with a score of 3 or higher are considered highly bingeable. Of these highly bingeable programs, 232—more than 71%—were inclusive of one or more under-represented racial/ethnic identity groups.
In a more focused analysis, Nielsen looked at a selection of linear and streaming programs with Native American and Indigenous representation levels above their representation in the U.S. (2.9%). In each case, the content attracted new audiences and maintained a sizeable portion of the audience after viewers watched the program they came to see.
Season 2 of Reservation Dogs, which debuted on Hulu in 2021, attracted 1.4 million viewers who had not watched any content on Hulu before coming to watch Reservation Dogs. Of this audience, 23% stayed to watch other content in addition to Reservation Dogs.
Dark Winds, a 2022 drama airing on AMC, attracted 2.8 million viewers who had not watched any content on AMC before coming to watch Dark Winds. Of this audience, 15% stayed to watch other content in addition to Dark Winds.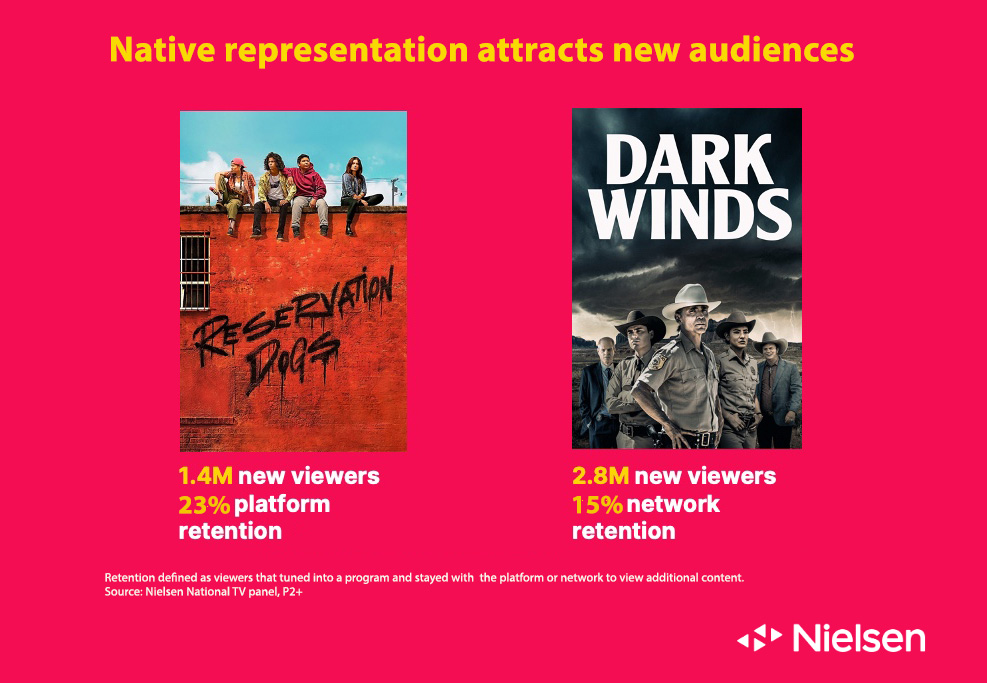 While these analyses highlight the power of representative content, they also illuminate the impact of delivering relevant content to audiences—something that will grow increasingly challenging as new programming and services come to market. In September 2022, for example, there were more than 923,000 video titles2 available to audiences across linear programming and streaming services. Of those titles, more than 778,000 were on streaming platforms.
That expanse of programming, which is up from just over 646,000 back in December 2019, makes it increasingly difficult for audiences to find what they're looking for—especially if they don't know what they're specifically looking for. According to Nielsen's latest streaming content consumer survey, 24% of streaming audiences don't know what they want to watch before they start searching. That, plus the growth of content and platforms, has a direct impact on the time audiences spend looking instead of watching. And if they can't find something to watch, a service runs the risk of losing them to a different one.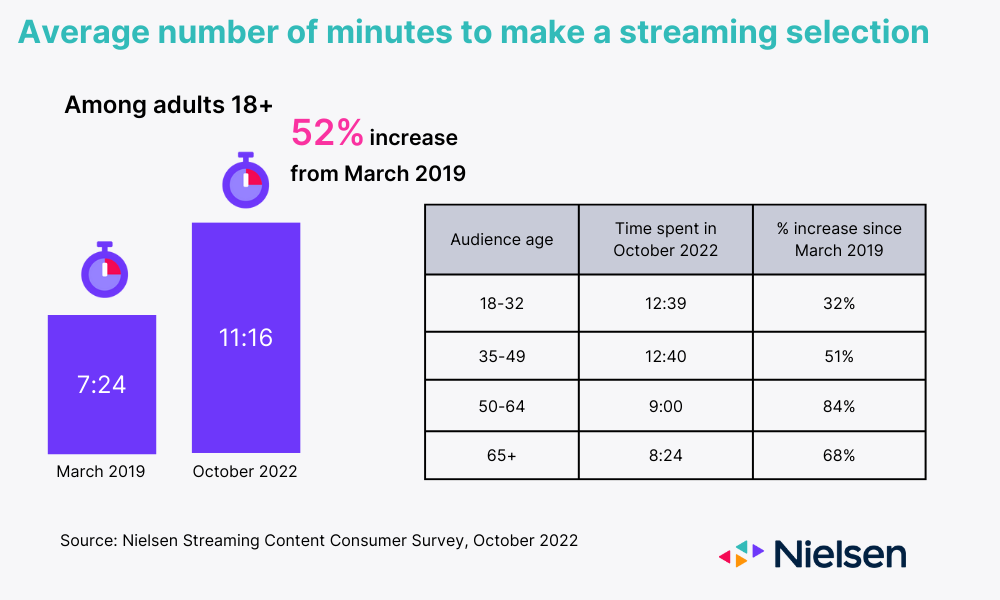 Time spent searching aside, streaming video now represents the future of how audiences will engage with TV content. Between October 2021 and October 2022, audiences increased their weekly time spent streaming by more than 30%. And as TV viewing surged during the year-end holidays, streaming had grown to account for 38.1% of total TV usage in December, up from 27.7% a year earlier. The immense amount of program choice and fragmentation across services speaks to the importance of delivering relevant options to content-hungry audiences. For creators, publishers and distributors looking to maximize audience engagement, representation is a powerful lever.
For additional insights on the impact of diverse talent in media, download our Being Seen on Screen report.
Notes
Bingeability scores measure the average number of show episodes viewers watched per day to quantify viewer propensity to consume multiple episodes in a row.
Gracenote Global Video Data