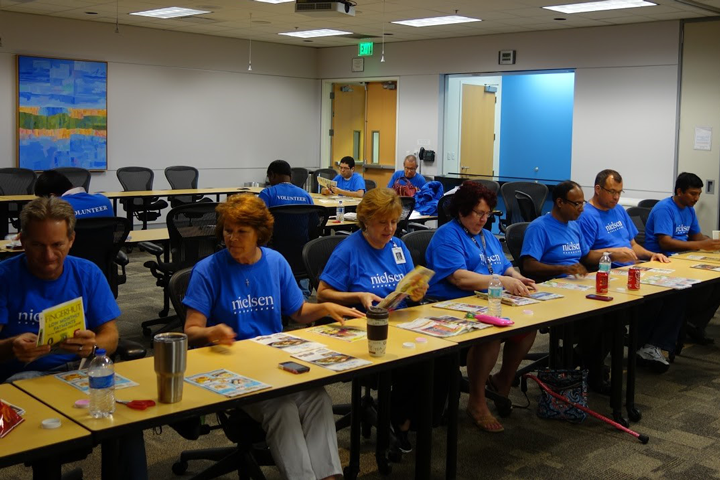 For four years, members of Nielsen's SERV (Support and Employee Resources for Veterans) employee resource group (ERG) has collaborated with Support Our Troops®, a nationwide non-profit organization. The mission of this organization is to supply support and uplift the spirits for military service men and women overseas. Troopons® is an initiative supported by the organization that sends unused coupons to the troops and their families overseas. The 2016 tally is in, and members from SERV's Midwest and Southeast regions in the U.S. clipped coupons for a total value of about $1.2 million to send to military families.
"It's an easy way to make a big difference in [the troops] lives," said Chad Dreas, Managing Director, Media Analytics and SERV Executive Sponsor. "Shopping abroad can be especially tough for military families, because currency exchange rates don't always benefit them, meaning their earnings may not go as far as they would at home." U.S. dollars saved on-site at the commissary and base/post exchange helps them stretch their earnings for goods and services purchased in the local community.
Since this opportunity was presented to SERV members, the Midwest and Southeast regions have taken on the challenge to increase participation and donation totals each year. The 2016 coupon values jumped 706% from 2013 when the alliance began. Because Troopons is a nonprofit, minimizing costs to the organization is important. So SERV members have found ways to use internal Nielsen resources to source, clip, sort and tally coupons, before shipping the coupons to Troopons.
In the Midwest region, our Buy Operations in Fond du Lac, Wis., collected coupons from the newspapers they review for feature coding—matching feature data (data collected nationwide from newspapers, supplements, circulars and mailers) to scan data to see if sales affected trends. Boxes with 20 lbs. of coupons each would be shipped to our Schaumburg, Ill., where coupon cutting events were organized to bring SERV members and colleagues together.
In the Southeast region, during a Nielsen Global Impact Day event last year, 20 associates clipped coupons for about five hours. Like the events in other offices, the session doubled as a networking event among colleagues.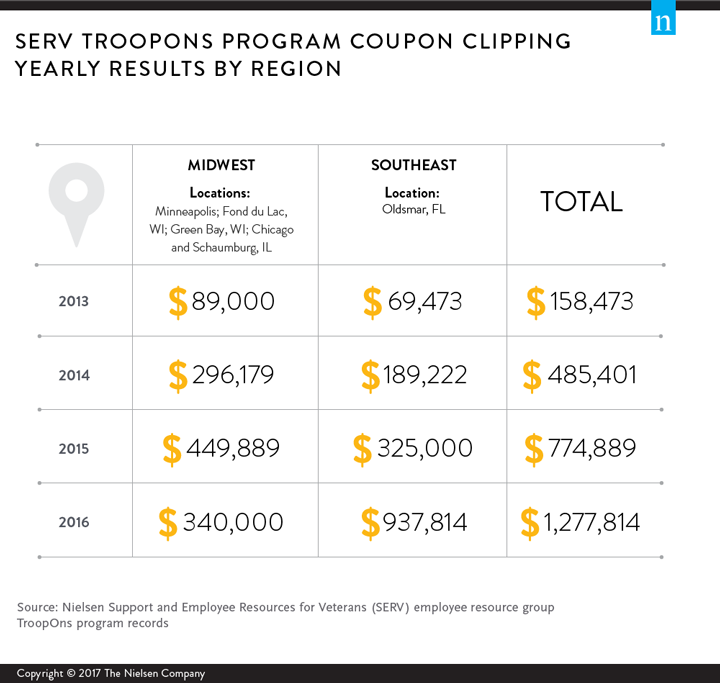 For more information, visit Troopons and Support Our Troops.