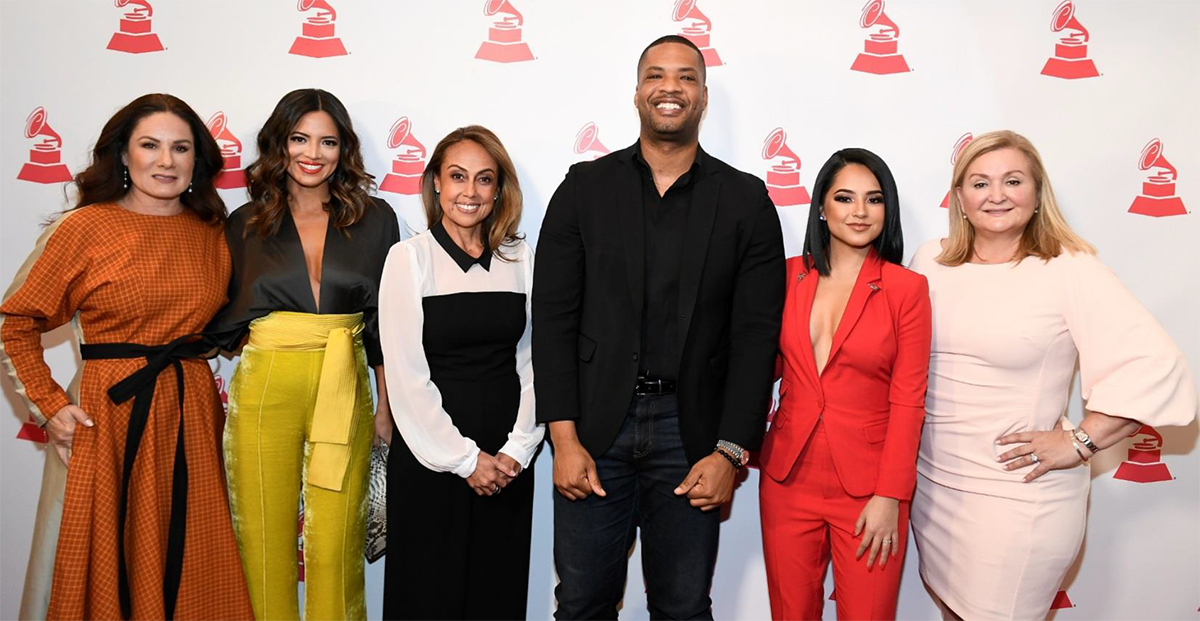 On Tuesday, Nov. 13, 2018, Nielsen joined the Latin Academy of Recording Arts & Sciences as sponsor of the Leading Ladies Luncheon for the second consecutive year. The event, set in the midst of the star-studded Latin GRAMMYs week in Las Vegas, honors Latinas within the arts and entertainment industries who have made significant and indelible impressions on—and contributions to—their fields.
Actress Gloria Calzada, who hosted the event shared relevant insights throughout the program from our latest Latinx Diverse Intelligence Series consumer report, Descubrimiento Digital: The Online Lives of Latinx Consumers. The insights detailed how U.S. Hispanics see music as a primary vehicle for expressing themselves and their culture and how these sentiments influence purchasing and listening habits. In addition, Nielsen's Stacie de Armas, VP, Strategic Initiatives and Consumer Engagement, and Drew McCaskill, SVP, Global Communications and Multicultural Marketing at Nielsen, represented us at the luncheon and shared their knowledge and further insights from the report with attendees.
Our sponsorship of the luncheon gave us the opportunity to recognize the impact of the honorees in their respective fields, while also sharing the business impact of diverse consumers in those industries, for an audience that included many of Nielsen's own clients.
"Nielsen has released six reports on U.S. Hispanic consumers over the past several years. Each year, we've proven—in progressively greater detail—that music is a cornerstone of Latinx life," said Stacie. "The Leading Ladies luncheon gave us the perfect opportunity to share these insights with decision makers within the Latin music industry, as well as with the brands and platforms hoping to leverage Hispanics' love for music. These individuals, companies and brands can use our data to make informed decisions about their U.S. Hispanic outreach."
The 2018 honorees included Rebbeca Gomez, better known as Becky G, an award-winning singer, songwriter, and actress; Cynthia Hudson, SVP and GM, CNN en Español and Hispanic Strategy for CNN/U.S.; Delia Orjuela, VP, Creative—Latin Music, BMI; and Pamela Silva Conde, a six-time Emmy-winning journalist and Co-anchor of Univision's Primer Impacto. Pamela was previously interviewed as part of Nielsen's Representation Matters video series, released during Hispanic Heritage Month earlier this year.
"Our continued collaboration with the Latin GRAMMYs has allowed us to be involved in cultural discourse at the highest levels of Latin music, news and entertainment," said Drew. "This year's Leading Ladies have shaped their industries through sheer talent and determination. Our data helped to quantify that impact, and provided valuable context for the celebration."
Pictured above: Nielsen's Drew McCaskill with the 2018 Latin GRAMMYs Leading Ladies honorees. From left: Gloria Calzada, Pamela Silva Conde, Delia Orjuela, Drew McCaskill, Becky G and Cynthia Hudson.