Nielsen research shows that green marketing by automakers effectively drives customers to the showroom.  Ford, Honda, Toyota, Chevrolet and Nissan have taken that idea to heart—and are now finalists for the third annual Nielsen Automotive Green Marketer of the Year award. Recognizing the brand that made the greatest strides to both gain consumer awareness and positively impact consumer perceptions around the automotive industry's environmentally friendly initiatives, the award will be presented at the Los Angeles International Auto Show on November 29.
In 2012, the impact of green advertising  on purchase consideration was 20 percent higher among consumers compared to 2011.  Environmentally friendly features are also gaining steam. Of particular note, 76 percent of consumers interviewed said that high fuel efficiency and MPG is something a vehicle must have to be considered for purchase.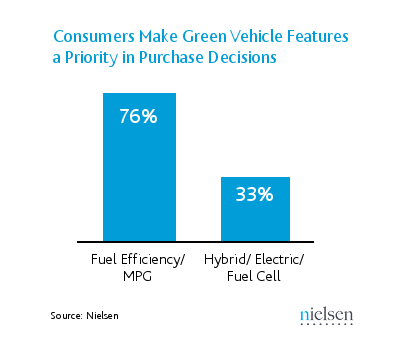 "The topic of green marketing continues to gain momentum and is critical for a brand to be considered by today's consumer," said Lois Miller, president, Nielsen Global Automotive. "Our research identifies how effective auto manufacturers are in raising awareness of their green products, initiatives and innovations. We can then understand if they were able to change perceptions and consideration in a positive way among consumers."
Methodology
In order to determine the finalists and winner, Nielsen leveraged three research studies to incorporate awareness levels and perceptions across media types. The studies included:
A custom survey of nearly 2,600 consumers' cross-media awareness and perceptions of environmental messages by automotive brand
Response data from 6 million viewers of national television advertising collected by Nielsen's ad effectiveness measurements service, focusing on green automotive ads
Measuring social media "buzz" sentiment within green-related discussion threads, based on over 115,000 social media messages
Auto manufacturers that ran any national TV ads with green themes between October 2011 and September 2012 were eligible for consideration.