Rihanna, Bruno Mars, Drake, Selena Gomez, Janelle Monáe—many of the artists on the charts today are young and multicultural, just like their fans.
Millennials are more racially and ethnically diverse than any previous generation in the U.S.—40 percent identify as African-American, Asian-American or Hispanic. This young and diverse generation makes up 24 percent of the country's overall population (the same as Baby Boomers), and their spending power is growing. That's good news for industries they favor, like music. Multicultural consumers spend, on average, $7 more on music than the total market, accounting for 31 percent of total spending on music.
So who are these Millennial Multicultural music listeners?
According to the Listen Up: Music & the Multicultural Consumer report, Multicultural consumers are more likely to attend live concerts and music festivals, spending $50 on live music annually, compared with $48 for non-Hispanic white consumers. Multicultural consumers also prefer customizing playlists on streaming services more than the total population. And they share what they find on social media: 48 percent "like" Facebook posts from musical artists and bands (vs. 42% for the total population), and 43 percent shared music through Facebook, Twitter, email or other digital mediums (vs. 37%).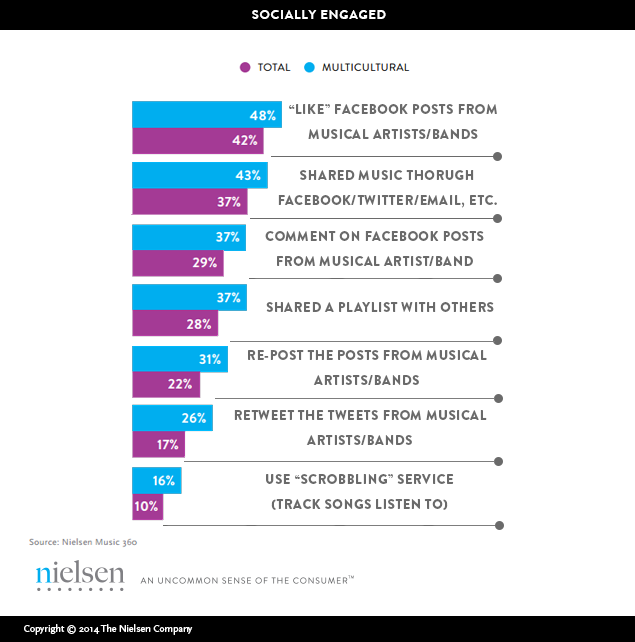 With 53 percent of the Multicultural population is under age 35, these consumers are using social media and technology to connect—whether it be with the artists they listen to or with each other. Technology is part of the Millennial identity as a generation. They're the first to come of age with cable TV, the Internet and cell phones. When asked what makes their generation unique, Millennials ranked "Technology Use" first (24%), followed by "Music/Pop Culture" (11%), "Liberal/Tolerant" (7%), "Smarter" (6%) and "Clothes" (5%).
Given their tech enthusiasm, Multicultural consumers use multiple devices. For example, this segment is less likely than the total population to listen to music on traditional radios and home stereo systems. But smartphones play an important role in bridging the digital divide and providing an Internet connection in many homes that have bypassed home-based Internet services. And while the overall reach of radio is larger, Multicultural consumers are more likely to listen to music on mobile devices such as Android smartphones, iPhones and PC laptops. Half of Multicultural music listeners listen to Internet/streaming radio services (vs. 44% for the whole population), and 18% use on demand audio streaming (vs. 14%).
Millennials are glued to their smartphones, making mobile an efficient way to reach them. They use smartphones more than any other generation, since three out of four owned them as of Q1 2013. An astounding 83 percent say that they sleep with their smartphones, compared with 50 percent of Boomers. And they're more than 1.5 times more likely than average to own an iPhone.
Despite similarities in how Millennials connect, companies shouldn't stereotype this group. Millennial interests and priorities are eclectic and fragmented despite being better connected. And among Multicultural listeners, there is certainly diversity in preferred music genres. Although the group lists traditional genres like R&B, Hip-Hop and Top 40 Pop as favorites, popular cultural genres among Millennials include K-Pop, J-Pop, Regional Mexican, Bollywood and Spanish Contemporary. Emerging genre preferences for Multicultural listeners are rooted in the desire to stay connected to their country of origin, particularly with Asian and Latino listeners.
For example, while 65 percent of Millennial Hispanics are U.S. born, the group is more bilingual than other generations. As they maintain cultural ties, many ethnic consumers are moving willingly, competently and seamlessly across multiple cultures. These Ambicultural consumers are driving the trends in the new mainstream. They're also bending and redrawing the boundaries that define the mainstream music industry today.
This diversity, however, doesn't mean companies can't reach them. In fact, across the board, Multicultural consumers react more positively to music engagement via brand marketing than the total market.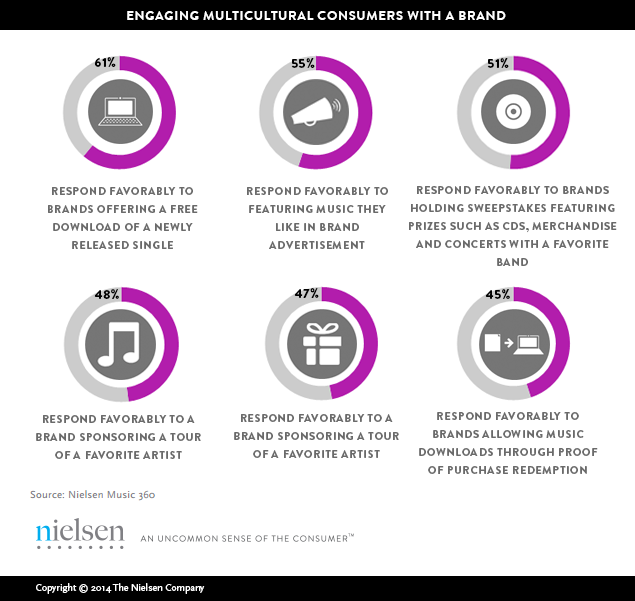 Artists often capture the Ambicultural experience in ways that other media haven't. Multiculturals say music provides a connection to their unique identity and cultural journey. Some musicians are seen as role models who personify their personal experiences, often giving a voice to youth and the community. And Millennials as a whole are influenced by celebrity endorsements: 50 percent of Millennials will try a brand/product if a celebrity sponsors an event for a music artist they like.
But keep it real. From the goods they purchase to their interaction with companies, Millennials put a premium on authenticity, creativity, scarcity and distinctiveness. They believe and admire celebrities that are social and engaged with their fans, so celebrity endorsements presented in a real/authentic way to appeal to them. Creating a two-way conversation through social media will allow these young and diverse consumers provide input and, better yet, become brand ambassadors.