New findings from the Nielsen Global Survey of Automotive Demand reveal that Australia represents a large growth opportunity for the automotive industry with almost three in five (58%) online Australians planning on buying a new or used car in the next two years. Capturing this opportunity, however, hinges on marketers successfully identifying, understanding and effectively connecting with buyers' needs and desires, and developing marketing strategies that connect the right consumers with the right automotive brands.
Through this study, we found there are three emerging trends that automotive marketers need to consider in their growth strategy. Ultimately, all of these trends show that the buyers of tomorrow require a much more nimble and blended marketing approach.
Strategy 1: Create a Fluid Approach for Marketing New and Used Cars
The purchase needs and aspirations between new and used car buyers are quite fluid, particularly in a mature market like Australia where online shopping happens seamlessly for both. How you influence consumers as they shift between vehicles is a key step in the purchase process.
According to the Nielsen report, new car purchase intent is stronger among online Australians – more than one in three (34%) say they will buy a new car in the next two years, compared with 24 percent who plan to buy a used car.
Factors that influence purchase are different for a new versus used car buyer, or a first-time buyer versus an existing owner. The Nielsen Australian Automotive Report 2012 found that both new and used car buyers were most interested in using online content to book a test drive and to receive helpful tips; while used car buyers were far more interested in accessing a virtual tour of the car interior, and viewing comparison tables and safety specs than the new car buyers.
Getting to the heart of what drives purchase decisions allows you to fine-tune your marketing strategies to address the unique needs of the buyers in your market.
Strategy 2: Focus More on the Emotional Connection as the Why to Buy
As auto marketers know, connecting with how people feel as much as how they think can be a powerful motivator. The role the car plays in the consumer's life is one key to unlocking the drivers of demand.
Among online Australians who have a car in the household and intend on purchasing a new or used car in the next two years, utility plays an important role with more than three in four (77%) saying the car is simply a tool to get them to where they need to go, and 68 percent saying having access to a car is what matters most – regardless of whether it is theirs or not.
Almost nine in 10 (85%) online Australian car owners in the market for a new car intend to upgrade to a better car when they are financially able, while 43 percent view their car as an important symbol of success.
Among this same group of consumers, having a strong emotional connection and attachment with their car is also important with three in four (75%) saying they love to drive, and 72 percent viewing their car as a 'good friend or buddy'.Understanding the motivators of car-buying intenders allows marketers to create messaging that will resonate strongly. Connecting with the emotions that pull at the heartstrings can leave important markers on the roadmap through the path to purchase. If you know that consumers are driven by status, then sales efforts centred on the luxury car market should be a priority focus. Similarly, with utility-minded, finance-driven or driver-enthusiast consumers, a keen focus on their desires will ensure that your strategies are proactive and aligned with their needs.
Strategy 3: Invest in Your Own Online Assets for Maximum Impact
From traditional media outlets—such as TV, newspapers, magazines and radio—to still-developing online and mobile platforms, it can be difficult to know which method is the best way to reach your intended audience. While a mix across media platforms typically proves most effective, findings from Nielsen's Media Consumption Survey from 2012–2013 across 11 countries show that advertising via online platforms resonates as most helpful when buying a new vehicle.
The Nielsen Australian Automotive Report 2012 found that for new car buyers, visiting the dealer and using online resources are the lead sources of information during the research phase of the decision-making journey. For used car buyers, online media is the most utilised resource at this stage. Print resources and word of mouth communications are also popular resources for research, helping car buyers to narrow their consideration set and move further through the purchase funnel.
Motivations that will Drive Future Car Sales
% who intend to buy a new or used car in the next two years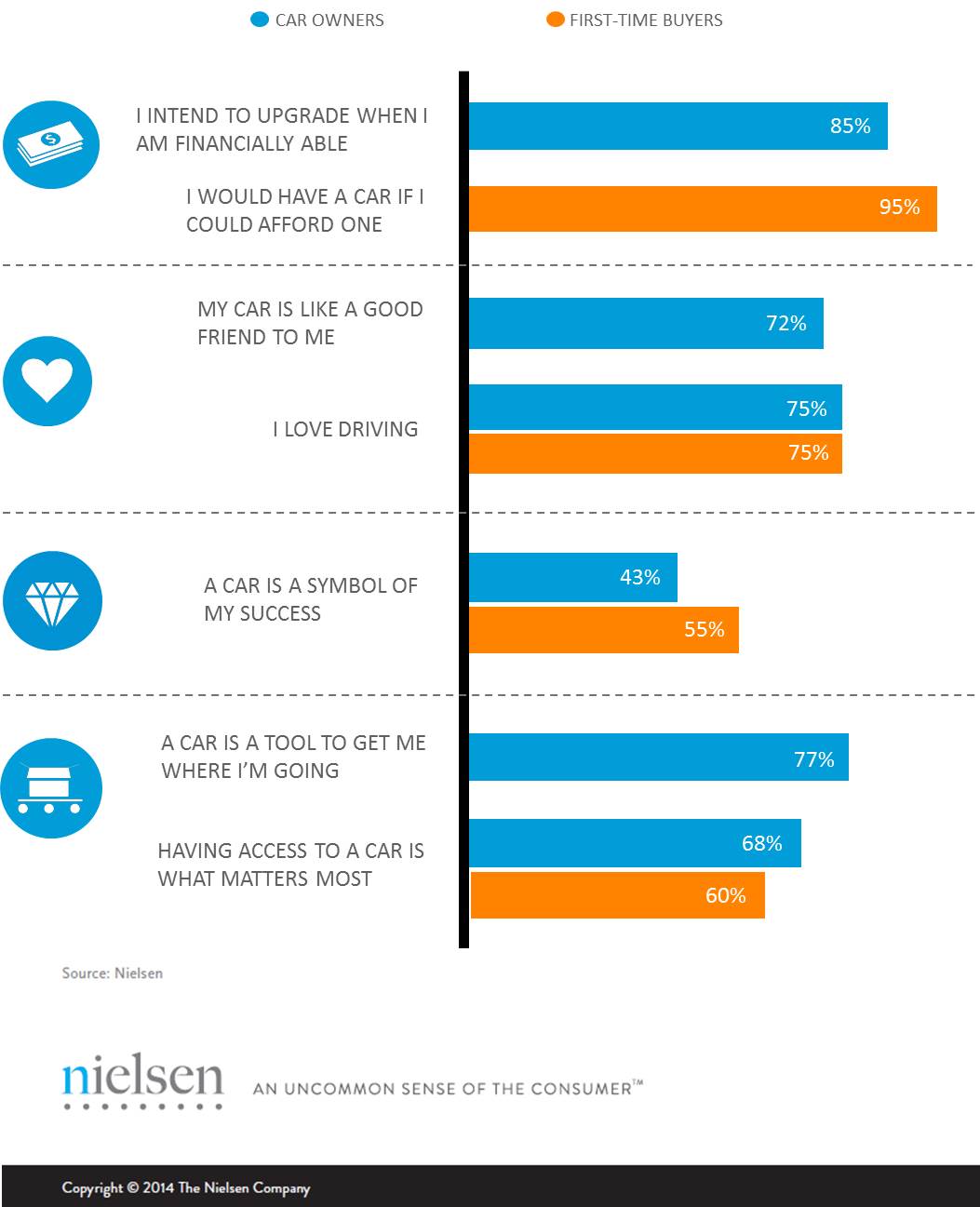 Source: Nielsen Global Survey of Automotive Demand, Q3 2013
Click here to download Nielsen's Global Report on Automotive Demand
About the Nielsen Global SurveyThe Nielsen Global Survey of Automotive Demand was conducted between August 14 and September 6, 2013, and polled more than 30,000 online consumers in 60 countries throughout Asia-Pacific, Europe, Latin America, the Middle East, Africa and North America. The sample has quotas based on age and sex for each country based on their Internet users and is weighted to be representative of Internet consumers. It has a maximum margin of error of ±0.6%. This Nielsen survey is based on the behaviour of respondents with online access only. Internet penetration rates vary by country. Nielsen uses a minimum reporting standard of 60 percent Internet penetration or an online population of 10 million for survey inclusion. The Nielsen Global Survey, which includes the Global Consumer Confidence Index, was established in 2005.
About the Nielsen Media Consumption StudyThe Nielsen Media Consumption Study was conducted in 2012-2013 and polled more than 85,000 consumers in 11 countries using a combined online and offline methodology. The countries in the study include: Australia, Brazil, China, France, Germany, India, Italy, Russia, Spain, Thailand and the United Kingdom.