This year's presidential election will likely be remembered as one of the most-talked about votes for years to come. And it follows another historic election where African-American voters flexed their political power in record numbers.
In the 2012 election, African-Americans had the highest rate of voter registration and election turnout of all races for the first time in history, surpassing non-Hispanic whites in election turnout at 66% versus 64%. Today, just under 29 million African-Americans are eligible to vote, representing 13% of U.S. eligible voters—a rate that's growing 3.7% every two years. In fact, black voter turnout has steadily increased over the last three decades.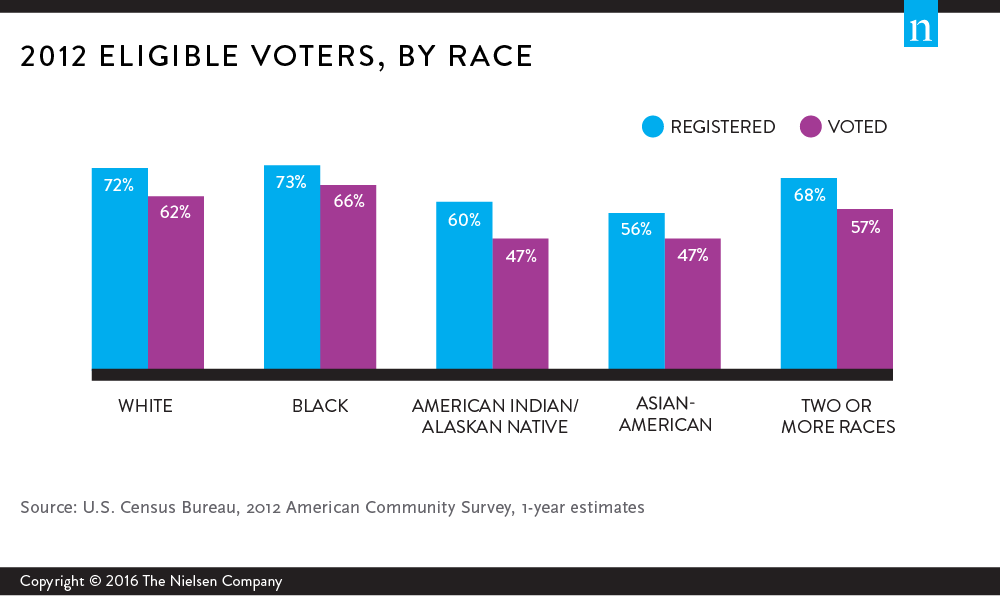 African-Americans remain invested in the pursuit of continued economic gains as well as advancing equality in their communities. African-American Millennials, in particular, have been catalysts of change, leveraging social media, mobile devices and various live-streaming platforms to amplify their voices about social justice issues. The use of technology to effect social and civic change is a manifestation of continued growth in grassroots political involvement in the African-American community.
AFRICAN-AMERICAN WOMEN AT THE POLLS
If this year's election follows the voting trends of the past, African-American women are poised to make their presence known at the polls. During the 2012 presidential election, more African-American women registered to vote (76%) and voted (70%) than black men (69% registered and 61% voted). In fact, African-American women of every age group with the exception of those 75+ surpassed registration and voting levels of black men.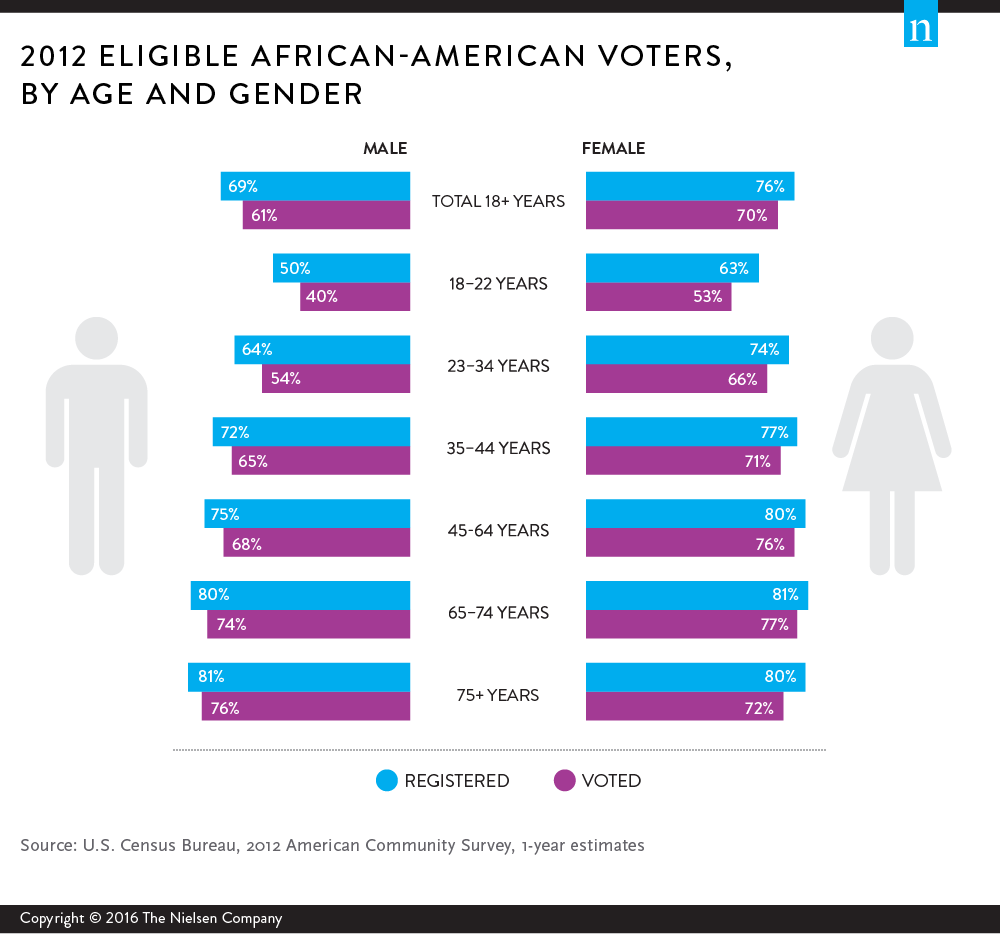 OPTIMISM ABOUNDS, BUT THERE IS ROOM FOR IMPROVEMENT
While these are uncertain times, African-Americans are optimistic about the direction the country is headed. According to a March 2016 Harris Poll Survey, African-Americans were more optimistic than any other group about the future of the country: 49% of African-Americans said the country is headed in the right direction versus 45% of Hispanics, 42% of Asian-Americans and 23% of whites. But more there is considerable room for improvement. According to a July 2016 Harris Poll Survey, more than half of African-Americans (53%) said affordable housing and affordable, quality healthcare are community issues that need to be addressed. Additionally, 42% felt affordable childcare and college were important, and 39% said there is a need for affordable, healthy food.
The leaders of tomorrow will rise from today's aspirational Millennials. In fact, 74% of African-American Millennials agree that they often find themselves in leadership roles, a rate that is 14% higher than total Millennials, and 48% of black Millennials agree that they strive for a high social status, 21% higher than total Millennials. African-American Millennials also have high career aspirations. Seventy-three percent of black Millennials say their goal is to make it to the top of their profession, 23% higher than total Millennials. With increasing opportunities, societal-leading civic participation, and expanding buying power, African-Americans, particularly the empowered Millennial generation, will continue to shape and influence American society in new and progressive ways.
For additional insight, download Nielsen's Young, Connected and Black report.