To maximise return on investment, advertisers need to know if their ads and brands are resonating in the memories of their core consumers in time to correct their campaigns while they're in flight. Using the right metrics to measure and understand how well your advertising is performing early in your campaign can ensure your investment dollars are being well spent.

Take for example, a UK-based retailer who discovered early during its TV advertising campaign that just 19% of people remembered the ad and also recalled the correct brand. Clearly, it was time to act or risk wasting a significant investment on the campaign. By testing and optimising its strategy while in-flight, the retailer managed to raise the bar to 46% by the time the advertising campaign was complete.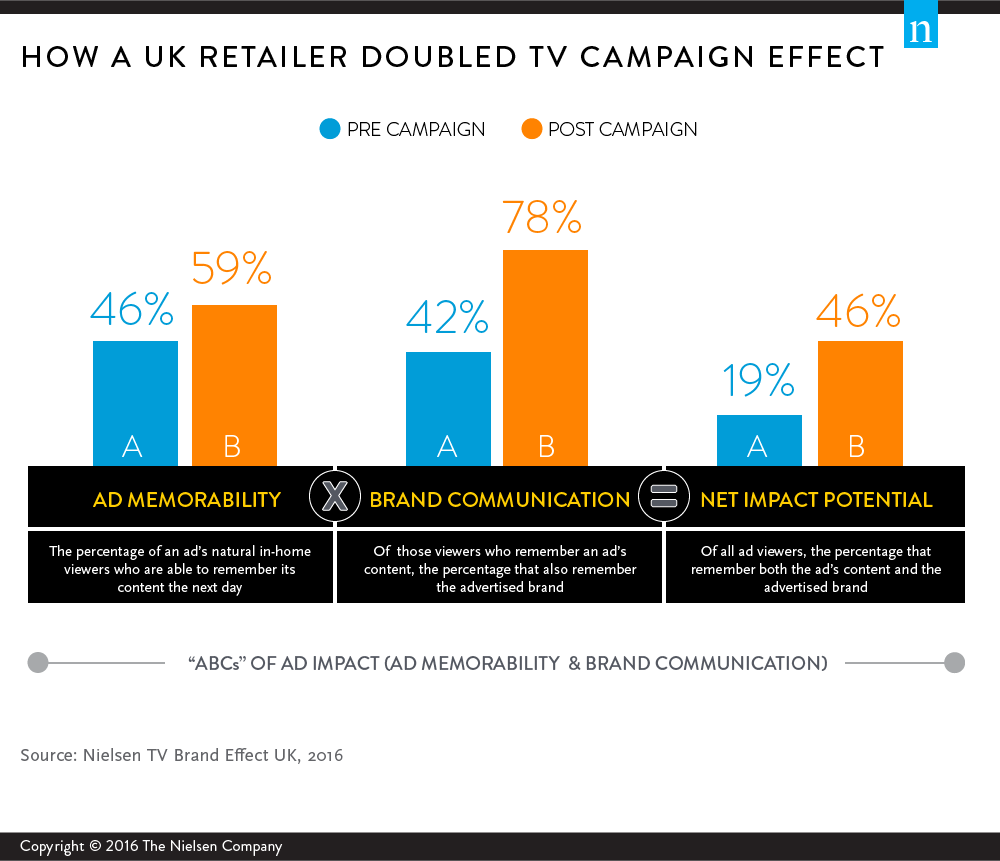 SHARE OF VOICE VERSUS EFFECTIVE SHARE OF VOICE
The 'Share of Voice' metric, used by many advertisers to gauge how visible they are in the marketplace, is based on spend, reach and ad volume. 'Effective Share of Voice', however, combines ad spend with a measure of the effectiveness of the creative.
When Effective Share of Voice is lower than what you've paid for, it implies that creative execution is not performing and is actually decreasing the effectiveness of your spend.
Ads that punch above their weight and are memorable, with clear brand and message communication, can actually increase a brand's Effective Share of Voice in market.
The example below looks at major UK retailers and shows the impact on Share of Voice when ad effectiveness is taken into consideration. For the top performing TV creatives, Effective Share of Voice was lifted by up to 8% for some retailers, and reduced by the same for others, implying significant amortization of investment during the period.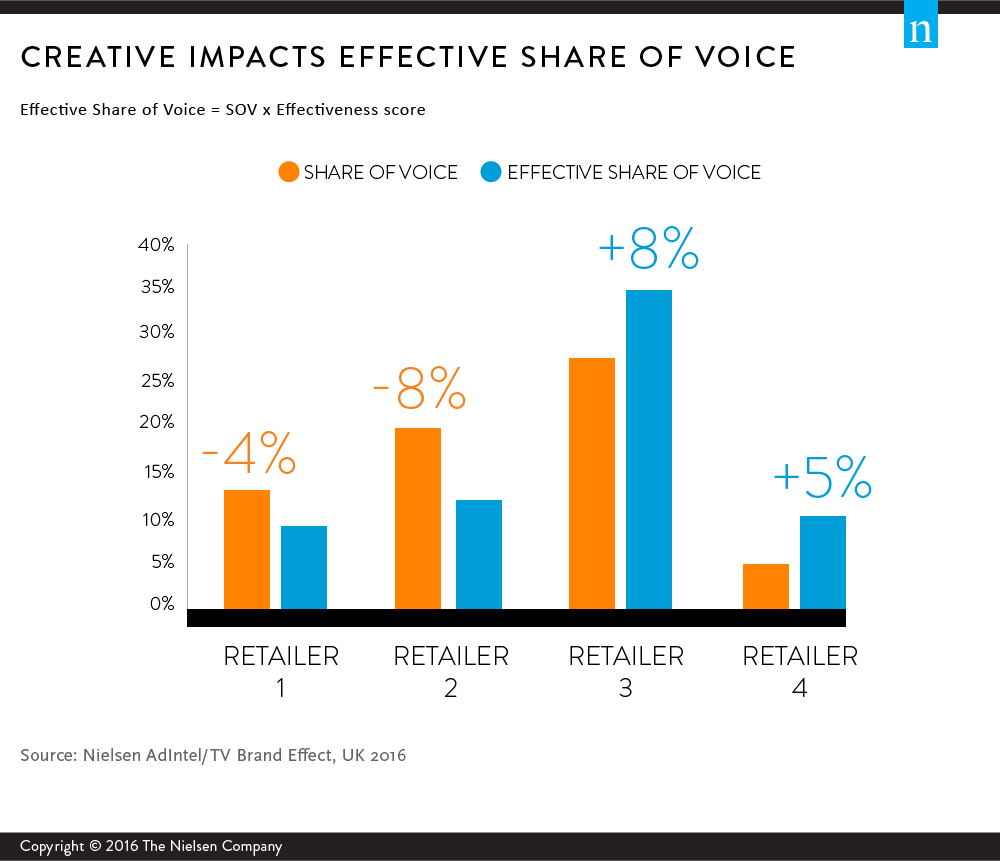 COMMERCIAL IMPLICATIONS OF EFFECTIVE SHARE OF VOICE
Now consider what this means to the average marketing budget. The average metro TV spend for the Top 50 Australian advertisers in the 2016 Financial Year was AUD $19.5 million. To increase Share of Voice by 8% via expenditure alone would on average cost these brands $1.5 million (assuming all else remains constant). The risk of sticking with ineffective advertising could lead to under-utilisation or wastage of the same amount.
To find out more about optimising TV advertising investment, check out: http://preprod.nielsen.com/us/en/solutions/capabilities/tv-brand-effect.html or contact your Nielsen representative for more information.