When the 58th GRAMMY Awards airs this Monday night on CBS, Kendrick Lamar will be looking to avenge his 2014 shut out with a prestigious Album of the Year award for To Pimp A Butterfly. If he does win, it will be just the third time that a Hip Hop/Rap album has won the award (after Lauryn Hill's The Miseducation of Lauryn Hill in 1999 and Outkast's Speakerboxxx/The Love Below in 2009).
2015 was a banner year for rap and hip hop overall, and To Pimp A Butterfly is one of the year's three major rap/hip hop album successes, alongside Drake's If You're Reading This It's Too Late and The Weeknd's Beauty Behind The Madness. According to Nielsen's 2015 U.S. Music Report, the R&B/hip-hop album sales grew last year on a year-over-year basis, with these three albums fueling much of the growth. Drake's album finished fifth overall in the 2015 top albums with 1.14 million units sold, and The Weeknd ranked eighth with 862,000 units sold. Lamar finished 11th for the year with 779,000 units sold.
While R&B/hip-hop album sales were up 2% overall, digital album sales really jumped – rising 19% from 2014. Drake's album ranked No. 2 for top digital album sales, with Lamar's coming in at No. 7, The Weeknd's at No. 8 and Drake & Future's What A Time To Be Alive at No. 9.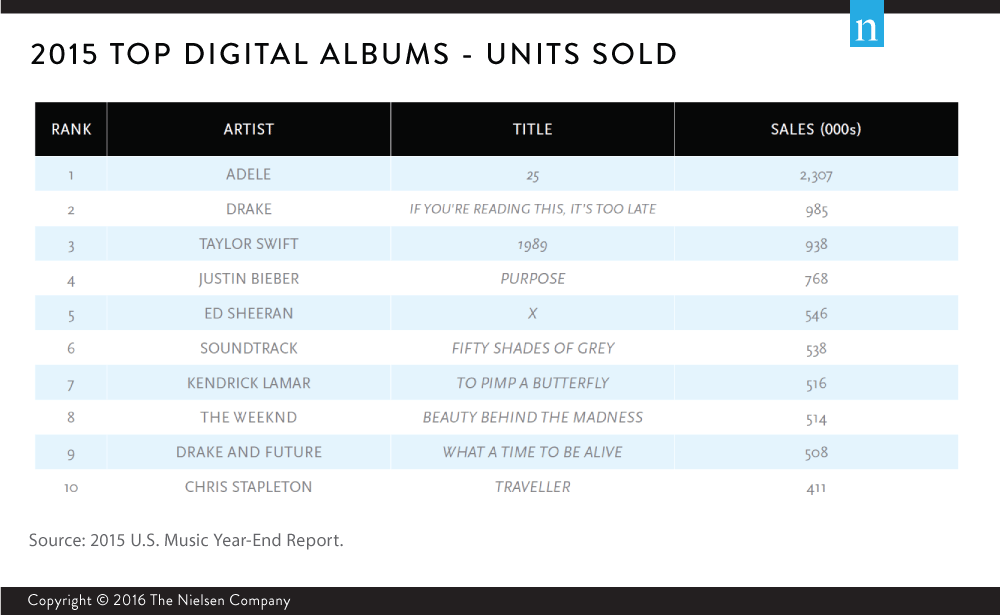 Who are the fans?
Nielsen's 2015 Audience Insights report on hip-hop music fans reveals that fanship is more prevalent among males 18-24. It also notes that Hispanics and African-Americans are also more likely to be hip-hop fans than the general population. In terms of behavior, hip-hop fans are at the forefront of the digital movement, with 18% saying they like to be among the first to buy new media technologies and 65% saying they're more likely to be receptive to brand promotions that happen on social media.
However, not everything is new school with hip-hop fans. While streaming platforms and social media play prominent roles helping to find new music, traditional AM/FM over-the-air radio remains the principal source of discovery for the audience. In fact, 46% of hip-hop fans have found new music on the radio. Urban Contemporary (aka hip-hop) radio had a record-breaking year in 2015, reaching its highest share of 18-34 audience ever recorded in PPM measurement. The format moved from sixth place in 2014 to fourth place this year on the 18-34 ranker, growing its audience by 12% year-over-year.