{"order":5,"name":"pubdate","attributes":{"sling:resourceType":"nielsenglobal/components/content/publishdate"},"children":null}
Das Medienumfeld entwickelt sich rasant weiter und die Komplexität nimmt zu. Immer mehr Werbetreibende, Vermarkter und Agenturen sehen daher die Messung digitaler und mobiler Kampagnen durch Drittanbieter als unerlässlich.
Der europäische Report "Nielsen Digital Ad Ratings Benchmarks and Findings" basiert auf Daten von über 9.000 Nielsen Digital Ad Ratings Kampagnen in sieben Ländern. Dadurch werden Benchmarks für die prozentuale Zielgruppenerreichung bzw. den Prozentsatz aller Impressions innerhalb einer Kampagne generiert, welche tatsächlich in der eigentlichen Zielgruppe ausgeliefert werden konnten. Die Zahl der Kampagnen, die mit den Nielsen Digital Ad Ratings in Europa gemessen wurden, verdoppelte sich von 2015 bis 2016. Allein in Deutschland stieg das Volumen der gemessenen Kampagnen um 88 Prozent an.
Marketing Verantwortliche messen nicht nur die Performance ihrer digitalen Kampagnen. Sie nutzten die gewonnenen Erkenntnisse, um Ableitungen für zukünftige Planungen zu treffen und die Gesamtleistung ihrer Kampagnen zu verbessern. Dass dies funktioniert, spiegeln die aktuellen "Nielsen Digital Ad Ratings Benchmarks and Findings" wieder. In Deutschland konnte die durchschnittliche Zielgruppenerreichung im Vergleich zu 2015 insgesamt für ein Drittel der im aktuellen Report ausgewiesenen Zielgruppensegmente gesteigert werden.
Werbetreibende und Vermarkter interessieren sich insbesondere für die Messungen von mobilen Kampagnen durch Drittanbieter. Das Volumen der Kampagnen mit einer mobilen Komponente, das durch Digital Ad Ratings gemessen wurde, hat sich im vergangenen Jahr um mehr als das Fünffache erhöht. Aktuell umfasst mehr als die Hälfte (55 Prozent) aller gemessenen digitalen Werbekampagnen eine mobile Komponente.
Auch im mobilen Bereich nutzten Marketing Verantwortliche die Insights der Messungen zur Performance-Steigerung zukünftiger Kampagnen. Bei der Betrachtung von Kampagnen mit dem Ziel, sowohl Männer als auch Frauen zu erreichen, konnte über die mobilen Endgeräte mit Ausnahme eines Alterssegments eine bessere Zielgruppenerreichung im Vergleich zu den Desktop Geräten erzielt werden.
Mehr Informationen finden Sie auch hier: https://preprod.nielsen.com/us/en/solutions/capabilities/digital-ad-ratings.html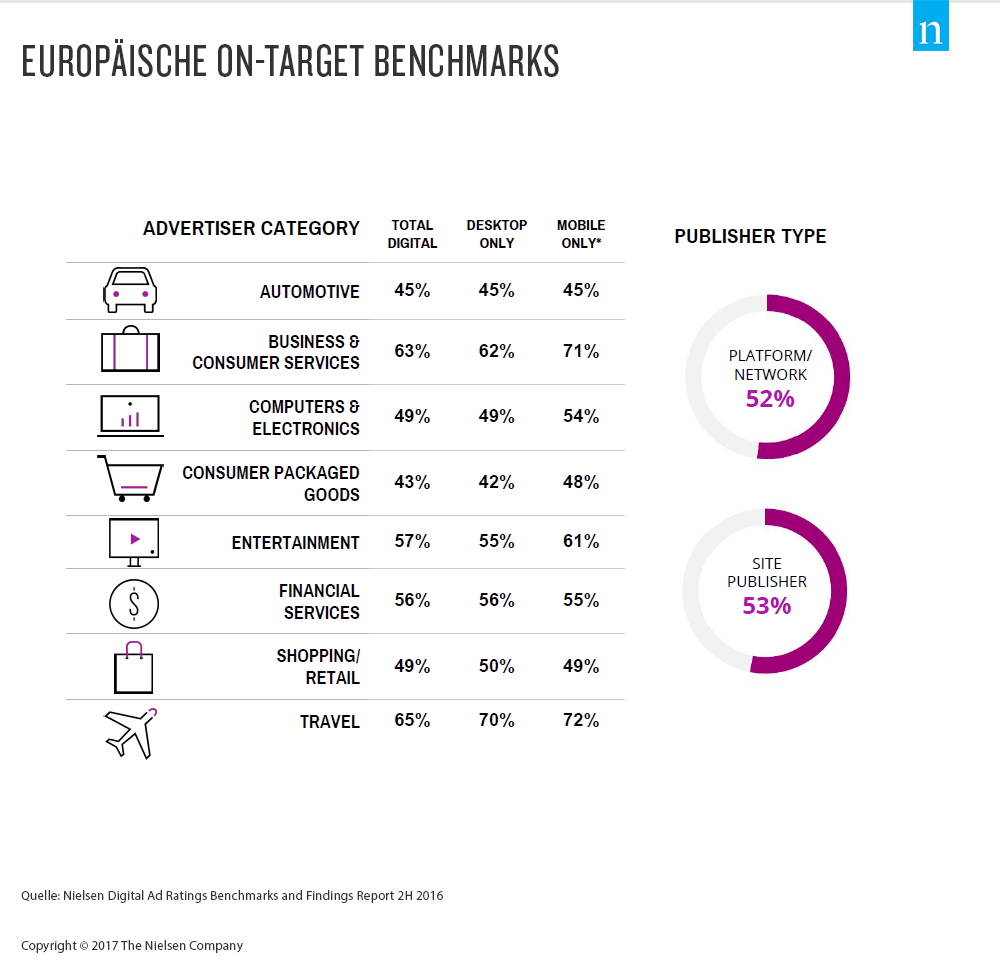 Über den Nielsen Digital Ad Ratings Benchmarks and Findings Report
Dieser Report basiert auf Daten von über 9.000 Nielsen Digital Ad Ratings Kampagnen in mehr als 20 Ländern in Frankreich, Deutschland, Irland, Italien, Polen, Türkei und England. Die Benchmarks wurden auf Basis historischer Kampagnen Daten bis einschließlich 31. Dezember 2016 berechnet. In die Berechnung eingeflossen sind ausschließlich Daten, für die eine Mindest-Seitenanzahl von 30 generiert werden konnte. Eine Seiten-Mindestanzahl ist dabei wie folgt definiert: > 5.000 Impressions pro Seite innerhalb des spezifischen demografischen Segments. Mit Stichprobengrößen von mehr als 30 können üblicherweise stabile Daten erwartet werden. Fallzahlen von anderen Anbietern als den Nielsen Digital Ad Ratings Datenlieferanten sind nicht enthalten.