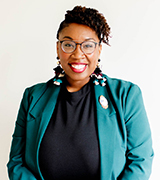 Ahmaud Arbery. George Floyd. Breonna Taylor.
These are three names that fueled a movement, an outcry that broke the silence on a cycle of racial injustice in the Black community. In each case, the circumstances vary, but the personal effect to the rest of the Black community is consistent as we reflect on how easily "that could have been me." Stalked, suffocated or shot by police, each outcome was the same: No one was held responsible—until social and mass media demanded we tell their stories.
The fact that they were everyday people who died doing everyday tasks humanized their loss for many. But the fact that they were not the first—or even the last—names on a long list of cases underscored the anxiety and fears many African Americans carry around everyday.
Video footage of George Floyd's murder circulated and sparked conversations around racism in America for everybody—people, companies and the media—in ways never seen before. When no one was held responsible for his death the broadest protests in U.S. history ensued, including all 50 states and countries around the world, despite the ongoing threat of a pandemic.
So what was different this time? For one, the calls for justice and declarations of #BlackLivesMatter didn't just come from a single community or even just people of color. The treatment of George Floyd and so many other Black Americans captured our national attention, surging social media usage and live TV viewing overall. Much like the protests themselves, news consumption spread to those in small towns and big cities alike.
George Floyd's death was a turning point. It made clear for many Americans that these were not isolated incidents, but symptoms of a much broader collection of work we still need to do as a society. For others, the sight of cities in turmoil was too much to bear. No matter where people's opinions fell on these issues, the collective realization was that something must change. The tension of those weeks offered a unique opportunity at a critical moment to connect these issues in a way we hadn't seen before.
The conversations weren't only focused on an abstract far away issue for the nation as a whole. This time, we made it personal and opened the floodgates for hard truths among co-workers, neighbors and the media to call out systemic racism. Content creators responded with unique programming to discuss, educate and even mourn collectively. Online there was an increase in YouTube video uploads related to allyships. Nearly every major TV network aired programming in formats even beyond news: panel discussions, simulcasts, documentaries and children's programs aired spanning the history of racism in America and how its influence affects Black Americans to this day.
A closer look at content on streaming platforms further illustrates the demand from folks confronting the realities of everyday discrimination—many for the first time. In June, Nielsen SVOD (subscription video on demand) Content Ratings show viewership spiked for titles like When They See Us(2019) and The Black Panthers: Vanguard of the Revolution (2015) long after their initial premieres. Featured prominently in Netflix's Black Lives Matter collection, 13th (2016) had a 215x increase in viewership from the week before George Floyd's death to just two weeks later.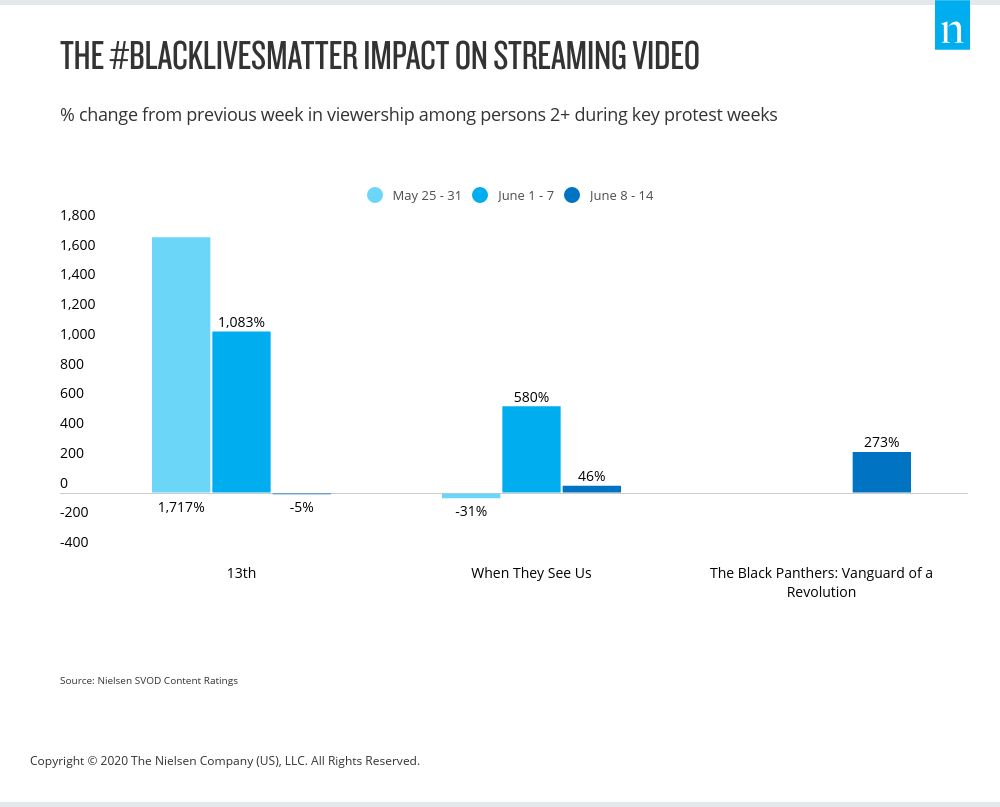 While we continue to dismantle historic barriers for the Black community, resolving America's issues with racism will require work from every community. Nielsen's research demonstrates that the role of local, national and social media to shape and inform both our thought process and the actions we take cannot be overstated. Viewers want coverage for what's happening and the context on why this keeps happening—do not be afraid to meet those needs.
Media outlets across the board should continue to understand how audience trends are shifting and what their viewers need to see and hear from them. People are willing to take action on content from the sources they trust and how those outlets and organizations steward that trust can help shape the progress of our nation.
What I hope persists is not just the collective power we have to drive positive change, but the realization that speaking up and telling our individual stories can be just as powerful to move our country closer to equality and justice for all.