Special Edition: Work-From-Home
Earlier this year, the pandemic thrust many Americans into a new lifestyle. We worked, learned, parented and cooked at home, shifting how and where we ate, watched TV and listened to music. It even altered our sleeping habits. But a funny thing happened on the road to re-emergence: Consumers, used to choosing when, where and how much content they connect with, found that by working from home they actually had a newfound choice when it came to their jobs, thereby giving employees a chance to achieve a better work/life balance.
In this edition of The Nielsen Total Audience Report, we dive into the world of working from home—how consumers feel about their productivity, engagement, challenges and the impact this new lifestyle is having on media and device usage.
Not only did overall media consumption jump significantly in the first quarter of 2020, video streaming increased from 19% in fourth-quarter 2019 to 25% in second-quarter 2020.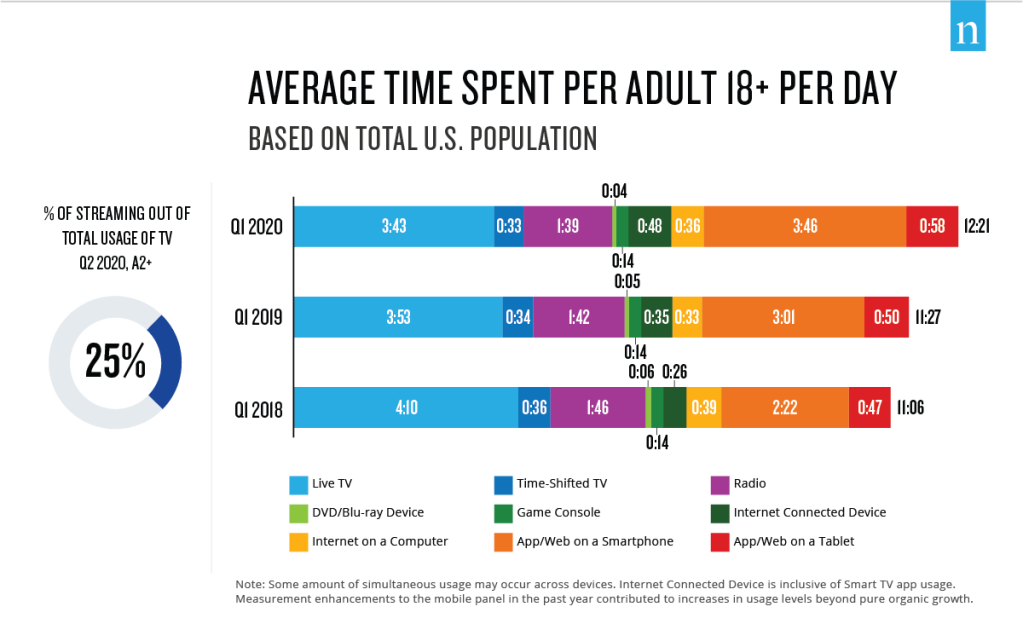 As companies look ahead, many are weighing the implications of a larger work-from-home workforce. In a special survey Nielsen conducted in June, we found that 80% of respondents would prefer to work for a company that allows them to work remotely from any location of their choosing.
A sudden and permanent shift to a larger remote workforce has wide-ranging impacts for marketers and advertisers—from the potential to infuse new regions with more discretionary income if people move to more affordable areas– and by association drive advertising ROI–to shifting what type of media is consumed and when.