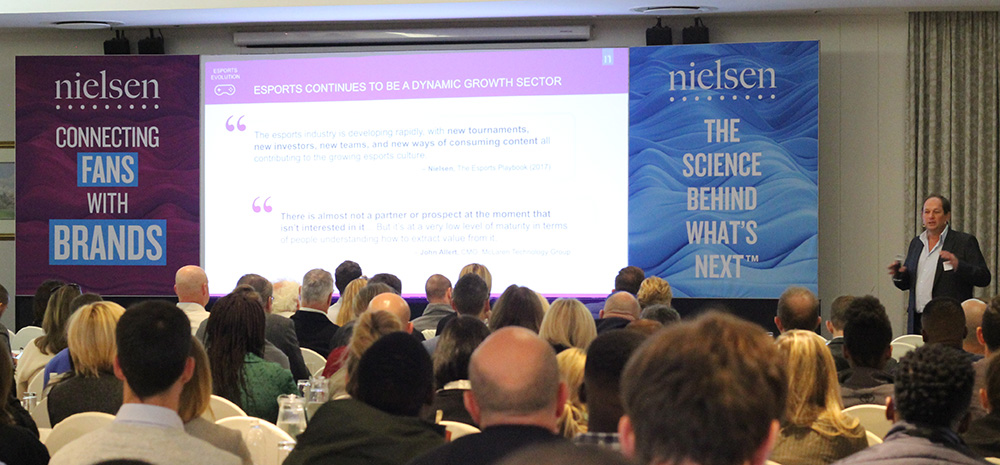 We recently hosted a Nielsen Sports' industry breakfast event in Johannesburg, where we showcased the top five global commercial trends in sports for 2018 and their impact on the South African sports industry.
The event kick started with a power-packed panel discussion on one of these top trends—Esports Evolution in South Africa—featuring Alwyn Venter, founder of White Rabbit Gaming, and other industry experts. The discussion focused on the eGaming phenomenon and early opportunities for sponsors. The panelists explored the growing potential and rewards of investing in esports in South Africa and how this new sporting 'code' is subject to stringent professional standards and requires the same rigor and planning as traditional sports.
Kelvin Watt, Managing Director, Africa & Middle East, Nielsen Sports, then presented on the top global sports industry trends. Kelvin spoke about the growing power of sports around the world and the commercial opportunity that they represent. However, he also noted that the South African sports industry is facing an unprecedented level of change and disruption. When it comes to sport, it's the willingness to prepare to win that sets apart the most talented athletes and the best teams. And the same holds true for those with commercial interests in the industry—it has never been so important to prepare for what's to come in order to stay ahead of the game. Based on our recent global report, Kelvin outlined the top five major trends shaping the sports industry in 2018, namely:
Distributor disruption
The destination is unclear, but sports must adapt to a rapidly changing media landscape.
Disruption is creating opportunity and uncertainty. Traditional models are being challenged by new tech entrants showing an interest in sports, like Facebook, Amazon, YouTube, etc. However, traditional media is finding ways to respond to the tech threat through mergers and consolidation, plus tech companies still have some hurdles to overcome before they are considered serious competition.
Esports evolution
Tapping the power of esports is a top priority for publishers, brands, media and traditional sports.
The esports fan base is growing rapidly with strong links between fans of esports and traditional sports. They are attracting "non-endemic" sponsors who are not traditionally associated with video games or sports. These sponsors are investing increasing amounts in esports, and sponsorship itself is evolving to become more creative and content-led.
Content rules
Content is the key to sports fan engagement, and it is evolving at a dizzying pace.
As the quality, volume and variety of content increases, it will be harder and harder to cut through. To stay relevant, sports, brands and media must experiment with new technologies such as voice activation, virtual reality, artificial reality and chatbots. At the same time, a generational shift in content preferences is giving rise to new influencers and publishers, appealing to different generations and segments of the audience, allowing rights holders to explore ways of monetizing new types of content.
Sponsorship to partnership
In the new sponsorship paradigm, audience data, compelling content, and connection to business objectives are the winning traits.
Sponsorships are becoming more rich and multi-layered and are continuing to evolve into richer, two-way relationships. Going forward, sponsorships will likely become more flexible and tailored. They will also likely include more value-in-kind, with brands seeking rights holders that understand their business strategies and can align sponsorships with them.
Sports in our changing society
What's good for society is good for the sports business.
Social responsibility is becoming more prevalent and impactful. Equality, diversity, gender, race, sexuality and the environment, among other issues, are dominating the media and having an impact on every part of the sports business. We expect spends to increase on sponsorship campaigns that exhibit brands' credentials on diversity, sustainability and other social issues.
In conclusion, Kelvin touched upon the growing need for sport to be seen as socially conscious and promoting equality, in terms of participation, opportunity, leadership and media attention. More women, ethnic minority communities and emerging markets populations will engage with sport, changing the complexion of sports media and marketing into the future.
These insights emerged from interviews we conducted with industry executives from brands, media and rights holders around the world, which were then cross-referenced with input from our own experts, to present an outline of the most important trends shaping the sports business landscape in 2018. These trends will have a notable influence on the way sporting codes, brands, broadcasters and publishers play the game in the future.