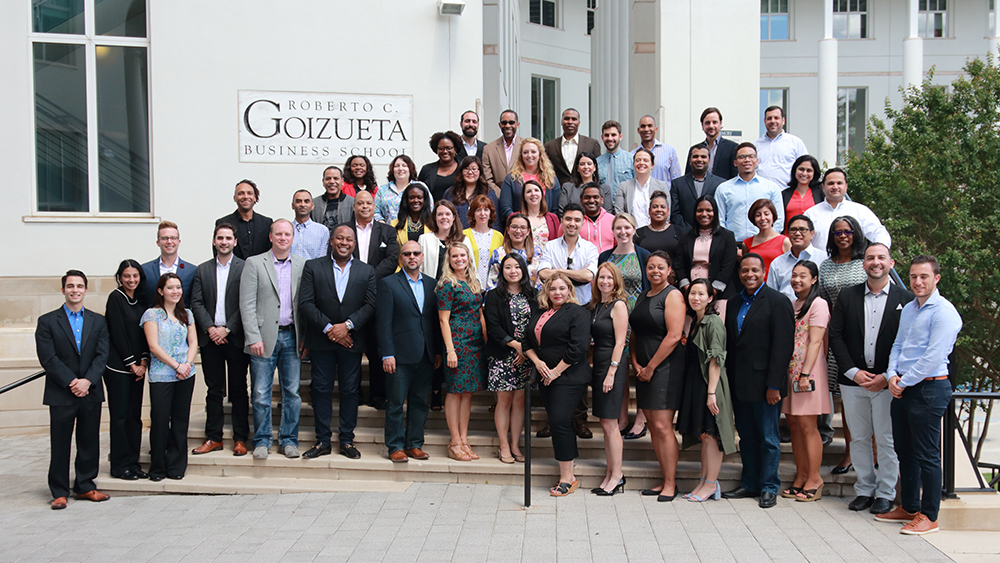 Nielsen's fourth class of the Diverse Leadership Network (DLN) recently completed its 15-month leadership development journey on the campus of Emory University's Goizueta Business School in Atlanta. The DLN is, by design, our most diverse leadership development program and models a 'mini-MBA' with executive education, impact project case studies, faculty workshops, and one-on-one coaching with Nielsen senior leaders. This year's graduating class included 34 high-potential mid-career associates from the U.S., Canada and Mexico in roles that span the entirety of our business.
DLN associates participated in several educational sessions with renowned Goizueta faculty on strategies and skills for effective leadership and culture cultivation. These sessions are a capstone to the program and are designed to teach associates enhanced skills to lead, inspire and communicate with diverse teams. Participants also heard from several Nielsen senior leaders, who espoused the value of infusing diversity and inclusion into everything we do and how doing so will help us achieve our strategic goals by 2020 and beyond. Jamere Jackson, Chief Financial Officer, and Angela Talton, Chief Diversity Officer, were among the leaders who addressed DLN participants.
"Graduation week was the very essence of the program brought to life," said Julian Ordman, Manager, Product Leadership and graduate of the current DLN class. "The executive education at Emory and access to Nielsen leadership helped us grow as individuals and as contributors to Nielsen's future. Most importantly, our bond as a class was cemented by the time we spent together. The entire experience was emblematic of Nielsen's ongoing commitment to investing in its future diverse leaders."
Another key milestone of the DLN graduation is the culmination of participant-coach relationships. During the program, each DLN member is matched one-on-one with a coach, a Nielsen senior leader, who serves as a mentor for the associate as they matriculate through the program. These relationships are essential to success in the program, as graduates are challenged by their coach to develop the skills that will make them effective leaders in the future.
"The DLN program epitomizes the idea of 'unlock talent and let it run,'" said Kate Bae, VP, Product Leadership, and a coach for the current graduating DLN class. "Uncovering talent within Nielsen is now table stakes to growth, and diverse, untapped talent creates a multiplier effect for innovation from technology, data science, operations and product teams."
The class of '17 also had the opportunity to connect their education to the Atlanta community and an important Nielsen client that calls Atlanta home. Participants joined Junior Achievement of Atlanta, a nonprofit organization that prepares K-12 students to thrive both as students and as future professionals, to teach financial and leadership lessons. Later, the class had the opportunity to visit Turner Broadcasting System and interact directly with one of our largest clients on the Watch side of our business. These interactions ensured our DLN graduates saw our Diversity & Inclusion strategy extends beyond our workplace to the clients and communities we serve.
"With the fourth graduation class of the Diverse Leadership Network, we are amplifying the talent within Nielsen who have the skills, experiences and diverse perspectives to lead the business transformations underway across our business. These rising leaders have demonstrated their ability to bring fresh thinking, live our values, and consistently deliver for the clients and markets we serve," said Matthew Hanzlik, Program Leader for Diversity & Inclusion Leadership Development at Nielsen.