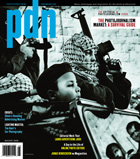 , Nielsen Business Media's award-winning monthly magazine covering the professional photography industry, has revamped the look and feel of its website, PDNonline.com.
The magazine unveiled its redesigned site on Wednesday.
The new site provides improved navigation and search capabilities, new multimedia content, and forums for readers to exhange ideas and provide feedback.
The Resource Center, a new offering on the site, also provides a complete archive of the magazine's "how to" features.
View the full press release.