A guide for networks, publishers and platforms
Creating great content is only half the battle. In our current age of media hyper-fragmentation, it may be even less than that. For broadcasters, publishers and platforms, the real trick is making sure your audience can find the right content at the right time, every time. And the single greatest asset in your arsenal is the metadata that powers content discovery.
No matter how many new media channels emerge, which viewing format is most popular or how large content libraries grow, granular metadata should be part of your content distribution strategy. It's critical to improving discoverability and enhancing your content across platforms, languages and locations.
Here are three ways to build a scalable, resilient video content distribution strategy.
1. Standardize your metadata
As of June 2023, Gracenote video data notes there are just over 1 million video titles across linear and streaming channels in the U.S. alone. Now multiply that by the number of different countries and languages those platforms support. And then, while you're at it, further multiply all of those titles by the metadata they generate: each movie or episode's cast list, run time, plot, genre, crew, etc. It's a staggering amount of information.
Without standardization, platforms in every region could organize this data in their own unique way, forcing international distributors to change how their content is tagged, stored and shared every time if they want it to remain searchable. This tedium blocks both content distributors and providers' ability to scale their content across different languages and platforms and limits the capacity to enhance their metadata strategy beyond the basics, leading to a suboptimal discovery experience for audiences.
One way to achieve metadata standardization is to rely on universal content identifiers. These IDs are persistent tags that identify a piece of content in a way that works across all platforms and screens. They link basic metadata like titles, imagery descriptions and cast details, but they also can link to much more advanced data sets like content mood, theme, scenario or even personalized imagery tailored to the viewer's interests.
When standardized, these universal IDs can sort, display and contextualize a piece of content across the entire entertainment ecosystem. There are companies, like Gracenote, that will standardize—and then enrich—your metadata for you. This standardization and enrichment ensures interoperability and automates and improves how your metadata gets tagged and sorted based on deep taxonomies, effectively scaling your content's discoverability.
When assessing metadata partners, you should look for the following:
Cross-platform content availability to ensure your content is searchable wherever your audiences are
Global dataset with local coverage that helps your content feel relevant no matter the language or region
API delivery for near real-time metadata updates
Unified data schema to ease metadata onboarding across different partners
2. Stay local, think global
We are living in an era of widespread globalization of media. Global media is nothing new, but it has taken on a different flavor in the past few years. For example, let's say a show is gaining traction in Japan. It's in Japanese and created for Japanese audiences. A fan of the show takes a snippet and turns that into a meme which then goes viral on social media. Suddenly, there are people around the world interested in watching the show. The content hasn't changed, but the audiences' context for why they're interested has.
This has been happening for years on streaming services, and, as streaming and connected TV (CTV) viewership continues to rise, so will this trend. There will be a growing opportunity—and even expectation—around ensuring content promotion is globally accessible without losing out on local relevance. This concept is called "glocalization." So, the way our aforementioned show is promoted in Japan would likely be much different than how it should be promoted in Sweden or Mexico.
Creating a scalable content distribution strategy means ensuring global content is readily available while prioritizing regional nuances and preferences in promotion and discovery.
Universal IDs and the metadata they support let you set your content up for multi-region and multi-language opportunities by creating metadata consistencies from the outset. This lets discovery platforms focus on building compelling experiences for your audience, rather than wrangling the underlying data sets.
3. Prioritize portability
Europe is forecasted to have over 4 billion IoT connections by 2025. The average U.S. household has about 22 connected devices, which is roughly six devices per person. By the end of 2023, nearly 90% of internet users in Southeast Asia will also be smartphone users. Clearly, audiences are hopping from screen to screen every day. That means, in 2023, a scalable distribution strategy should allow content to be discovered across any media type.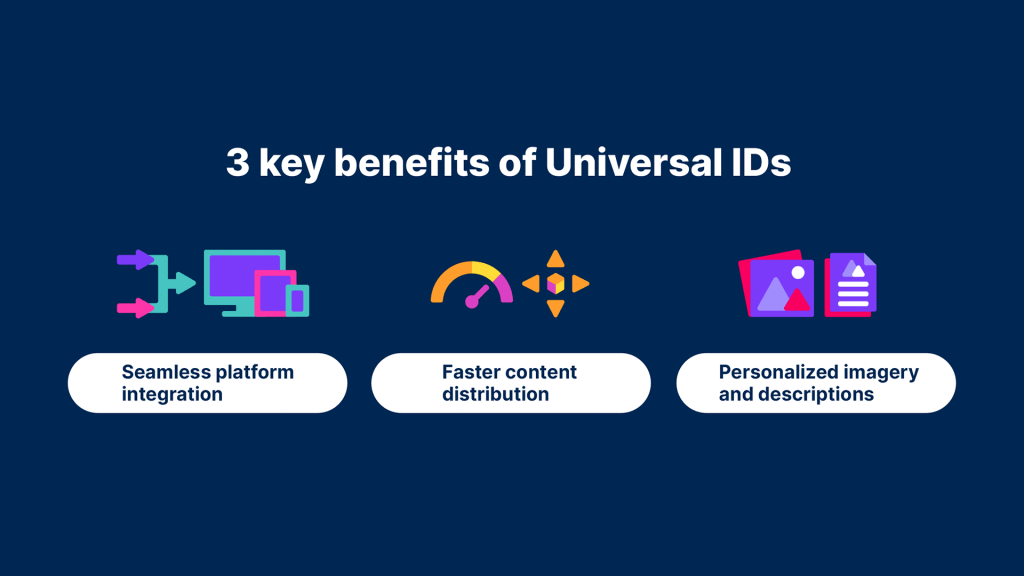 Once again, universal IDs and standardized metadata let you capitalize on multimedia opportunities by doing three things particularly well:
Seamless integration across different platforms
Speed up the distribution process by working across the full media ecosystem
Fuel personalized imagery and descriptions tailored to any platform
For example, the same content metadata that powers search and discovery for video content on a mobile device or smart TV could also power video discovery in the car, as touchscreens for rear and passenger seats have become the norm in new models. It even works across audio listening. While content metadata powers music and podcast search and discovery across streaming platforms, music listening on smart TVs, smart speakers or in connected cars, can all be powered by the same metadata.
Ultimately, your content distribution strategy is only as strong as your metadata strategy. When you standardize and elevate your metadata, you ensure your content is easier to discover for more people.
For more ways to improve your metadata strategy, get to know the Gracenote ID.