Jon Stewart, Research Director, Technology & Search
and Chris Quick, Mobile Media Analyst, The Nielsen Company
SUMMARY: The mobile media landscape is primed for accelerated growth. Smartphone sales are predicted to lead the way, accounting for nearly half of worldwide sales by 2013. Mobile consumers around the world weigh in on the features, functions and data applications they find most desirable. The key driver of mobile growth is good devices and fast, affordable data. Understand what vehicles are most effective in reaching consumers.
Growing from a niche opportunity for games and ringtones, the mobile media landscape has flourished into a full-blown marketplace for advertising, rich media content, ecommerce and unparalleled utility—bringing about one of the biggest changes in the media and advertising business in a generation.
Mobile media has flourished into a full-blown marketplace…
A perfect storm is imminent. The market is primed for accelerated growth well into 2010. What will "phone" mean to the next generation of consumers and what applications, functions and features are the most effective in reaching today's consumers. A review of these opportunities reveals important insights into what is driving mobile growth in the U.S and abroad.
Apps-titude
Nielsen examined mobile media usage across 14 countries and discovered some interesting patterns. China has the highest penetration of software/application downloaders, ringtone downloaders, and mobile Internet users. At 89% penetration, text messaging is nearly as prevalent as voice services in Mexico, which is also the highest penetration of any media activity in any country analyzed.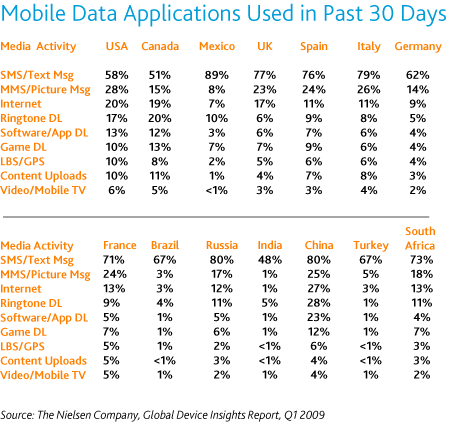 Canada ranked first for content uploads and game downloads. The United States clicked into first place for picture messaging/MMS (multimedia message services) and location based/global positioning services.
Cost was the top factor across the board…
Purchase criteria
Mobile consumers around the world applied different criteria when deciding what phone to purchase. Cost was the top factor across the board—especially influential among buyers in Turkey, South Africa and India. Brand or previous experience also weighed heavily among shoppers in Italy, Spain, Sweden and Russia. Ease of use was second most important factor for consumers in Germany, the United Kingdom and France. Design and style factored in for mobile users in Mexico, United Kingdom and the United States.
The features most desired by global mobile shoppers on their next purchase will be camera capability (number one in all 13 countries examined), followed by a built-in MP3 player and Bluetooth connectivity.
Growth drivers
In the fast-paced world of mobile media, the U.S. mobile subscriber base grew 7% to 277 million by the second quarter of 2009, which represented 221 million unique users, adjusting for multi-phone holders.
Among the many applications available on mobile devices, the fastest-growing segment in the U.S. was web video, which expanded by 33% to 20 million subscribers/15.2 million unique users, followed by multimedia messaging which jumped 29% representing 174 million subscribers/68 million unique users, and audio/application/game downloads which increased by 25% to 71 million subscribers and 39 million/27 million/23 million unique users per respective download.
Get smart
Perhaps more telling for the future of the industry, was the increase in the number of U.S. smartphone subscribers during the 2008-2009 Q2 period—a jump of 72% to 26.1 million users.
The Gartner Group predicts that smartphone sales will account for 46% of all mobile phone sales worldwide by 2013.
Currently, smartphone penetration varies by country. In Italy and Spain, more than one-quarter of new mobile handsets purchased were smartphones, with 28% and 23% market penetration respectively. The United States followed at 17%, Sweden at 13%, Canada-Germany-United Kingdom at 12% and France at 11%.
The newest generation of smartphones, like the Apple iPhone, the Palm Pre and the Blackberry Storm, combine cellphone connectivity with handheld computer capabilities like email, Internet, ebook readers, QWERTY keyboards, touchscreens, video, cameras and navigation software to name a few popular features and applications.
Dialed in
Smartphone owners in the U.S. tend to be male, younger (between the ages of 18–34), affluent (income of $75k+), and they use the phones for a mix of both personal and business purposes, with more emphasis on business usage. The profile of the iPhone user is similar, but skews even higher for the more affluent (twice as many in the $100k+ income group). A higher percentage of iPhone users also use the device for a mix of personal and business purposes (index of 160 for the iPhone compared to 220 for all smartphones).
iPhone users spend nearly as much on data as they do on voice…
One of the most appealing attributes of the U.S. smartphone owner, and particularly the iPhone user, is their appetite for data packages. All mobile subscribers spend $57.04 in billed services, with the monthly voice plan accounting for $35.40 and data extras adding $12.10 to the bill. Blackberry owners typically rack up $88.85 per month in charges, with $45.10 in voice plan costs and $28.20 in data extras. iPhone users spend nearly as much on data ($37.60) as they do on voice ($42.00) and have an average monthly bill of $89.35.
Surf city
Smartphone utilization underscores the point that, if you build a better browser and user experience, they will come. Almost 60% of all software/application downloaders were smartphone owners. More than half (55%) of all streamed music users did so using their smartphones. Smartphone owners also account for half of all active mobile Internet users, 41% of online game players and 38% of mobile instant messagers.
iPhone owners lead the way in media usage…
iPhone owners lead the way in media usage when it comes to mobile Internet (89%), text messaging (87%), software/application downloads and location-based services (75%), video/mobile TV (41%) and full track music (38%). The same market-leading usage pattern holds for iPhone's built-in handset features like camera pictures (87%), Wi-Fi (77%) and speakerphone (72%). The sole exception is Bluetooth connectivity, where other smartphones feature a slightly higher utilization rate at 42% compared to 40% for the iPhone.
Transaction action
SMS (short message services), or text messages, reached 4.2 billion standard rate transactions in the U.S. on AT&T and Verizon in Q2 2009. The clear leader was Twitter with 1.3 billion messages, followed by FOX (due in large part to MySpace) with 740 million texts, Facebook at 465 million, and 4INFO at 257 million transactions. Total traffic was generated by 50 million unique users.
Stateside, social networking drove the growth train for mobile Internet, with a 187% increase in audience for the year ending July 2009. The distribution of 18.3 million unique social network users by the top three sites is Facebook (26% reach), MySpace (13% reach) and Twitter (7% reach).
One-third of all mobile data users were exposed to mobile advertising…
Ad exposure
One-third of all mobile data users were exposed to some form of mobile advertising in Q2 2009. SMS and MMS comprised the two most popular forms of mobile advertising response. Roughly 16% of consumers responded to mobile ads most frequently via text message, a picture or MMS message, email or by visiting a designated web site.
Teenagers were the most accepting of mobile advertising—the acceptance rate declines as age increases. Perceptions of mobile ads were highest among all age groups if it lowered their bill. Consumers age 45+ were the least accepting of mobile ads. The Yankee Group forecasts mobile ad revenues could see faster growth than online, predicting a 60% jump in 2009 to $184 million. By 2013, that amount could reach in $566 million range.
Mobile marketing opportunity
Companies looking to drive sales should leverage mobile marketing activities like providing product information, coupons, discounts, event notification and mobile search. Another high-return approach would be to employ mobile's innate capability to enhance the consumer interaction with a brand, providing information, inspiration or helpful functionality.
Companies who are finding success have developed specialized applications that were either fun or functional, scoring high on consumer engagement. Optimally, marketers will strike a balance between utility and enrichment, marrying the two into a unique, timely mobile consumer experience that makes best use of these dynamic devices.