The Nielsen Company's most recent research on mobile connected devices sheds new light on how consumers are using their tablets, eReaders and smartphones – and where they are using them, too. According to Nielsen's recent survey of nearly 12,000 connected device owners:
Seventy percent of tablet owners and 68 percent of smartphone owners said they use their devices while watching television, compared to only 35 percent of eReader owners.

Sixty-one percent of eReader owners use their device in bed, compared to 57 percent of tablet owners and 51 percent of smartphone owners.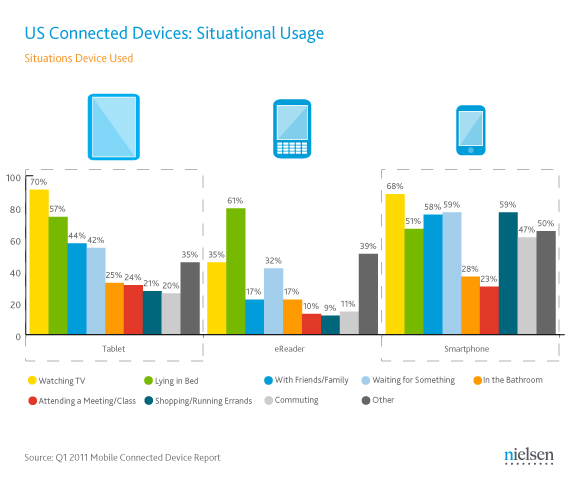 But just how much time are tablet, eReader, and smartphone owners spending using their device while watching TV or lying in bed?
When asked how they spent time with their device:
Tablet owners said 30 percent of their time spent with their device was while watching TV compared to 21 percent lying in bed.

Smartphone owners say that 20 percent of the time they use their smartphones is while watching TV, compared to 11 percent lying in bed.

eReader owners indicated only 15 percent of their eReader time was spent watching TV, though they spent a whopping 37 percent of their device usage time in bed.