The streaming wars were underway well before the arrival of COVID-19, but the global health crisis dramatically accelerated video streaming adoption and has forever altered our media diets. Once the domain of a handful of high-profile startups, the streaming market is now rife with hundreds of services to choose from, and the content they offer has become a staple part of our video viewing habits.
With new streaming options readily entering the space as consumers gravitate to options that meet their on-demand lifestyles, content creators and streaming platforms will need more than just great TV shows and movies to attract and retain customers. Yes, high-profile releases and beloved library content will attract entertainment-seeking visitors, but what happens when consumers want something fresh? How will they choose what to watch next?
Given that humans are visual creatures, user experience is largely driven by what we see—not what we read. As we scroll through content options, our eyes help us hone in on what appeals to us amid the hundreds of titles we're exposed to. There is no shortage of great content for consumers to choose from, but future success in the streaming space will hinge on more than just great content—it will need directions to great content. And the effectiveness of those directions will determine whether viewers find it.
Recommendations and suggestions can certainly play a role in content discovery, but they don't do enough to make video content—which is very visual—stand out. They're also not connected to a viewer's mood. Comparatively, a picture is worth a thousand words. And when a picture is personalized, the impact increases exponentially.
The overabundance of content, our "always connected" lifestyles and the impulse to constantly multitask have all taken a toll on our attention spans, and we're all guilty of tuning out when nothing catches our eyes. This poses big challenges for streaming services and entertainment platforms—vying for our attention. In 2019, we conducted a study that found that U.S. adults would spend about 7 minutes looking for something to watch on their streaming platforms before simply giving up. With the growth in the streaming market over the past year, I wonder if people will still spend 7 minutes before looking elsewhere. My gut says it's more like 2 or 3.
The video carousel is the storefront for any video content platform. Visitors aren't logging in to read. They're logging in for visual experiences. And that's where personalized images can enhance a platform's visual merchandising. Let's say a new release becomes available and a platform does its best to push it to viewers, but it only uses one representative image. That image may not appeal to every potential audience member. For one viewer, the attraction to the content might center on a key theme, while the show's primary location may draw in another. So if the platform uses different images to appeal to different viewers, the video carousel quickly becomes a personalized storefront that elevates the customer experience.
"Can this actually make a difference?" you might ask. In a word, yes. User experience personalization is the next opportunity for entertainment providers looking to maximize user satisfaction while simultaneously driving key business metrics. In the increasingly crowded streaming space, content and engagement with available programs are paramount. And when users are presented with an image that resonates with them, they're going to engage with the program. In fact, a recent pilot by a top-five U.S. streaming service with Gracenote found that personalized imagery contributed to increased hours watched, increased titles watched and increased click-through rates leading to video plays.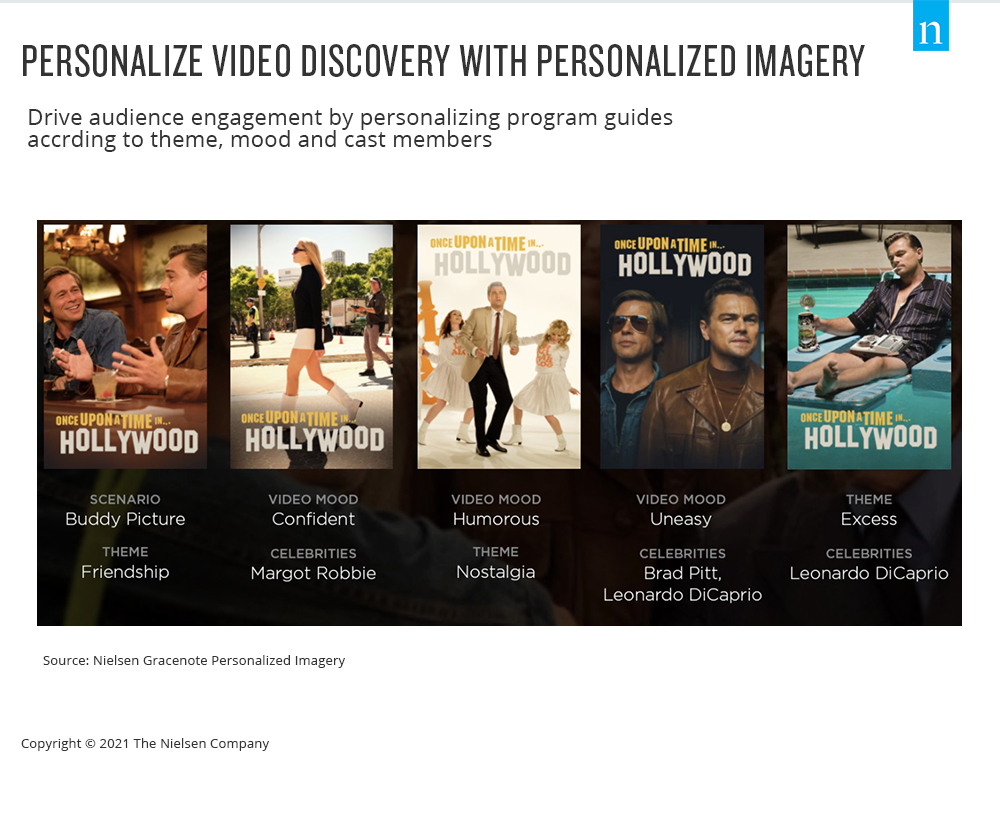 In the U.S., Nielsen data tells us that 77% of U.S. homes have at least one connected device, and the time we spend with streaming content is rising. U.S. viewers streamed more than 132 billion minutes of video in December 2020, accounting for nearly one-quarter of total television time in homes that are able to stream video. With that level of engagement, streaming providers have all the incentive to focus on ensuring that they're doing all that they can to ensure that engaged viewers stay engaged—and on their platforms.
Smart visual merchandising of video content represents a new opportunity to drive increased engagement and satisfaction. While not all content will appeal to everyone, personalizing the images that illustrate programming will help viewers find shows and movies that align with what they're looking for.