The Macy's Thanksgiving Day Parade is as much a part of Thanksgiving in the U.S. as family, turkey or football. Over the last few decades, both NBC and CBS have aired TV coverage of this annual event, which has taken place in New York City since 1924.  As the 2011 Parade approaches, Nielsen looked back at the event's television audience over the last 20 years and found that viewership has remained fairly consistent at around 30 million viewers.
The Parade saw its highest viewership of the past two decades during the early 90s.  The most-watched Thanksgiving Day Parade telecast during this time was in 1993 as a combined 31.1 million people tuned in on NBC and CBS, followed by 30.8 million viewers in 1992 and 1991, respectively. Incidentally, while the average number of viewers has held strong for 20 years (no small feat in the ever-changing world of TV), the percentage of households tuning in has dropped slightly over time from nearly 20 percent (19.9%) in 1991 to 15.5 percent in 2010.
Last year, 29.6 million people watched the Parade, an increase of 3 percent from 2009 and 12 percent from 10 years ago (2000).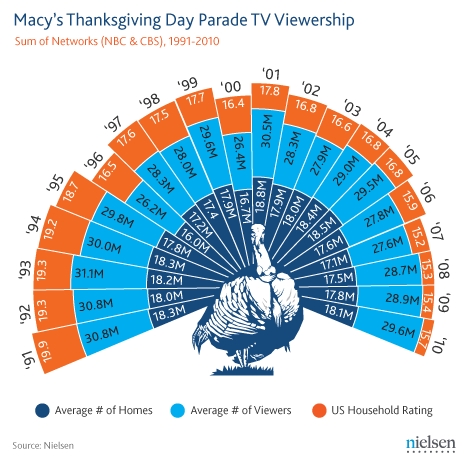 A comparison between the Parade's TV audience last year and 20 years ago seems to indicate that the Macy's Day Parade has become an annual TV tradition for family viewing.  In 1991, viewers under the age of 18 accounted for 27 percent of the Parade's audience, while 18-49 year-olds made up 38 percent of viewers.  Almost 20 years later, 50-64 year-olds – who were 30-44 back then and most likely tuned in with their children – were still watching and represented the largest chunk of Parade viewers (25%).