Today's video game consoles offer many entertainment options beyond gaming, including DVD/Blu-ray playback, Netflix, ESPN3, Pandora, Facebook and YouTube on some or all platforms. As part of understanding the potential audience for services like these across the entire family, it is important to think about the household location of gaming platforms.
On the whole, half of the latest breed of gaming consoles (known to the industry as 7th Generation Consoles) are located in the living / family room. The system most likely to be found in this family-friendly space is the Wii (59%), a reflection of the Nintendo console's motion-controlled, social gaming style. Comparatively, the Xbox 360 and PlayStation 3 platforms are less likely to reside in the living room, though as more consumers purchase the Kinect for Xbox 360 and PlayStation Move motion peripherals, look for this to potentially change moving forward.
Beyond the living / family room, the next most popular location for consoles is decidedly more solitary: the bedroom, with one in five systems residing in kids' bedrooms specifically. Here, the Xbox 360 clearly leads the way, with 28% of the Microsoft system's units located in kids' rooms, nearly double the rate for Wii (14%) or PS3 (16%). The master bedroom is home to another 10% of 7th Gen systems, with a number of other household locations accounting for the balance of platforms.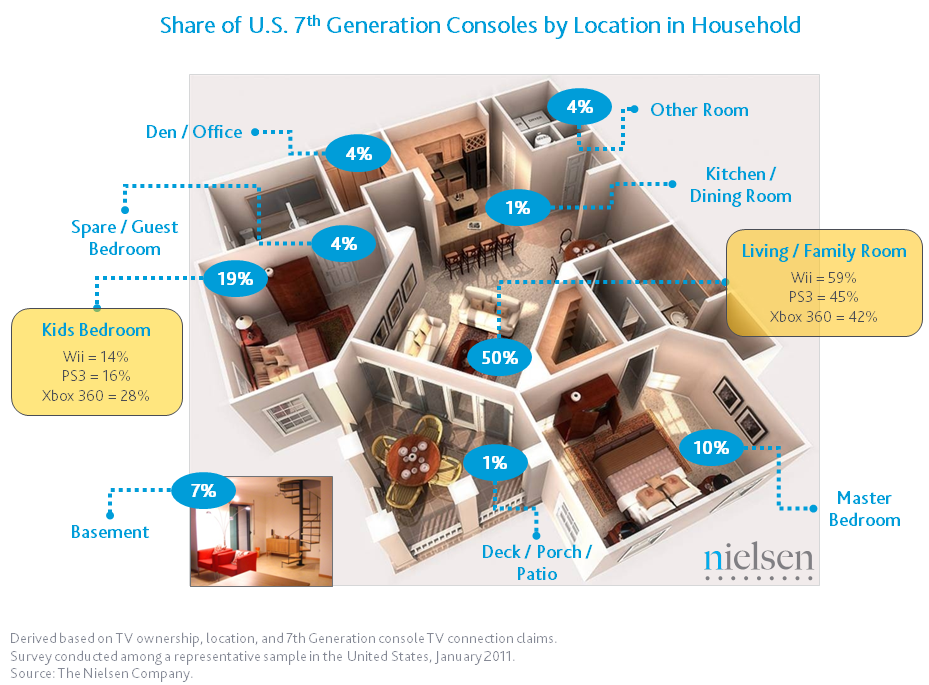 Download a recording of the recent webinar, U.S. Gaming: A 360° View, covering this and other highlights from the second annual Nielsen 360° Gaming Report: U.S. Market. Contact us for the full report, which includes more insights on gamers, console dynamics, and gaming in the context of the broader entertainment category.