From televisions and smartphones to tablets and game consoles, Americans are consuming content on every device under the sun— the latest versions of which will be on display this week at the 2013 International Consumer Electronics Show in Las Vegas.
According to Nielsen's new U.S. Consumer Usage Report 2012, nearly 120 million people within television homes own four or more TV sets, and 16 percent of television homes own a tablet. Smartphone owners officially make up the majority of mobile subscribers, as 56 percent owned a smartphone as of Q3 2012. Additionally, the number of social media users continues to increase across all platforms as consumers use social networking as a vehicle to navigate the ever-expanding media universe.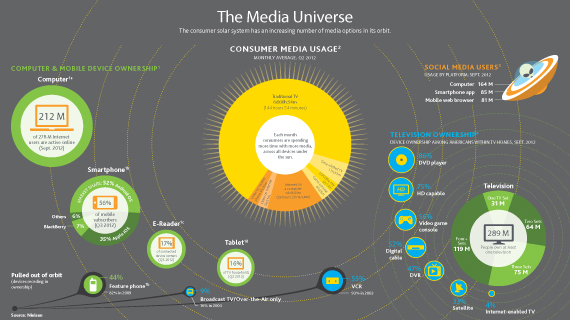 For more insights on the consumer media universe, download Nielsen's State of the Media: U.S. Consumer Usage Report 2012.