As advertisers aim to stand out in today's fragmented media landscape, advertising is only part of the formula for reaching consumers. Creating a memorable brand identity by resonating with consumers is just as important, and some messages resonate better than others, according to Nielsen's latest Trust In Advertising report.The Nielsen Global Survey of Trust in Advertising polled more than 29,000 Internet respondents in 58 countries to measure consumer sentiment on 19 forms of paid, earned and owned advertising formats.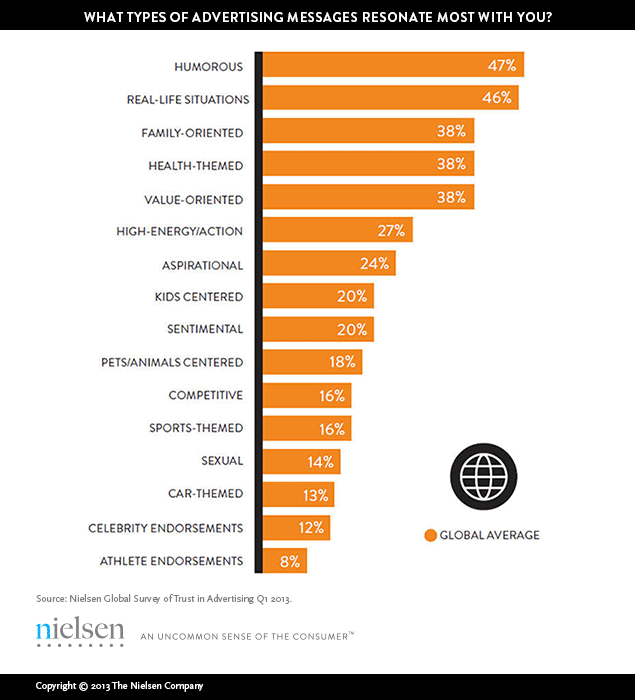 Forty-seven percent of global respondents agreed that  humorous ads resonated most. Regionally, survey respondents in North America, Europe, Middle East and Africa indicated that ads that made them laugh were most appealing. In Latin America and the Asia-Pacific region, however, 57 percent of survey respondents indicated that authentic ads featuring real-life situations resonated most. Other ad themes that resonated globally included those that were family or health oriented (both 38%).
"For advertisers, it's vital that consumers make a memorable and meaningful connection with both the message and brand," said Randall Beard, global head, Advertiser Solutions at Nielsen. "Regardless of the ad delivery format, be it print, billboard, TV or online, effectively reaching consumers is predicated upon having a message that favorably impacts consumers when making a purchase decision. These favorable decisions are a key metric of marketing ROI. Recent Nielsen research has found that although regional nuances in preference do exist, comedic relief, relatable situations, and those that focus on family and health themes speak to the hearts and minds of consumers around the world."
METHODOLOGY
The Nielsen Global Survey of Trust in Advertising was conducted between February 18 and March 8, 2013, and polled more than 29,000 consumers in 58 countries throughout Asia-Pacific, Europe, Latin America, the Middle East, Africa and North America. The sample has quotas based on age and sex for each country based on their Internet users, and is weighted to be representative of Internet consumers and has a maximum margin of error of ±0.6%. This Nielsen survey is based on the behavior of respondents with online access only. Internet penetration rates vary by country. Nielsen uses a minimum reporting standard of 60 percent Internet penetration or 10 million online population for survey inclusion. The Nielsen Global Survey, which includes the Global Consumer Confidence Survey, was established in 2005.