Smartphone usage continues to climb in the U.S. More than three out of five (61%) mobile subscribers in the U.S. owned a smartphone during the most recent three-month period (March-May 2013), up more than 10 percent since smartphones became the mobile majority in early 2012.
When it comes operating system preference, Apple remained the top smartphone manufacturer in the U.S., while the majority of smartphone owners used Android OS handsets. Fifty-three percent of smartphone owners used the Android OS, and 40 percent owned iPhones. Compared with the same period a year earlier, Apple's share of the U.S. smartphone market grew 7 percent points, while Android's market share expanded 2 percent. In March 2012, 50 percent of mobile subscribers used smartphones, making up the majority for the first time.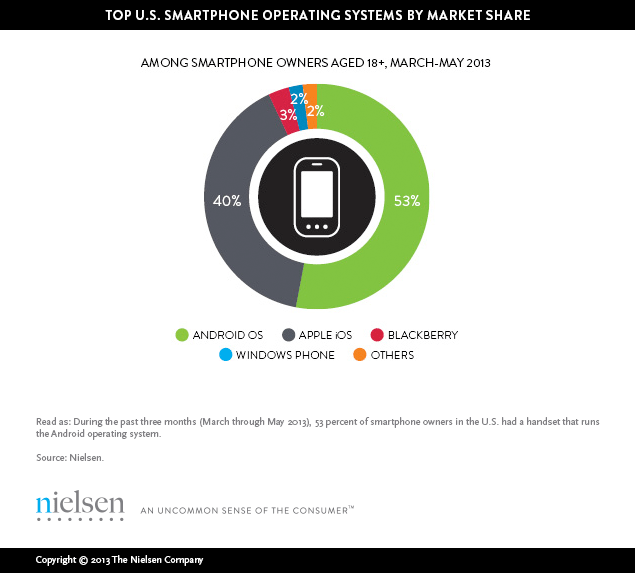 So who makes up this growing group of smartphone owners? Overall, women make up the majority of smartphone owners in the U.S., as more than three out of five use them. Ownership was highest among Millennials aged 25-34 at 78 percent, and three out of four mobile users aged 18-24 already own smartphones. Penetration of smartphones remained lowest among Americans aged 55+ (42%), but this group is catching up fast, as penetration among this demographic has nearly doubled over the past year.
Smartphone usage also varies by ethnicity. Asian Americans had the highest rate of smartphone ownership (75%), while penetration among Caucasians increased the most over the past year—56 percent on average during the last three months, up from only 45 percent a year ago.