Smartphone use in India is quickly becoming the dominant way many of the country's 900 million mobile phone users stay connected. In fact, the country may have as many as 40 million of these devices in use by early this year. The dramatic growth is driven by a desire among users to stay connected and have instant access to social networking sites—a global trend that represents an exponential growth opportunity in developing countries.
Decreasing device and data costs, coupled with a wide range of features that today's smartphones offer, readily encourage consumers to trade in their traditional cell phones for handsets with much more functionality. To gain a sense of how this new breed of smartphone users is staying connected, Nielsen Informate Mobile Insights, an alliance between Nielsen and Informate Mobile Intelligence, polled more than 10,000 consumers in September and October 2012 across 46 cities in India to assess overall usage and device preferences.
The Indian Smartphone User study found that 93 percent of smartphone users own only one handset, making it their single source of infotainment on the go. The study also found that smartphone users in India overwhelmingly prefer mobile devices that operate on the Android operating system, which highlights Indian consumers' desire for a platform that is open and available across multiple brands and prices. While Symbian usage is also high in India, Windows, BlackBerry and iOS devices each only have single-digit market shares.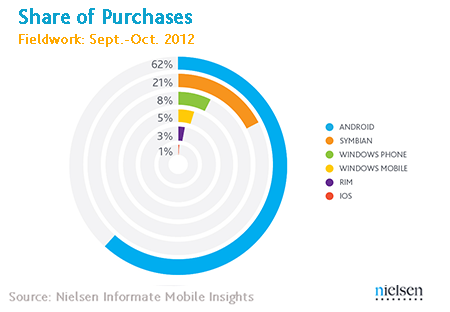 Tablet Ownership is Set to Spike
Consumer interest in tablets is also on the rise. While only 3 percent of respondents who participated in the study in the last quarter of 2012 said they owned a tablet, 11 percent said they intended to purchase one. Consumers are also spending notably more time on their tablets than their Android smartphones—about an hour more.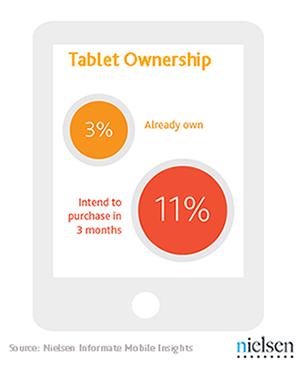 Smartphone Users Prefer Paying for Game, Chat and Music Apps
The study found that voice and text communication via smartphone in India is declining. In fact, voice calls and texting accounted for only 25 percent of smartphone usage; multimedia, games, apps and Internet browsing made up the rest. Among apps, consumers prefer games, particularly with respect to paid apps. Games were the most popular category among paid apps, with nearly three out of five users (58%) paying for games. Other popular paid app categories among smartphone users include chat and instant messaging (53%) and streaming music (45%).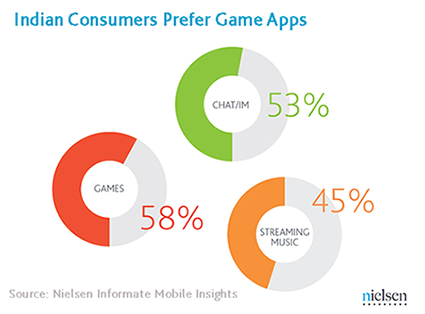 Many Users Still Don't Have Mobile Internet Access
Mobile Internet connectivity and smartphone usage go hand in hand, but only half of the smartphone users polled have active data access. While this percentage may be significantly higher than the mobile data penetration for feature phone users, it indicates that millions of smartphone users still don't have access to mobile Internet connectivity.
It is interesting to note that the youth are quick to adopt data connectivity on their smartphones, as more than
half of all data users are younger than 25.
About the Study
The Indian Smartphone User study was conducted in September and October 2012 across 46 cities in India. Nielsen Informate Mobile Insights polled more than 10,000 smartphone owners as part of this study.