Taylor Swift's 1989 has topped the U.S. album charts for a third week running—with over 1.9 million albums sold to date. But sales continue to be only part of the story. On-demand streaming services continue to dominate the news in the wake of Swift's music being removed from Spotify. Not only are other artists, managers and more weighing in, but YouTube also joined the fray, launching its own long-anticipated premium on-demand service
Previously, we looked into what music fans say they do when they can't find the music they want to listen to on their streaming service. The answers rest on the type of music consumer. Depending on age and spending power, fans may purchase music, they may try to get for free elsewhere or they may just wait it out.
Looking at data from Nielsen's Music Connect insights, it's clear where a lot of Taylor Swift fans were the week ending Nov. 9: YouTube/Vevo.  Swift's video streaming activity doubled week-over-week and views of her video "Shake It Off," the first single from 1989, rose over 120%. The YouTube activity includes both her official videos and user-generated content, though Swift's team has been actively removing unauthorized videos from the service. Her video streams increased another 72% this past week ending Nov. 16 with the release of her latest video "Blank Space." These figures give a fascinating picture of how many of her fans are listening to music.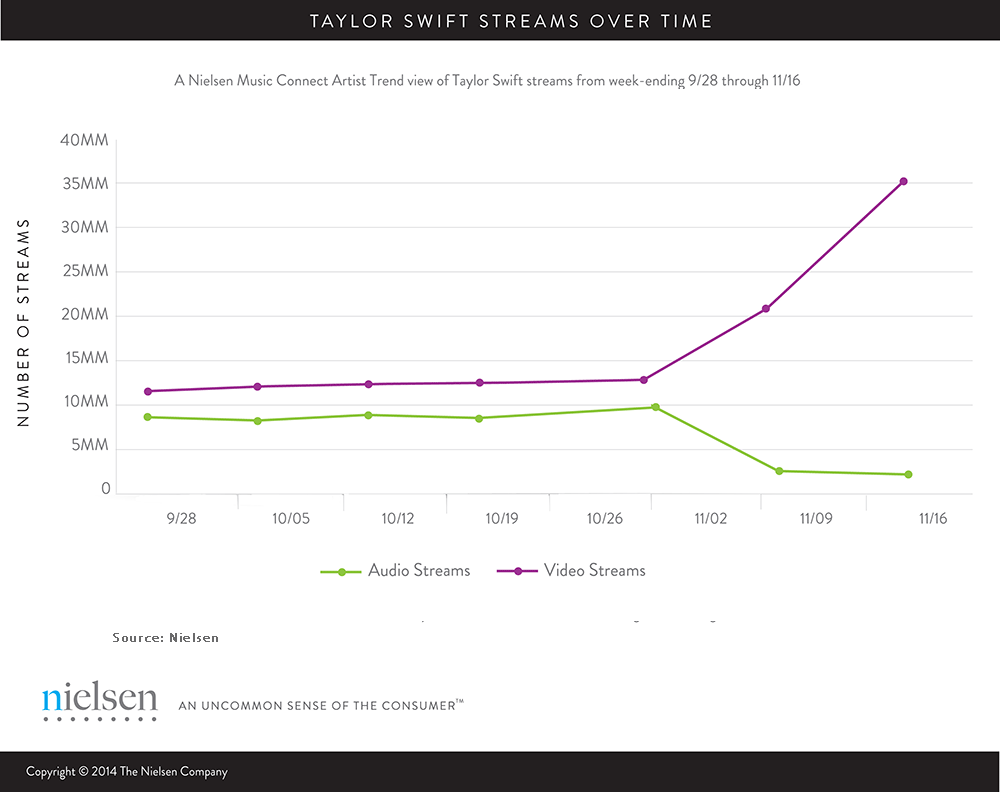 Streaming in general is surging. Nearly 80% of the population say they have listened to music online in the last year. The week ending Nov. 9, 2014, marked the first time since Nielsen started tracking streaming in 2004 that total streams have surpassed 4 billion in one week. Of these record-breaking streams, 3.9 billion were on-demand and 1.845 billion were audio streams, making it the second highest week for audio streams ever. The week was also a record high for video, with over 2 billion video streams. However, this rise in video doesn't reflect any one artist removing their content from a particular service, but instead an overall change in how today's listeners are consuming music.