Integrated multi-screen campaigns are changing the way the industry thinks about advertising and measurement in Canada. The shift in strategy underscores the changing needs of consumers and their ever-evolving media consumption habits. Industry constituents move beyond just words and sentiment to indicate that nearly 50% of all media spend/sales will come from multi-screen campaigns in just three years. This commitment to move investment is underpinned by findings from a recent IAB Canada/Nielsen study that indicate that 73% of Canadian constituents plan to run multi-screen campaigns in the next three years.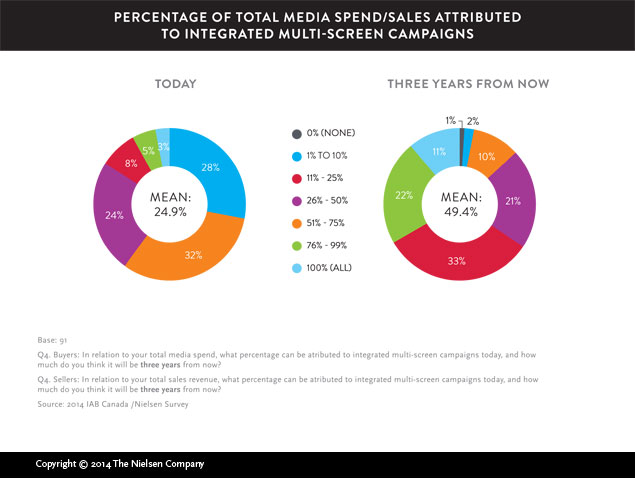 The importance of multiple screen campaigns in the larger marketing ecosystem is one that holds true across both the United States and Canada. A recent study conducted by the ANA (Association of National Advertisers) and Nielsen, which surveyed U.S. media buyers and sellers, shines light on the fact that 88% believe these campaigns will be important in the next three years. This alignment across markets builds a strong case around the fact that multi-screen advertising is more than just an idea; it's a fundamental shift in the way that we build our advertising campaigns.
MOVING FORWARD WITH IMPROVED MEASUREMENT
Measurement remains the single most important factor in catalyzing a movement toward multi-screen advertising. The role it plays in the adoption of multi-screen is clearly on display, with 58% believing that verification of results will lead to an increased spend on campaigns. Verification of success can be even more valuable when the results are delivered in real time as 36% of respondents indicated that this was critical for success. When real time measurement is delivered to the market with a common approach across screens it drives value for the entire industry. Movement towards this comparability and optimization will only further drive multi-screen advertising forward for the Canadian marketplace.
MULTI-SCREEN ADVERTISING WILL CONTINUE TO EVOLVE
Advertising is just beginning to change, but the pace of change will continue to accelerate over the next three years. Multi-screen campaigns will continue to change in several important ways:
There will be an increased focus on connected TVs and the desire to bring behaviour-based planning, addressable advertising and real-time metrics to the medium. The connected TV is a particular area of growth among screens, as 85% of respondents indicated that it would be important in three years, compared with 61% today.
A determined effort to integrate the management of multi-screen campaigns so that barriers from the current structure are eliminated. In order for multi-screen advertising to gain traction, there must be movement away from silo and hybrid structures, which account for 64% of campaigns, toward an integrated approach that represents just 36% of all activity today.
A strong desire to see video grow as a preferred format across all screens, with 83% of people believing that it was best suited on mobile and 92% on tablets.
With these changes on the horizon, it's incumbent on media buyers and sellers to make every effort to educate and equip themselves to move where the industry is going.
For more detail and insight, download the "Optimizing Integrated Multi-Screen Campaigns" white paper.
Methodology
The IAB Canada and Nielsen conducted the Optimizing Integrated Multi-Screen Campaigns survey online during July and August 2014 among a total respondent sample of 187 people. The sample comprised 83 media buyers and 80 media sellers with a further 24 respondents from other industry areas drawn from the membership of IAB Canada. The respondents have on average 16 years of marketing experience.