The NBA's All-Star Game is a chance for fans to vote on the starters for this annual exhibition game between the Eastern and Western conferences. And this year's rosters were largely filled with a young and diverse group of players, just like their audience.
With on-court talent hailing from all parts of the globe—from Argentina to Australia—it stands to reason that the NBA has one of the most culturally and racially diverse followings of all sports leagues. In fact, according to the 2014 Year in Sports Media Report, during the 2013-2014 season, multicultural audiences spent more time watching NBA games on TV compared to white viewers, with African-Americans and Asian-Americans spending the most time watching, followed by Hispanics.
While all fans have spent more time watching the NBA over the past decade, the jump in African-Americans' time spent watching among all ethnicities' TV viewership has been astounding—a 63% increase from the 2003-2004 season to the 2013-2014 season. Despite the NBA's young overall audience, the increase in the amount of time spent watching was actually driven most by older age groups for Hispanics and African-Americans.
With 43% of its audience under 35, the NBA has one of the youngest fanbases of all sports. While white viewers still watch the least on average in the 18-34 demographic, they're quickly catching up with Hispanic viewers.
In the 2013-2014 season, Hispanics aged 18-34 spent 456 minutes on average watching televised regular season games, compared with 403 minutes from 2003-2004, a growth of 13% on average. Average time spent by African-Americans in the same age group increased 56% and by whites rose 43% from the same season.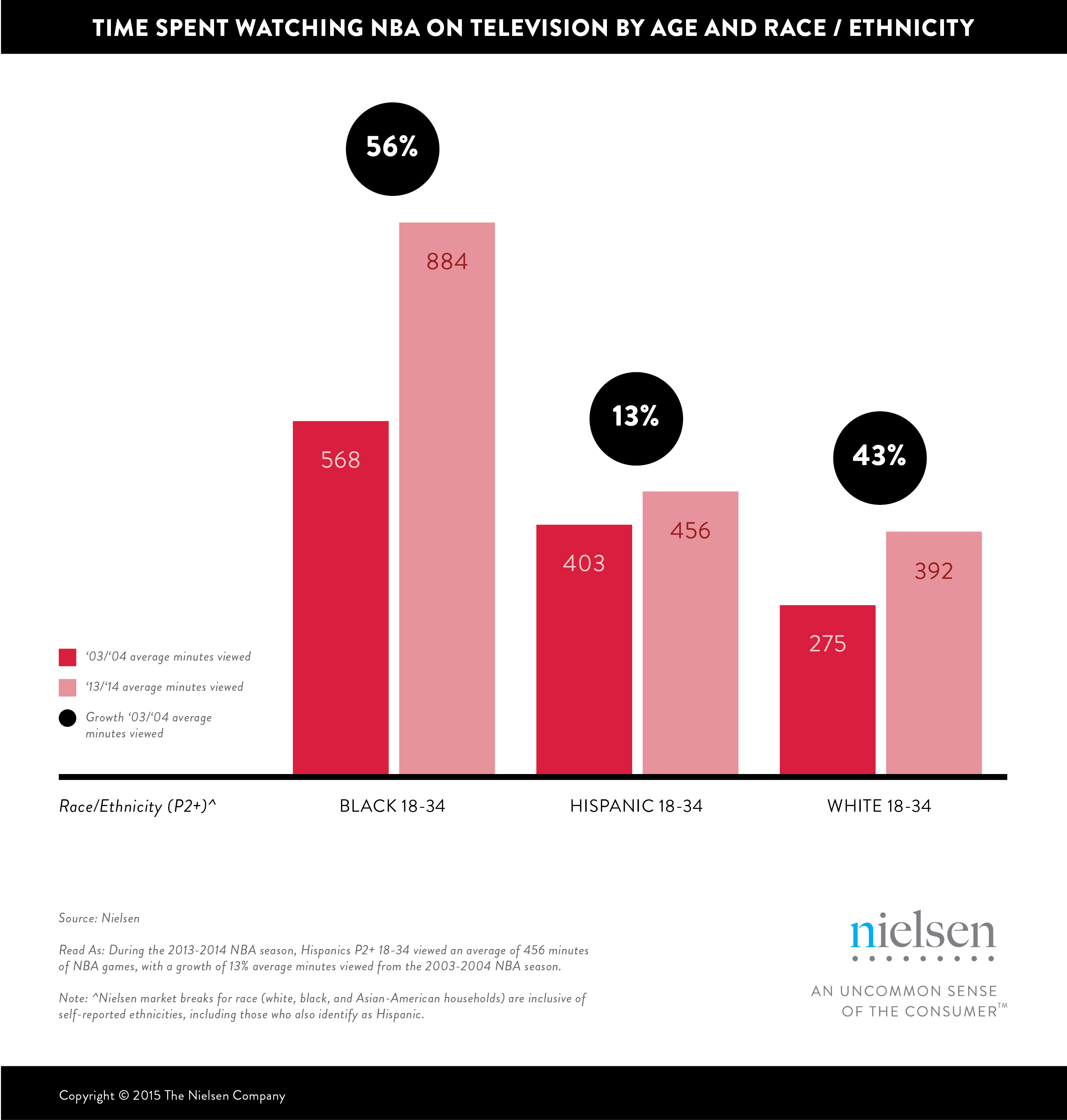 For more information about sports consumers and the biggest moments in sports in 2014, download Nielsen's 2014 Year in Sports Media Report.
Note
Average viewership and average minutes viewed during the 2014 NBA regular season on the following networks: ABC, ESPN, ESPN2, TNT and NBA-TV.