While younger Latinos are commanding widespread attention in the U.S. marketplace, a new Nielsen report highlights how older Latinos' purchasing and consumption preferences can offer a unique opportunity for advertisers and marketers to extend their reach to a fast-growing consumer group in an increasingly multicultural U.S. society.
Today's Hispanic 50+ consumer is not aging out, but aging up, as detailed in The New American Vanguard: Latinos 50+ Are Healthy, Wealthy and Wise. Hispanics are living longer, healthier, more active lives and are redefining the "golden years" of retirement. Currently, Hispanics 50+ represent roughly 10% of the U.S. population, or roughly 11.1 million. And the numbers are increasing. The U.S. Census projects that the group's size will grow in five-year increments, reaching 24% (42.1 million) of the population by 2060.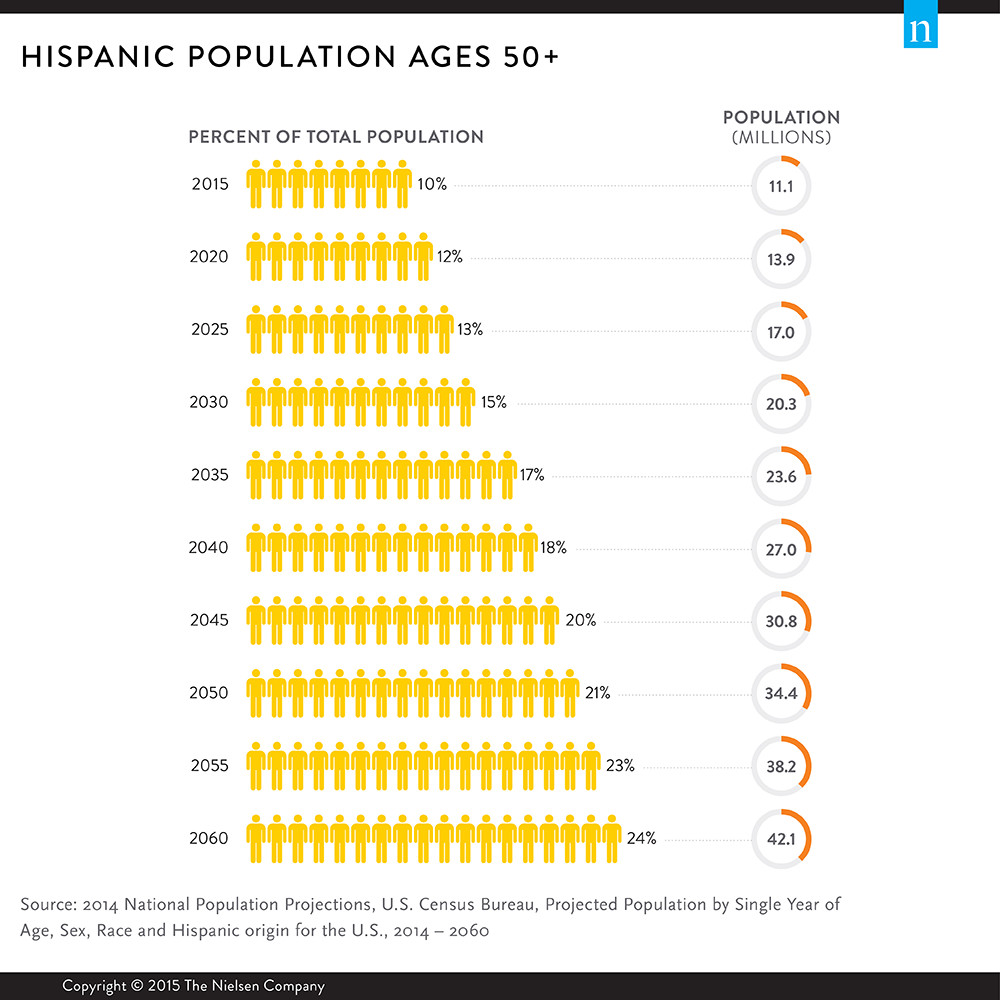 A Large Group with Growing Wealth
In addition to size, increased household incomes for Hispanics 50+ are notable. From 2000-2013, the percentage of households headed by Hispanics ages 50-69 that earned $75,000 or more increased at an annual growth rate of 10.2%, compared with 7.6 % among younger Hispanic head-of-household adults. In fact, all income bands above $50,000 increase in this 13-year period, while the percentage of households with incomes under $50,000 decreased.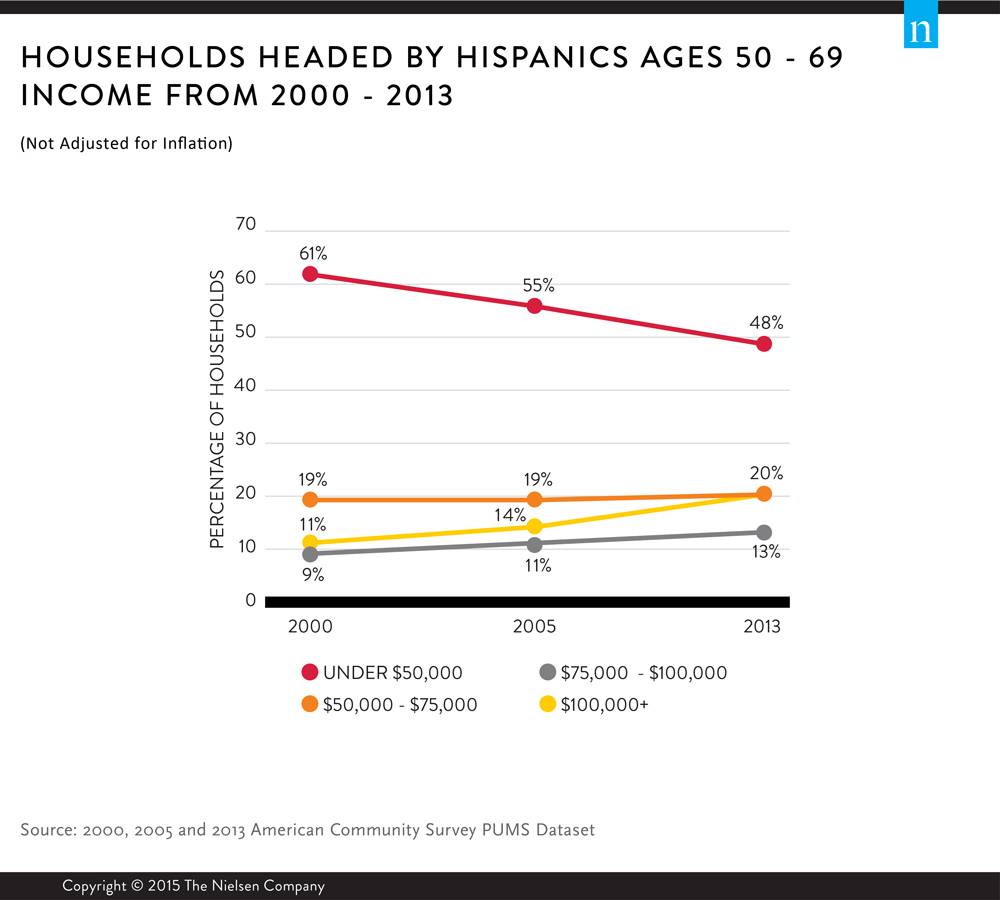 LATINOS LEAD IN MULTIGNERATIONAL LIVING
Older Latinos' shopping and purchasing decisions are anchored in rich cultural traditions with family as the central focal point. Latinos 50+ are at the epicenter of the evolving social and cultural reality of several generations living under one roof. In 2013, 40% of the Hispanic 55-64 population lived in multigenerational households, compared with 23% of the total U.S. 55-64 population. For Hispanics 65+, the rate is even higher: 42% of the population lived in multigenerational households, compared with 21% of the total U.S. 65+ population.
These multigenerational households include at least two adult generations or a grandparent or at least one other generation. There is significant mutual benefit when families share in child care, cooking, transportation and shipping. Greater disposable income, more shared meals and family experiences lead to long-lasting brand impressions that span multiple generations.
OLDER LATINOS ARE CHAMPIONS OF VALUES AND TRADITIONS
The multigenerational living model helps older Latinos share their values with younger family members—providing a bond and a bridge to assist in sustaining their culture. A key factor is dialogue and language choices. Forty percent of Hispanics 65+ are bilingual—the highest level of any age group except 18-to-29-year-olds (42%) who have a strong tendency to speak English and Spanish with other family members in the household. The strong preference for speaking two languages is indicative of Hispanics' view of themselves as equally American and Hispanic.
Meanwhile, more than half (56%) of Hispanics 50+ are foreign born. Both foreign-born and U.S.-born Hispanics exhibit a strong sense of maintaining cultural traditions:
Foreign-born Hispanics 50-64 say they are more connected to their ethnic heritage than their parents were at more than double the rate of non-Hispanic whites. U.S.-born Hispanics 65+ indicate the same sentiment at a 48% higher rate.
Foreign-born Hispanics 50-64 say it's important their children continue the family's cultural traditions at a 21% higher rate than non-Hispanic whites and U.S.-born Hispanics are at a 16% higher rate.
Additional insights from the report include:
Older Hispanics buy more frequently than younger Hispanics and non-Hispanic white peers in nearly 75% of all major fast-moving consumer goods departments, including health and beauty, general merchandise and non-edible grocery items.
Greatest Generation Hispanic shoppers (65+) have a preference for brand-name products, buying at least one branded item 141 times annually, compared to of frequency rate of 75 for store brand items.
Hispanic Boomers (50-64) watch 162 hours of traditional TV per month.
Foreign-born Hispanics 65+ think of their mobile phones as a source of entertainment at a level 84% higher than non-Hispanic white peers.
For additional insights, download the The New American Vanguard: Latinos 50+ Are Healthy, Wealthy and Wise report.