There's no doubt that the mobile games market is growing—even before the debut of Pokemon Go. Not only are more people playing on smartphones and tablets, but they're dedicating increasingly more time and money as well. To grab a bigger share of this growth, developers and publishers need to target the right consumers with the right content. The first step in achieving this insight is understanding the past and future landscape of the mobile games space by addressing two core questions: Where is this growth coming from? and Where will growth come from next?
With these questions in mind, Nielsen Games recently analyzed its data on mobile gamers and their thoughts on hundreds of the top mobile games to provide industry-level insight into growth patterns. We identified:
Three specific demographics are driving growth
White space opportunity is highest among three key genres
The price of admission is increasing in the puzzle and trivia space
Women, young Millennials and 55+ year olds are driving growth in the mobile games space
Over half of women aged 13+ in the U.S. are playing mobile games. Since 2015, mobile gaming among women has increased 5%, driving the majority of the growth in the total category. For perspective, mobile games penetration grew by only 3 percentage points among men during the same period. And not only that: While we see gaming time and budgets shrink among men, engagement among women is growing. For mobile games, more so than for any other gaming platform, women are a powerful consumer group to tap into.
Looking at age groups, the growth in mobile games penetration has been strongest among young Millennials and older consumers. The category is becoming ever more inclusive, and with this the profile of the average gamer evolves. While consumer spending on mobile games has shrunk among younger consumers this year, the sheer growth in the number of gamers has more than offset the decreased spend per gamer. And penetration among gamers ages 55+ has also grown significantly.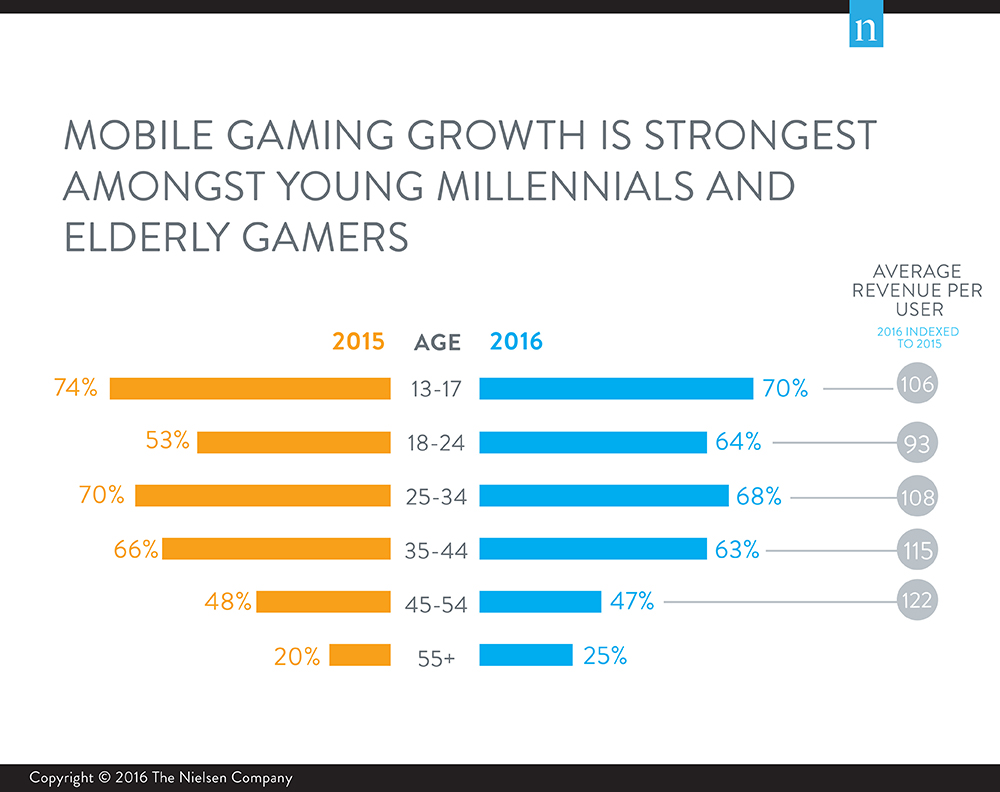 As the gaming audience grows in diversity, so should the content publishers offer. So in that regard, publishers should consider what genres offer the most attractive growth opportunities.
Sports, RPG and World Builder titles represent the top white spaces
Looking at current ownership versus demand, sports, role-playing games (RPGs) and world builder games are the top growth-presenting genres. Sports titles, and to a lesser degree RPGs and world builders, present a unique opportunity for developers to satisfy demand in a part of the mobile market place that is currently less saturated than others. All three genres tend to appeal strongly to males. While women have driven much of the growth over the past year, men are still a primary audience for mobile games. Each of these genres also sees high demand among young Millennials, and sports titles in particular see high demand among older mobile gamers.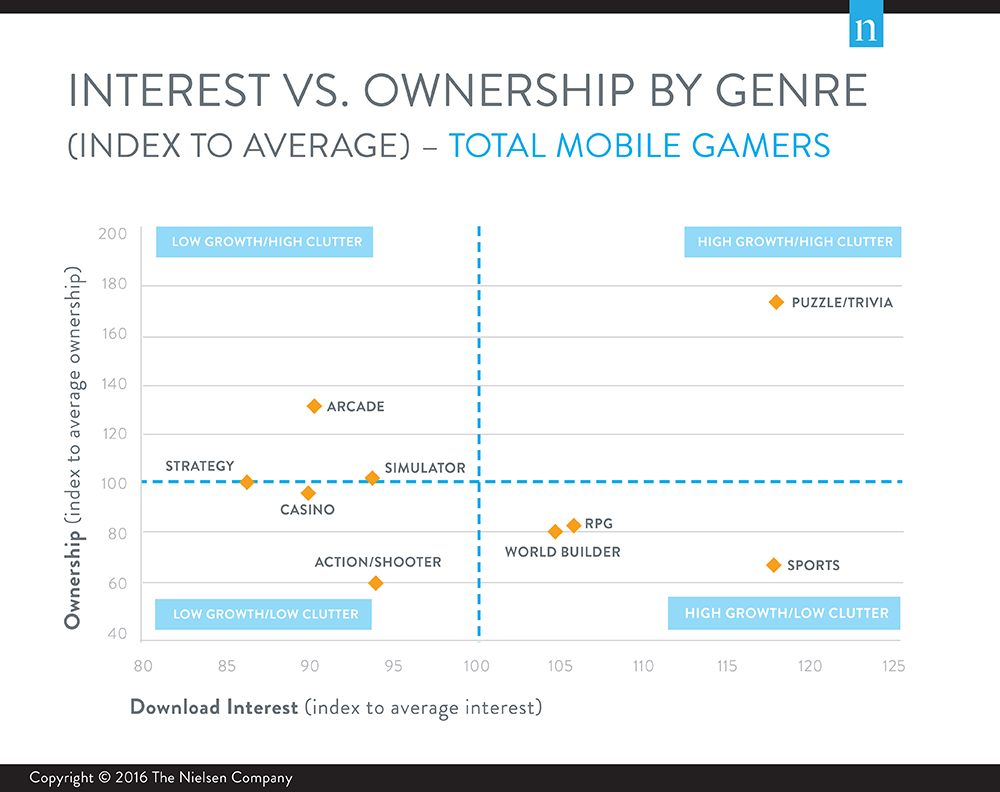 There's still success to be had with Puzzle/Trivia titles – but it will cost you
Regardless of how much the sports, RPG and world builder genres grow, it's unlikely that they will compete with the puzzle and trivia genre in terms of ownership within the foreseeable future. This genre, with broad appeal to gamers of all ages and high replay value, has made titles like "Candy Crush" a household name and enticed many developers to venture into the genre with their own puzzle and trivia titles.
From the clutter in this space, one might assume that this genre no longer represents opportunity for growth. However, Nielsen has found that desire for puzzle and trivia games remains quite strong among women, despite the wide range of titles already available for download. It is still possible to find success and growth in this highly congested segment, but it does require strong differentiation, partnering with a strong intellectual property, or a persuasive marketing campaign.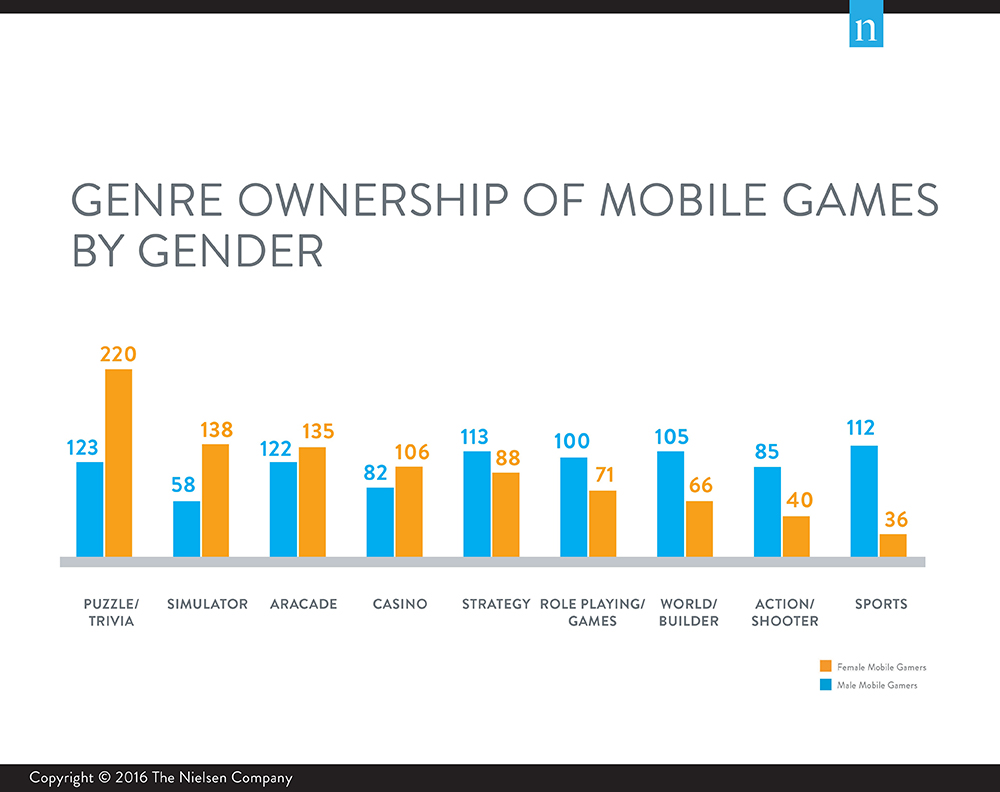 Understanding where the industry white spaces are at the genre level and knowing which consumer groups are driving that interest is a good first step in ensuring that you are focusing your efforts where the demand is highest. But that will only take you so far. A deep understanding of how consumers perceive your title, and which segments drive interest in your title, are essential for achieving success efficiently and grabbing a bigger piece of the mobile gaming pie. Understanding your competition and how you can strength your competitive edge will give you an even greater lead.
This article originally appeared on www.gamesauce.biz.