Millennials are more "multicultural" than any previous generation. In the U.S., approximately 40% of the generation identify as Hispanic, African-American or Asian American. And over a quarter of all U.S. Millennials are first- or second-generation immigrants—many of whom have strong ties to their global origins.
This diversity is shifting their attitudes—71% of all Millennials say they appreciate the influence of other cultures on American way of life. It's also shaping their consumer habits—from brand loyalty and product purchasing to language and media usage.
To better understand how the influence of other cultures affects Millennial shopping habits, a recent Nielsen study focused on the largest Millennial multicultural group—Hispanic Millennials. This group makes up more than half multicultural Millennials (21% of the generation's total U.S. population). And some markets have an even higher concentration of young Hispanic consumers. For example, one quarter of Los Angeles' population is Millennial, and half these young consumers are Latino.
When it comes to grocery, Latino Millennials are true to their heritage, attracted by cultural touch stones of smell, taste and familiarity. At the national level, 61% of Hispanic Millennials say they've shopped at Hispanic supermarkets at least once over the past year. But while these young Latinos value their roots, they're also open to other cultures—22% have shopped at an Asian supermarket.
Language plays a big role in whether these young Latinos shop culturally specific stores. As would be expected, the majority of Spanish-dominant and bilingual Hispanic Millennials across the U.S. have shopped at Hispanic groceries. But almost half of English-dominant Hispanic Millennials have also visited these stores. Hispanic Millennials' desire to shop at Hispanic groceries stores—despite language barriers—also reflects this generation's openness to different cultures.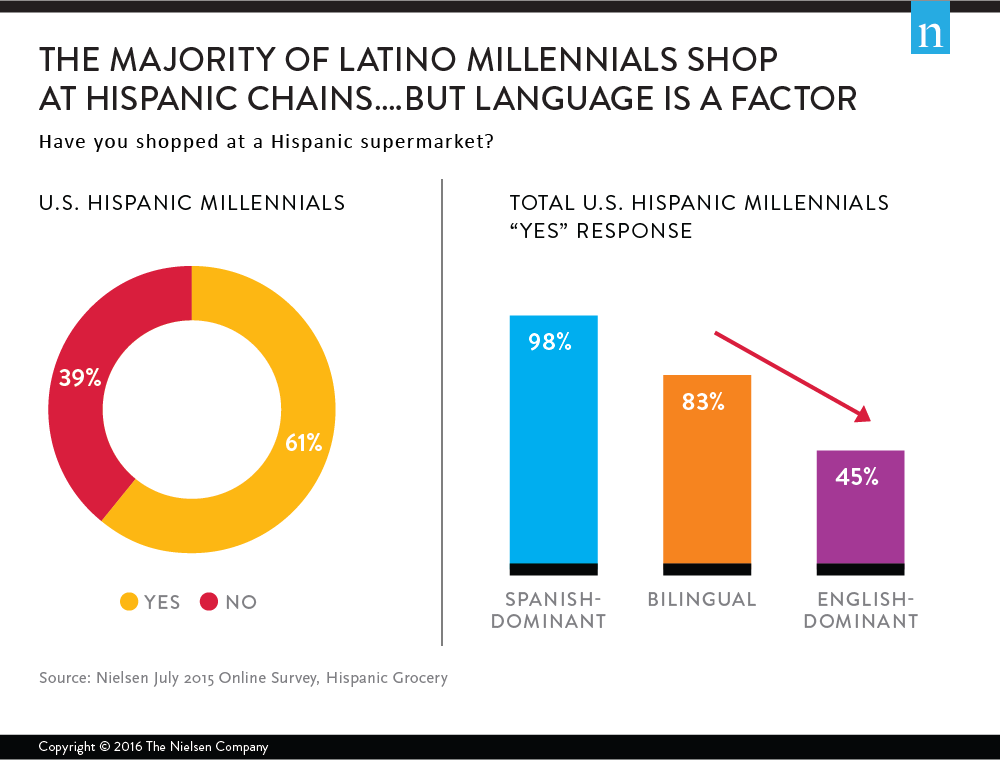 The Los Angeles (LA) market, in particular, illustrates the opportunity these attitudes present. In the city, the percentage of Latino Millennials shopping at Hispanic grocery chains jumps to 74%. And even more importantly, while 46% of LA Latino Millennials are English-dominant, almost 60% shop at Hispanic food stores. This is a testament to the sheer number of Latino stores in LA but also the draw and appeal of these stores.
While the value proposition for these stores is clear, such grocery options are not always available to them. At the national level, the No. 1 reason all Hispanics and the Millennial sub-segment give for not shopping at Hispanic grocers is the lack of nearby stores. Meanwhile, in LA, 36% of Hispanic Millennials say their main reason for not shopping at Hispanic grocers is because they can find their ethnic products in mainstream retailers.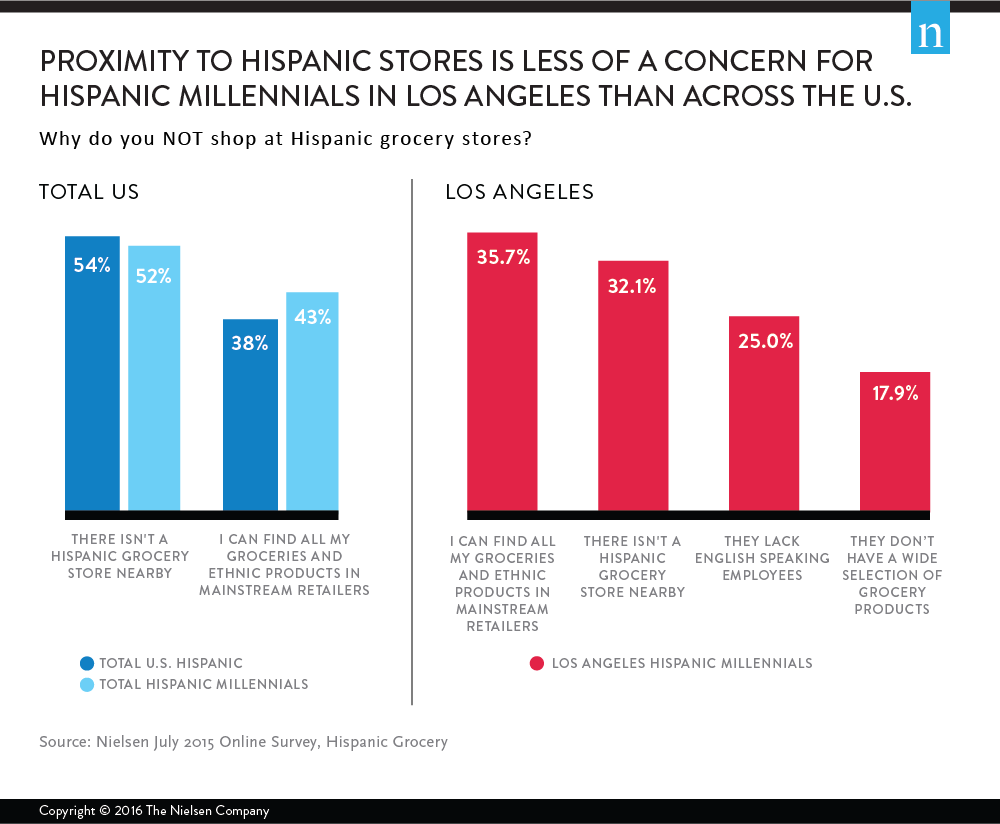 In LA, mainstream retailers have taken note of the needs and desires of Latino Millennials and are responding with options that appeal to these young shoppers. Across the country, food stores overall—not just Hispanic grocers—have the same opportunity to attract shoppers in high density Latino neighborhoods by better understanding their needs and gearing their store's product offerings to satisfy these desires.    
Methodology
The insights in this article were derived from "Shopping For My Culture," a Nielsen Hispanic Grocery Survey. The survey was in field for three weeks (from 6/30/15 to 7/21/15) and achieved 3,307 responses, supporting the levels of analysis required for reporting. It included English-preferred, Spanish-preferred, and bilingual Hispanic households on the Nielsen Homescan Panel. The age range for Millennials is 18-34. Hispanic Grocery/Supermarket is a grocery supermarket that offers a substantial amount of products from Hispanic/Latin origin, carries Hispanic produce (fruits/vegetables), and may offer Latino bakery items, tortillas, Hispanic meat cuts or specialty products (horchata, batidos), as well as outlets also known as ethnic supermarkets.