From promoting fitness to encouraging foreign investment, China set forth in 2014 to create a $813 billion sports industry by 2025. China's influence on global sports business is growing, and leagues, teams and sponsors from around the world are recognizing the potential to engage with a large group of new fans while unlocking revenue opportunities.
The population of China is estimated at 1.37 billion, more than four times that of the U.S. Basketball is China's most popular sport, with 40% of the urban population being interested. Football, known as soccer in the U.S., is experiencing steady growth with 31% interest. Cycling, motorsports and mixed martial arts have also gained in popularity.
Technology is opening direct access to the Chinese consumer for domestic and non-domestic leagues, teams and events. With 680 million active internet users in China, digital broadcasters in the country are investing heavily in domestic and international sports rights to bring sports like the NBA, UFC and UEFA Champions League to computers, mobile phones and tablets. Tencent is currently the most frequently used Chinese platform to access information about sport (69%), ahead of Sina Sports and the website of state broadcaster CCTV.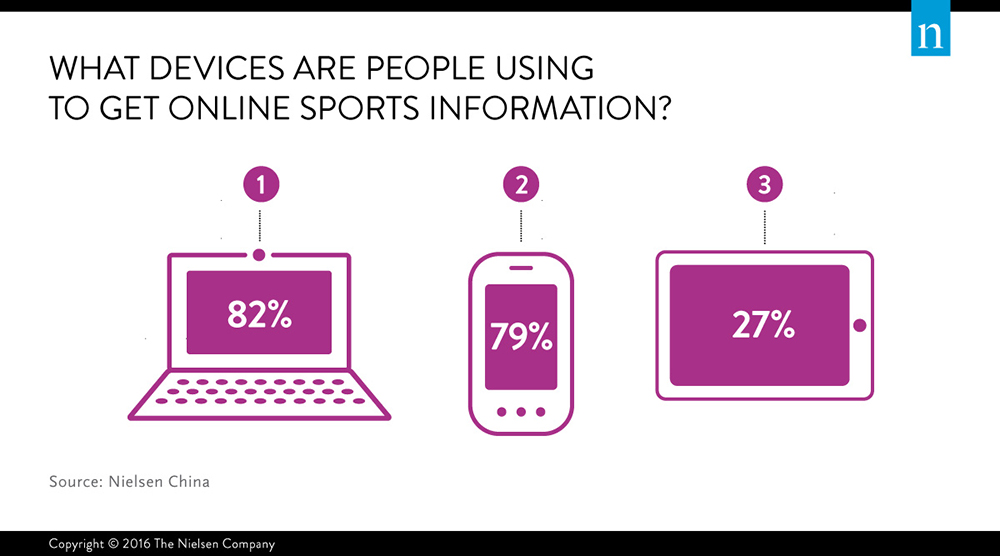 Meanwhile, Chinese brands looking to use sport as a catalyst for growth are concentrating less on sponsorship, traditionally used as a means to grow brand awareness and a market foothold, and more on the creation and purchasing of assets and content such as broadcast deals, agencies, players and teams—the recent spate of acquisitions of football teams across Europe by Chinese companies and individuals is a prime example. In April 2016, the Chinese Football Association unveiled its plan for the country to become a "world football superpower" by 2050, introducing initiatives such as the construction of training centres and pitches. China's national football association wants one football pitch for every 10,000 people by 2030.
For additional insights, download the China and Football: World Sport's Newest Superpower report.