Technological advances have given consumers access to all kinds of immediate content—from streaming the latest sitcom on a smartphone to logging on and using a game console to play a first-person shooter against a rival on the other side of the country.
But perhaps no "type" of programming content is more a perfect fit for a multi-platform distribution than the news. In fact, both technology and traditional means allow consumers to quickly get up to speed on everything from world events to Wall Street to a recently wrapped Presidential election simply by turning on the tube or checking in with a device, no matter where they are. What's more is that these advances have led to a never-ending supply of specific news stories from all over the globe.
According to the fourth-quarter 2016 Nielsen Total Audience Report, U.S. consumers have taken full advantage of news content, with adults 18+ spending over 73.5 billion gross minutes consuming news in an average week in 2016—up 18% from the prior year. This increase was powered for the most part by a rise in cable network news viewing. These adult news consumers spent close to six-and-a-half hours a week tuning in to national cable TV news in 2016—up nearly an hour-and-a-half from 2015 and 1 hour 45 minutes from the last election cycle of 2012.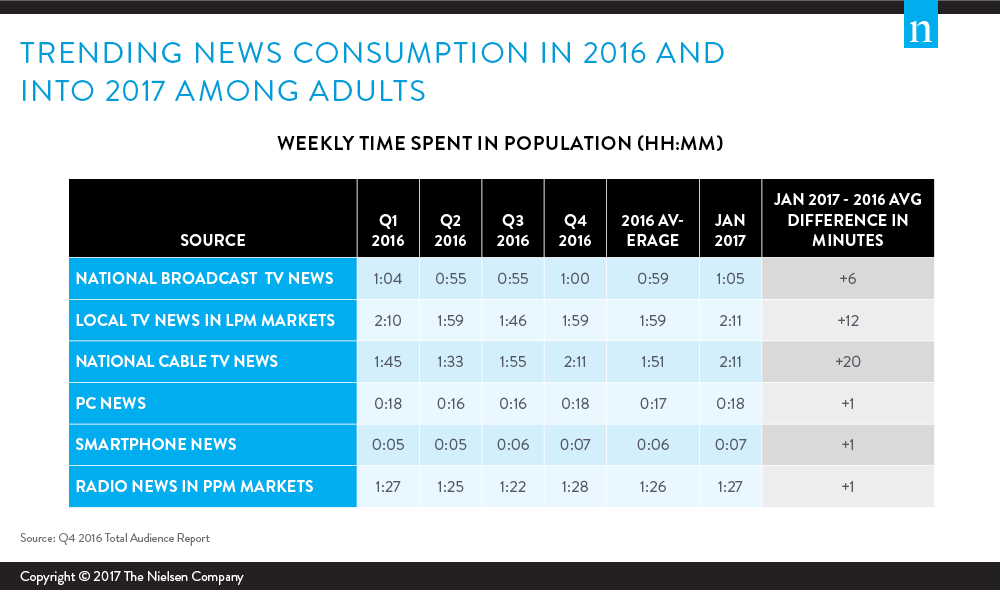 But the news genre has broad appeal over many different platform distribution types beyond national and local TV.
In fact, both smartphone and radio news experienced increases from 2015 to 2016 in both reach and time spent in every age demographic the report looked at. For example, radio news in the portable people meter (PPM) markets reached 27.1% of all adults (18+) in the average week, up from 26.3% in 2015. These adults also spent an average of nearly five-and-a-half hours listening to news weekly, 14 minutes more than in 2015. And smartphone news consumption was also up among adults, reaching over 27% of adult 18+ in the average week in 2016, up from 23.6% in 2015.
Beyond 2016, the news genre—and news cycle—show no sign of slowing down, and as of January 2017, consumers' weekly time spent reading, listening or watching the news among the population is already outpacing the average amount in 2016 over all the different distribution channels.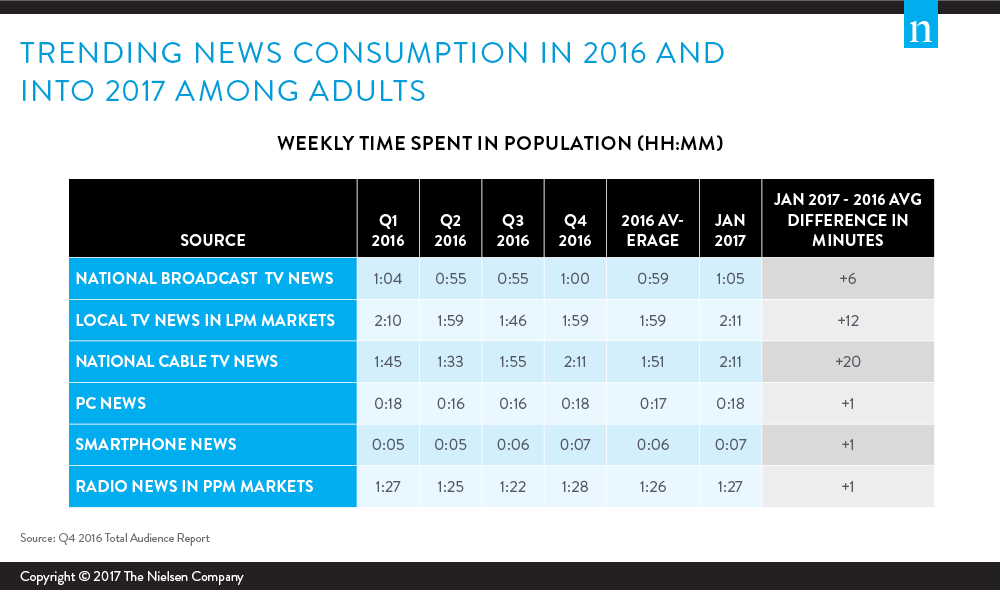 The report found that news content remains a vibrant way for marketers to reach consumers, but different types of consumers access news content via different means. Knowing these important cross-platform trends is vital to both programmers, brands and advertisers as they seek engaged viewers, readers and listeners.
Methodology
Using Nielsen's panel methodology for national TV, local TV in LPM markets, radio in PPM markets, and digital, we analyzed the news consumer and how usage varies by source and demographic. The sourcing for these analyses was based on: National TV News (Nielsen National Television Panel, News summary type code, Broadcast – ABC, CBS, FOX, NBC, TEL, UNI; Cable – CNBC, CNN, FOXNC, MSNBC); Local TV News (Nielsen 25 LPM Markets, Local news genre, Broadcast – ABC, CBS, FOX, NBC, TEL, UNI); PC News (Netview, Current Events & Global News subcategory); Smartphone News (EMM, Current Events & Global News subcategory), Radio News (Nielsen PPM Markets, 339 News/Talk, All News and Spanish News/Talk radio stations combined, including 52 NPR affiliates). For more information, please see page 34 of Nielsen's Q4 2016 Total Audience Report.