Diverse audiences are big with radio. Notably, Black and Hispanic consumers make up a third of American radio listeners, according to the newly released June 2018 Audio Today Report.
Audio plays an important role in the daily lives of hundreds of millions of Americans, and the listening audience of radio is as diverse and varied as the fabric of the American melting pot itself. In fact, radio is America's top weekly reach platform, both overall and with Black and Hispanic consumers; 75 million of whom tune in each week. In the first quarter of 2018, the radio reached 92% of Black consumers each week and 96% of Hispanic consumers.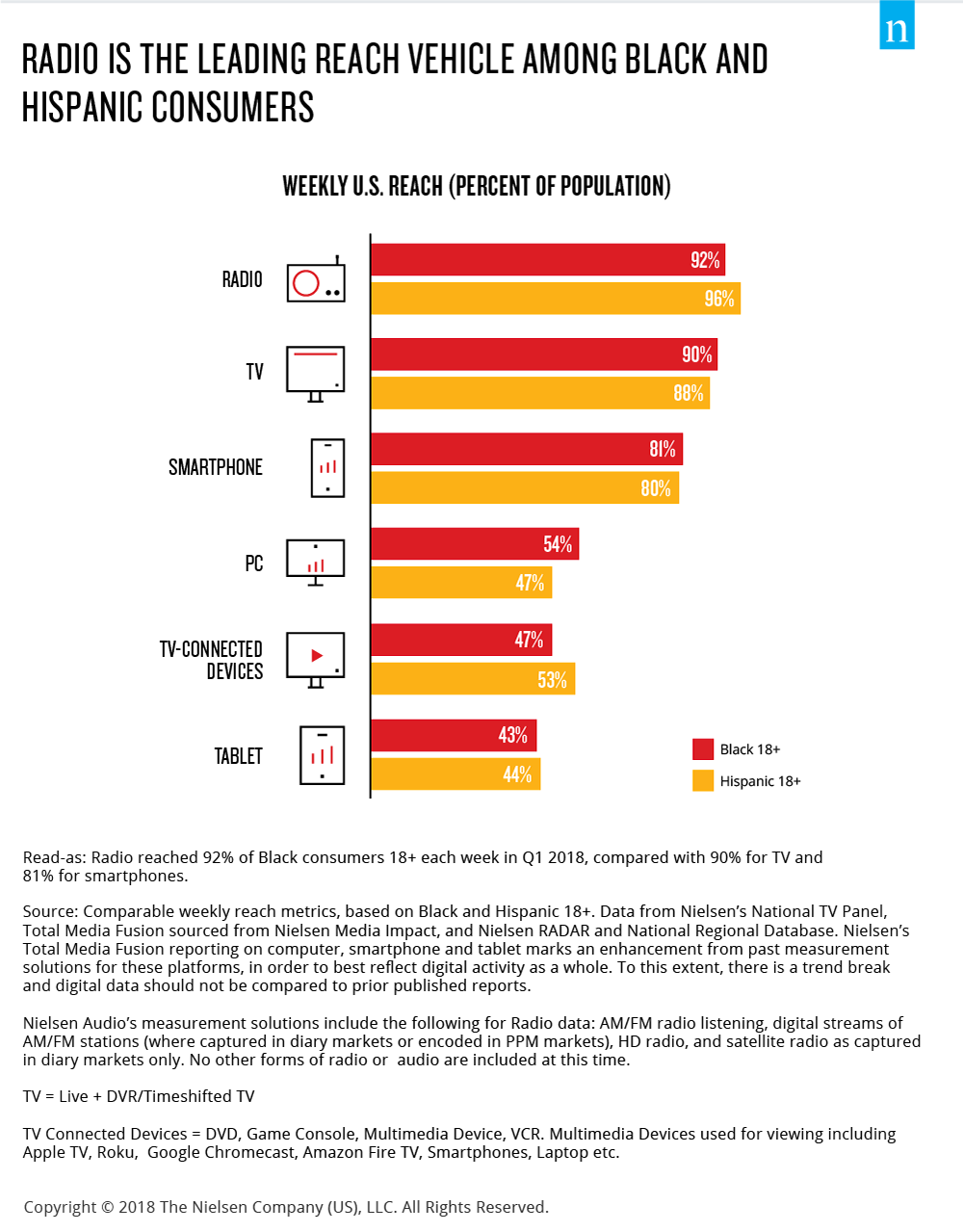 In each of the past five years, more than 30 million Black consumers and 40 million Hispanic consumers have tuned in to the radio each week for entertainment, music and news. And when we look at the overall radio audience, the national radio audience is approximately 14% Black and 17% Hispanic.
Black and Hispanic consumers are also trailblazers when it comes to interest in and adoption of smart speakers and audio streaming services. According to Nielsen's new syndicated MediaTech Trender Report, 52% of Black consumers and 45% of Hispanic consumers use streaming services for music, radio and podcasts. Smart speakers are also popular, as 19% of Black consumers and 21% of Hispanic consumers have a smart speaker device in their household. What's more, these consumers are also very interested in owning these devices or using these services to further their audio consumption.
The report also looked at specific listening characteristics of Black and Hispanic radio audiences. In particular, more than 30 million Black consumers, age 12 and older, tune into radio each week. Forty-seven percent are male and 53% are female, and the most popular time of day to listen is Monday-Friday between 3 p.m. and 7 p.m., commonly referred to as "afternoon drive time." Urban Adult Contemporary (AC) is the top format among Black listeners, with nearly one-third of all radio usage going to stations in the Urban AC format.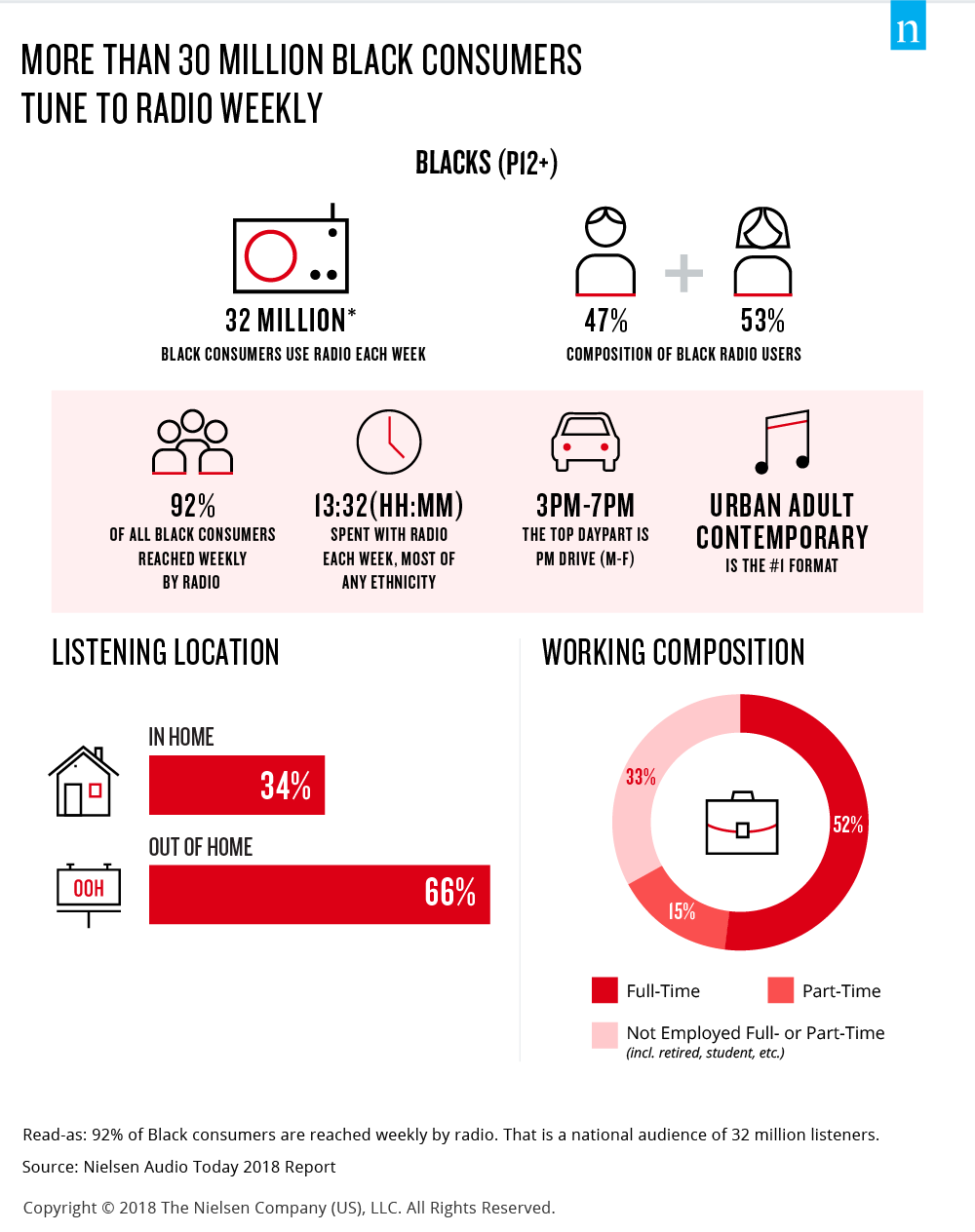 Meanwhile, the gender divide among the Hispanic listening audience is 53% male and 47% female. Mexican regional is the No. 1 format overall, and the most popular time of day for radio occurs during midday (Monday-Friday 10 a.m.-3 p.m.). Digging deeper into the types of radio that Hispanic consumers prefer, Mexican Regional is the top format in terms of share of audience with almost every demographic, except among Hispanic teens (12-17), where Pop Contemporary Hit Radio (CHR) and Rhythmic Contemporary Hit Radio (CHR) lead the way, with Mexican Regional ranked third.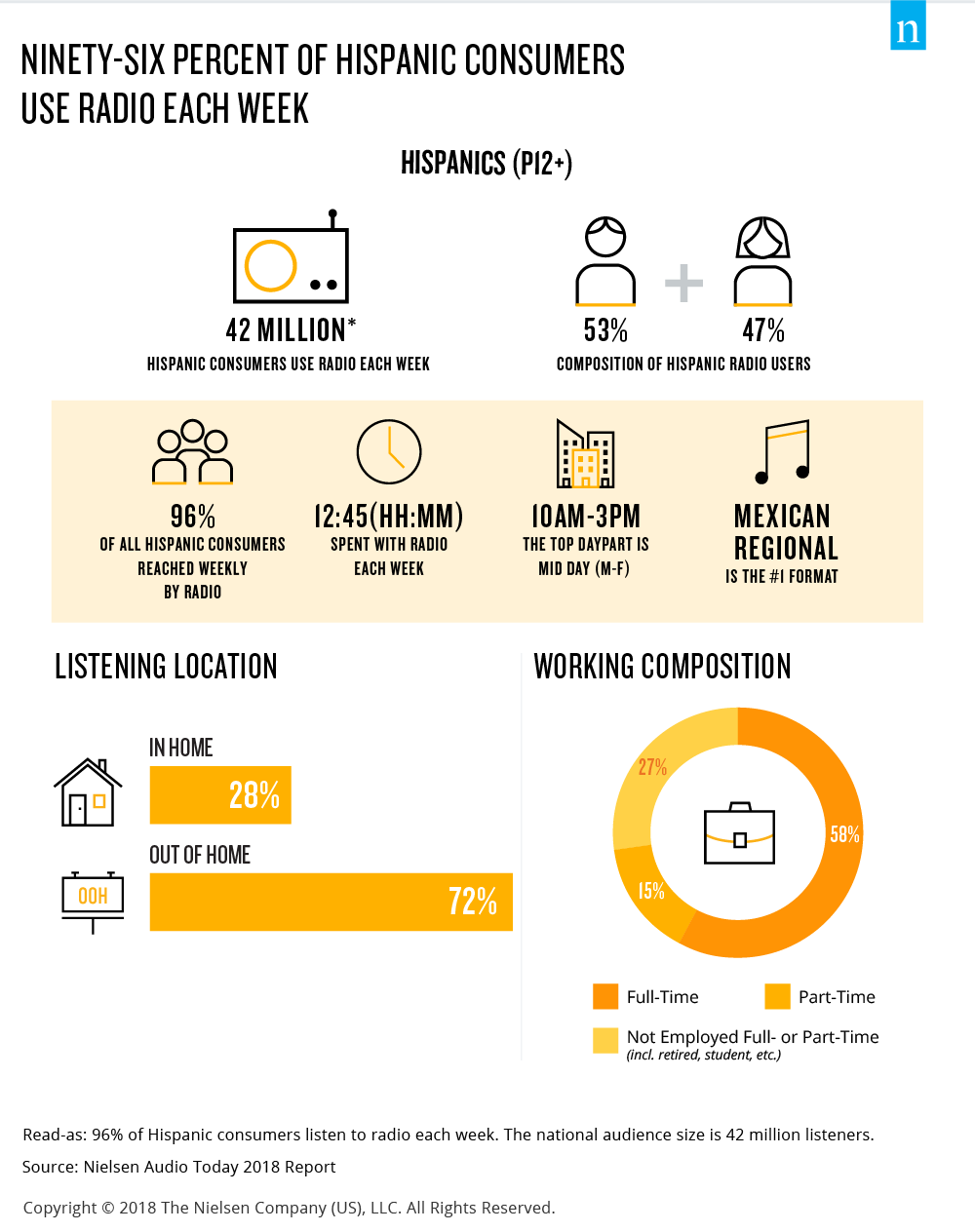 Note
Data used in this article is inclusive of multicultural audiences. Hispanic consumer audiences are composed of both English and Spanish-speaking representative populations.