Jakarta, 21 March, 2019 –  Presidential Election Debate that has been conducted in three sessions by the General Elections Commission (Komisi Pemilihan Umum/KPU) reached more viewers compared to the similar program broadcasted on TV stations during the 2014 election period. Nielsen TV Audience Measurement (TAM) study revealed that the Rating and Reach of the three Debate programs were significantly higher than those of the 2014.
The number of TV stations that broadcast the Presidential Election Debate was higher compared to those of 2014. This is in accordance with KPU's policy that requires 18 TV stations to broadcast the program. 13 TV stations have aired it, while in 2014 there were only 7 TV stations broadcast the debate program.
The results of Nielsen's monitoring in 11 cities found that the Total Reach of this year's three presidential election debates was 57.6%, significantly higher than that of 2014 with 49.1%. As for the Rating, the three debate programs achieved much higher Combined Rating, and the highest one was the 2nd debate, i.e. the Presidential Candidate Debate Jokowi vs Prabowo.
TV Rating for Presidential Election Debate Program
| | | | |
| --- | --- | --- | --- |
| Year | Debate 1 (%) | Debate 2 (%) | Debate 3 (%) |
| 2019 | 15,5 | 18,8 | 11,3 |
| 2014 | 8,4 | 9,5 | 9,6 |
In terms of Share, of the three debates, the second one with Jokowi vs Prabowo debating about energy, food and natural resources gained the highest Share with 73.1%. The first debate which was Jokowi-Ma'ruf vs Prabowo-Sandiaga with the topic of law, human rights, corruption and terrorism gained 55% Share; while the third one which was the Vice Presidential Candidate Debate on education, health, labor, social and culture gained 44% Share.
"The high Rating and Share of this year's Presidential Election Debate shows the high enthusiasm of voters to get to know the candidates better. By watching the debate, viewers can determine their choice." says Hellen Katherina, Executive Director Media, Nielsen Indonesia. "KPU's initiative to require 18 TV stations to broadcast the Presidential Election Debate is also worthy of appreciation. This clearly extends the reach and makes more and more voters are able to see the candidates presenting their superior programs."
In terms of viewers profile, based on Nielsen index numbers, the three debate programs reached more women, viewers aged 40+ years old and viewers from the Upper class. (see Table 1).
Table 1: 2019 Presidential Election Debate Program Index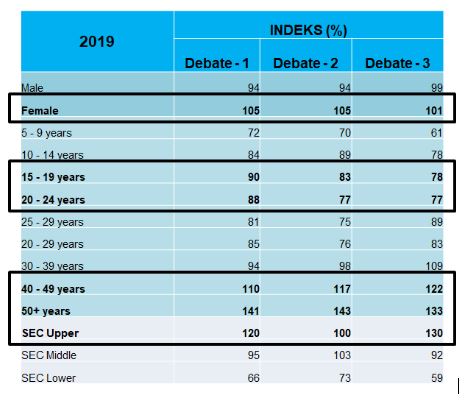 Source: Television Audience Measurement – Nielsen Media
***
ABOUT NIELSEN TELEVISION AUDIENCE MEASUREMENT (TAM)
Nielsen TAM in Indonesia measured viewings of all national television on more than 8,000 people aged 5 years and over in 11 cities in Indonesia (Jakarta, Bandung, Yogyakarta, Semarang, Surakarta, Surabaya, Denpasar, Medan, Palembang, Makassar and Banjarmasin). The measurement results are stated in rating, share and index values.
Clients interested in Nielsen TAM reports should contact their local Nielsen representative.
Non-clients interested in Nielsen TAM reports can send email to nielsen.indonesia@nielsen.com