The impact and influence of the Hispanic audience in the U.S. on media content and platforms is undeniable, particularly on streaming. Over the past year, streaming has become the predominant way all people watch television. In July, for example, streaming claimed its biggest share of TV time (34.8%) to date. Among Hispanic audiences, however, the story is far more pronounced—a reflection of the tremendous variety available and Latinos' attraction to culturally-relevant and representative content.
Compared to the general U.S. audience, 43.6% of Latinos' total TV viewing in July 2022 was attributed to streaming platforms—significantly outpacing the streaming appetites of all other ethnic groups.
The high engagement with streaming services reflects Latinos' enjoyable streaming experience, the availability of a high volume of content that is either inclusive, in-language, or both. Age is also a factor in the attraction to streamed content. While younger viewers of all racial or ethnic backgrounds stream content in higher quantities, Latino's relative youth is a significant contributor to the increase in time spent with streaming.
Fifty-eight percent of U.S. Hispanics are under 34 years of age, and a full 31% are under 17. Additionally, the average age for Latinos in the U.S. is 33.7, well below 45.1 for non-Hispanic Whites.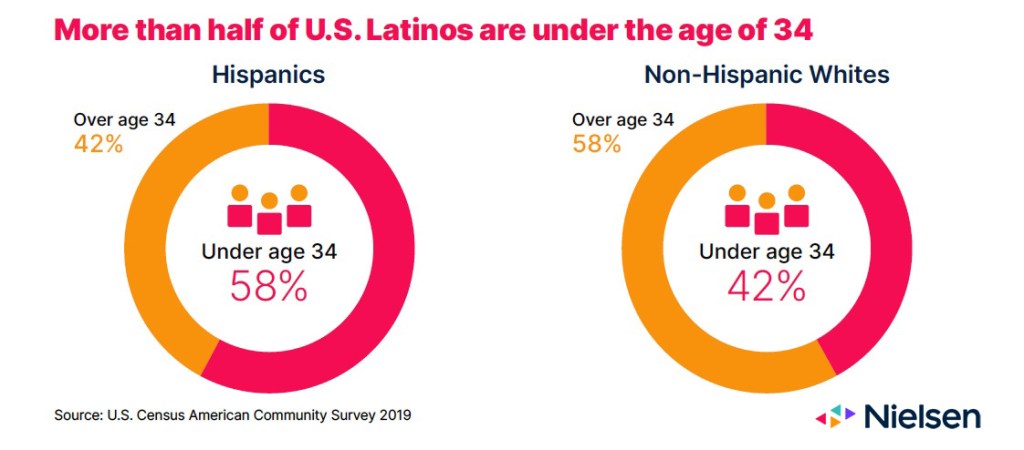 Hispanic viewers continue to increase the amount of time spent with streaming platforms: In July, Latinos streamed 33.5 billion minutes of video each week, reflecting an annual increase in impressions1 of 22%.
Across the various platforms and services available, Netflix and YouTube are among the most popular among Hispanics, as this audience spent 24% and 57% more time with these platforms, respectively, than non-Hispanic Whites during the month of July 2022. Hispanics high level of engagement with these platforms is attributable to two factors, among others:
Netflix has publicly committed to investing in refreshing its library of Hispanic content
YouTube is a creator-driven platform, delivering culturally attuned content created by and for Latinos.
Much of the increased streaming engagement over the past two years reflects the growing list of platforms and services that offer an increasing wealth of options, both live and on-demand. And when it comes to satisfaction, a survey Nielsen conducted earlier this year found that Hispanics are the most pleased with their streaming experience.
Through the lens of total use of TV, Hispanics are finding more of what they're looking for outside of traditional television channels. As a result, they spend notably less time watching traditional live and time-shifted television.
To capitalize on viewing trends, media companies are racing to deliver their own streaming offerings, with some estimating that Americans now have more than 200 streaming services to choose from. As of August 2022, U.S. audiences had more than 757,000 titles to watch on streaming platforms, compared with just over 212,000 on traditional linear channels. For Hispanic audiences, this extensive—and growing—library is the go-to source for the inclusive, representative content that they're looking for.
Note
An impression is a metric that validates that an audience member saw content.
For additional insights, download our Latino-led content and viewers: The building blocks for streaming success report.