Who they are and what they could do for the sport's future
Interest in women's football is growing fast. Excitement for the 2023 FIFA Women's World Cup is up 7 percentage points from the 2019 tournament1. There are a bevy of reasons driving this rise, but one chief among them is the players themselves.
The relationship between athletes and fans is powerful. Think back to the first player you connected with. Did they inspire you? Make you feel seen? Sway what cereal you ate or shoes you bought? Sixty-five percent2 of global sports fans agree that female athletes can be role models in society. In some ways, athletes are the original influencers. And finding an athlete you connect with can deepen your interest in the tournament, team and sport itself.
We tapped Nielsen InfluenceScope to discover Instagram's 10 most influential athletes and the 10 breakthrough players for the 2023 Women's World Cup. Given the right platform and brand partner, these athletes have tremendous potential to supercharge the growth of women's football.
Instagram's 10 most influential female football players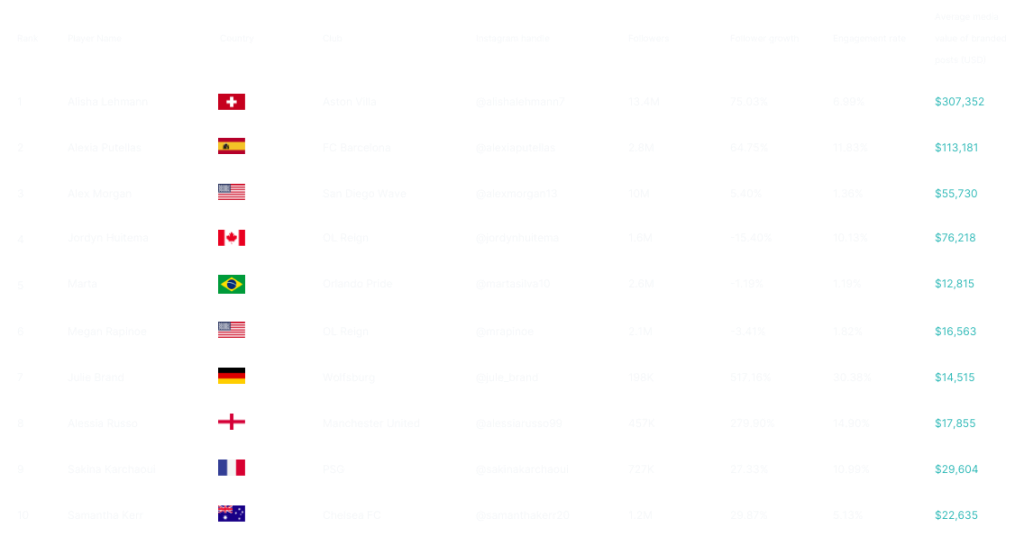 Note: Leah Williamson (England) would have ranked fourth, but is not included in the list due to injury.
Note: World Cup 2023 is Kerr's hometown tournament, which could potentially increase her follower growth and sponsor value significantly.
The methodology includes a range of performance and sponsorship-related key performance indicators (KPI) including social following, content engagement, fan base growth, quality, reachability and equivalent media value of branded content published by each player. Leveraging the flexibility of InfluenceScope, different weights are given to each KPI in order to distinguish them in terms of importance. All data is from June 2022 – May 2023.
Take Alisha Lehmann, a Swiss forward who plays for Aston Villa who ranked No. 1 on our list. Her Instagram following has increased by 75% in the last 12 months to more than 13.4 million, making her the most popular Swiss sports person on the platform—even more followed than tennis legend Roger Federer.
Spain's Alexia Putellas, the 2022 Ballon d'Or winner, grew her following by 65% over the past year, Manchester United Alessia Russo forward increased hers by 280%, and VfL Wolfsburg and Germany's Jule Brand's following went up by an eye-popping 517%, the highest growth by a player in Nielsen's top-10 most influential players.
While these players may have less reach than some of their male counterparts, they often have higher engagement and a much more reachable audience. This represents a huge opportunity for brands, says Jon Stainer, Managing Director of Nielsen Sports.
"The footballers participating at World Cup 2023 are not only exceptional sports women but also social media powerhouses, capable of driving impactful conversations and fostering genuine connections with their followers," says Stainer.
Instagram's 10 biggest breakthrough players (born 2000 or later)
In the case of breakthrough players, leveraging the flexibility of InfluenceScope, more weight was given to the growth in following and performance over the past year than to more static KPIs: the solution allows the weight of each KPI and—at a later stage—of each data point to be changed according to the objectives.
The data shows just how potent the connection is between these athletes and their followers. Across Instagram, more than half of the creators have an engagement rate below 5%. Seven of the women on Nielsen's top 10 list are above that, and all of the biggest breakthrough players are above that benchmark by wide margins.
Those connections lead to the kind of results that make sponsors' ears perk up. Seventy-one percent of consumers trust advertising, opinions and product placements from influencers, according to the 2021 Nielsen Trust in Advertising study. In another study, where Nielsen's Brand Impact service measured the effectiveness of influencer ads in nearly 200 campaigns, the results were even more impressive. An average of 80% of people who viewed influencer ads were able to recall seeing the brand featured in the ads, and the ads also drove a nine-point increase in both brand affinity and purchase intent relative to consumers who didn't see them.
When engagement rates are this high, it translates into significant value for sponsors. As a group, the top 10 female footballers deliver an average of over $65,000 USD of media value per post. On her own, Lehmann's posts embody more than $300,000 USD in media value per post, and Barcelona midfielder Alexia Putellas posts are still valued at $100,000 USD despite being injured for most of the past year.
These athlete influencers are especially well suited for the platforms they exist on. Instagram is generally dominated by women and younger audiences, allowing sponsors to reach these coveted demographics, who they may struggle to communicate with otherwise.
As we head into the 2023 World Cup, these athletes can be a critical force for unlocking new heights for the tournament, the sport and all of women's sports for years to come. The fan engagement and brand value is already there, and with the right partnerships and promotion, new audiences are sure to follow.
For more insights and stats, explore our Women's World Cup data hub.
Sources
1Nielsen Brand Tracker – FIFA Women's World Cup, April 2019 – Jan 2023
2Nielsen Fan Insights, March 2023, Australia, Brazil, France, Germany, India, Italy, Japan, Spain, U.K. and U.S.