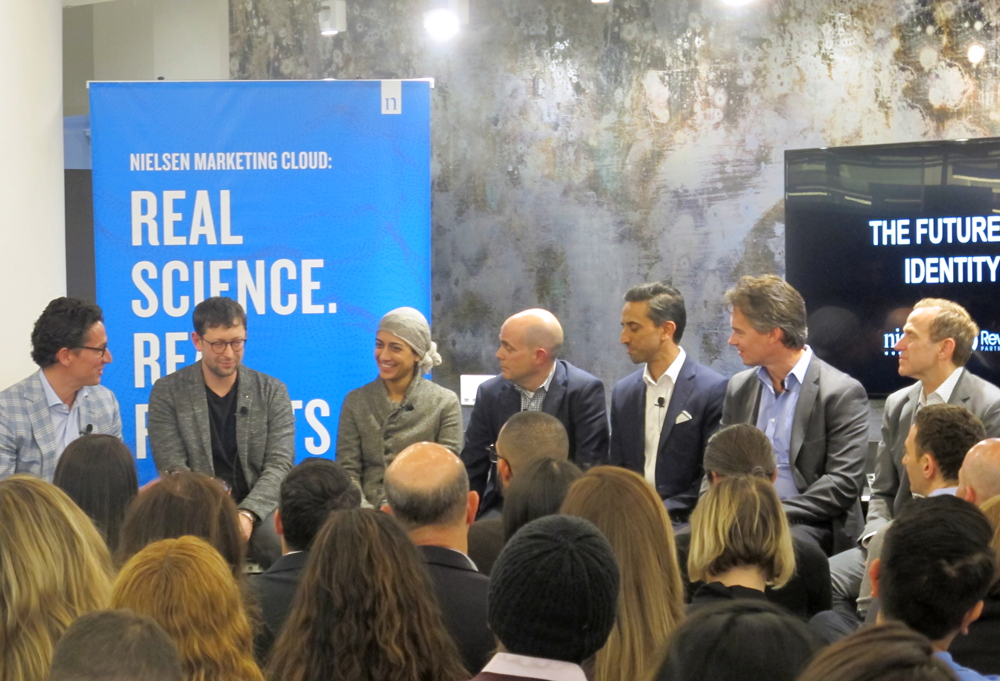 Today's consumer expects content and experiences that are engaging, useful and relevant to them. Despite consumers generating ample amounts of data around their media and buying behavior, marketers are finding it increasingly difficult to effectively meet this need.
Marketing technologies such as data management platforms and artificial intelligence can help brands manage big data and respond to changes in consumer behavior, but one question still remains: Can marketers raise the quality of personalized experiences without access to an underlying identity layer?
To answer that question, we recently teamed up with venture capital firm Revel Partners to host 'The Future of Identity' at the Nielsen Tech Hub. The event featured a panel discussion moderated by Joe Apprendi, General Partner, Revel Partners, with speakers from Nielsen, IBM IX, Mediavest, Walmart, Experian and Dun and Bradstreet. The group came together to discuss how 'identity' is transforming communications and customer experiences as we know it.
The conversation opened by touching on the General Data Protection Regulation—a new law that aims to strengthen data privacy and protection for all EU citizens—which is set to go into effect in May 2018. The panel then explored whether or not these regulations really benefit consumers.
For instance, a survey conducted by Microsoft last year revealed that 54% of consumers "expect brands to really know and understand them as people and for communications to be tailored to their values and preferences." Additionally, 85% of consumers, on average, demonstrated a willingness to share personal data for rewards, such as cash rewards or discounts. If consumers are willing to give brands access to their data in return for more personalized experiences, then maybe brands and consumers are more aligned than regulators think.
"The customer and the enterprise are aligned sometimes—but not always—and that's why there is caution," said Sumaiya Balbale, vice president, mobile and digital marketing for Walmart and vice president of marketing for Jet.com. "Brands, especially retail brands, are trying to use this information to better anticipate what their customers are looking for, help make their shopping process a lot easier, and make the ads that they are exposed to more relevant. But there are points where that can feel like aggressive selling that customers are not comfortable with, and this is where brands need to be careful not to overstep."
Robert Schwartz, global leader, strategy and design, IBM iX, explained that the key to striking a balance between the art and science of big data and leveraging identity effectively is ensuring the chief marketing officer, chief information officer, and chief data officer are aligned and engaging in an open dialogue. According to Schwartz, this is the only way that important questions around the consumer journey and brand risks can be effectively addressed. Unfortunately, he also noted, this isn't happening as often as it should.
The panelists went on to discuss the components, from the marketing stacks to the human resources, they each leverage to successfully unify consumer data, deliver personalized experiences, and measure marketing performance. Data management platforms, customer relationship management (CRM) systems, demand-side platforms, and multi-touch attribution were among the platforms and solutions mentioned.
For Balbale, these platforms can also help transform organizations from the inside out. "These solutions are not just about external media," she explained. "They are also about the internal ecosystems that you're supporting … imagine the exercise of bringing all that data together and organizing it against the user, what it does for the organization internally. That's where it's magical."
As more data enters the market and marketing technology continues to evolve, education around the effective use of consumer data will help drive the industry forward. Consumers' willingness to "opt-in" will increase as they gain a better understanding of how brands use their data to create more value in their everyday experiences. For marketers, the education will come from attribution tools that can provide a deeper understanding of how consumers respond to a combination of tactics and enable real-time optimization of the end user-experience. And with deeper understanding and open-dialogue, opportunities will arise for marketers to transform and enhance the consumer-brand relationship.