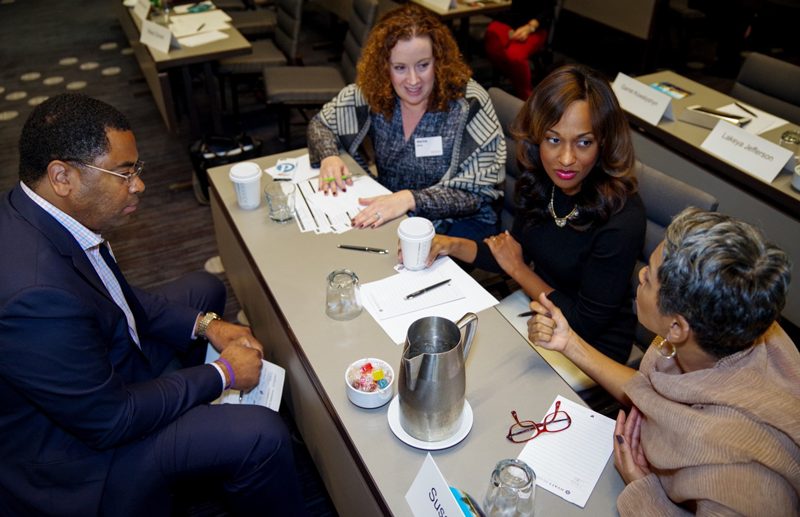 For small businesses, developing a strategic plan based on data and insights can be a challenge given limited resources and time. So imagine being a small business owner and having four teams of diverse performance management professionals competing to develop high-impact, profit-building solutions for your company.
Nielsen's Diverse Leadership Network (DLN), our leadership development program for high-performing associates with diverse backgrounds, together with Nielsen's Supplier Diversity team, had 48 hours to do just that for Paragon Language Services during a recent case study competition. Paragon is a Los Angeles-based, woman-owned firm that provides translation, localization, interpreting, multicultural marketing and cultural consulting services to its clients. The company won the opportunity to participate in this competition through an application available to diverse businesses registered in our Supplier Diversity portal.
On the day of the competition, Paragon President, Marina Mintz, briefed the broader group on the challenges facing her company. Thirty-two DLN participants split into four cross-functional teams that represented the diverse backgrounds and experiences of the DLN. Each team was given two days to complete a unique, thoughtful and creative solution-driven plan designed to help Paragon grow and innovate.
DLN teams worked well into the evening to bring compelling recommendations to Mintz. Each team presented solutions that showcased the wide breadth of expertise and creativity of Nielsen associates. While there was only one winning team, Mintz said the solutions presented by all four teams were helpful and she plans to incorporate them soon. In the end, the winning team presented actionable and cost-effective strategies for customer acquisition, lead retention and a future business model designed to help Paragon adapt to increasing pressure from low-cost online translation services.
"The presentations I heard from the Nielsen teams demonstrated the creativity and business acumen of their diverse talent," said Mintz. "Each solution offered Paragon an entirely unique perspective on how best to meet our needs, which is not necessarily what one would expect from associates at the same company."
"The competition gave Nielsen associates real insight to the challenges faced by diverse-owned businesses, and Paragon was able to implement the DLN participants' solutions almost immediately," said Matthew Hanzlik, Program Manager, Diverse Leadership Network. "Collaboration between our leadership development program and Supplier Diversity helped our DLN participants connect the dots between the diverse skills, experiences and talents they have and their ability to turn those into insights to benefit diverse businesses."
This collaboration between DLN and Supplier Diversity, now in its second year, represents a direct connection between the tremendous talent of our diverse associates and the diverse businesses that our Supplier Diversity team has worked tirelessly to mentor and help grow.
"Mentoring diverse businesses to facilitate growth enables these businesses to create jobs in diverse communities," said Lamont Robinson, Vice President, Supplier Diversity. "Through this competition, we've connected skilled Nielsen associates in the DLN to the real-life challenges faced by diverse business owners. Our hope is that, after participating in this competition, DLN students become advocates for Supplier Diversity as they graduate and become Nielsen leaders."
Mintz felt this experience should be shared with her fellow small business owners.
"This case study competition has planted a lot of seeds for Paragon, and I would encourage other diverse business owners to take advantage of the opportunity to work with Nielsen."
Learn more about about DLN and other Diversity and Inclusion initiatives.