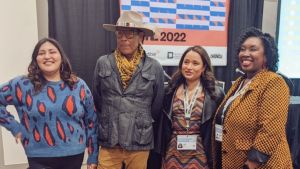 While moves have been made to increase representation and open narratives for Native Americans in media, the entertainment industry still has a ways to go. Creators of indigenous backgrounds are breaking through with stories told and inspired from their diverse perspectives with the aim to influence audiences of all backgrounds.
Nielsen's panel on the representation of Native peoples at SXSW, Forget Mascots. The Native Representation TV Needs, brought behind-the-scenes insight into how authentic Native representation occurs on screen and throughout the entertainment industry.
For better representation of Native Americans today, the first issue at hand is the lack of representative content and characters as a whole. Based on the 2020 U.S. Census, approximately 2% of the U.S. population is indigenous, yet Gracenote Inclusion Analytics data shows that the community is present in fewer than 0.5% of lead recurring roles on television. 
The erasure of Native peoples on-screen happens because of limited Native talent being cast and through the highly visible stereotypical representations among sports mascots. According to a Nielsen survey, 56% of male sports fans said the only time they see Native peoples represented on TV is when they see them as mascots in sports, and 98% of top broadcast programs are sports programs. This is an appropriation of Native peoples, and these mascots make caricatures out of their cultures. Leah Salgado, Chief Impact of Officer of IllumiNative and a citizen of the Pascua Yaqui Tribe shared data from a project called "Reclaiming Native Truth," the largest public opinion research study done about what non-Native people think about Native people, analyzing why perceptions and ideas get formed.
"We have research that says that 65% of Native people are against the use of the Tomahawk chop [by the Atlanta Braves]. Native youth are even more offended by the use of the Native mascots," Salgado said. "When people only see Native mascots, people tend to see Native people as more aggressive, as a result of viewing these stereotypes."
Part of Illuminative's mission is to find ways to shift the public narrative to more positive, contemporary, authentic stories of Native people, something Sierra Teller Ornelas, Showrunner, Executive Producer and co-creator of Rutherford Falls and a citizen of the Navajo Nation, advocates for in her work. "I feel like there are stereotypes that we are exhausted by, that non-Native people aren't even aware of," Teller Ornelas said. "So there's a weird dance where you want to dispel these myths, but then you also have to explain that the myth exists. That's why comedy is so effective."
Bird Runningwater, a veteran of The Sundance Institute, producer with Amazon Studios, and citizen of Cheyenne and Mescalero Apache Tribes, talked about the challenge of getting into the industry. "I think that the educational experience of most Americans in the country, compounded with the invisibility across American popular culture, create a big problem," Runningwater said. "You're also dealing with decision makers and gatekeepers in the industry, who were educated by that same system and also work in that same system where we're invisible."
Authentic representation, both on the screen and within the media industry, helps expel negative stereotypes of various underrepresented peoples and offers audiences new stories. Nielsen research shows that 87% of viewers are interested in seeing people outside of their identity groups.
"A secure hierarchical male driven white supremacist model is not going to create the best Indigenous content," Runningwater said. "You have to be willing to re-contemplate a different production method and to vary the production method."