With more consumer brands turning to online video and social media marketing to connect with consumers online, there has been a great industry need to prove if—and how—these tactics really impact purchase intent. A recent Nielsen analysis reveals that for one alcoholic beverage brand—Stolichnaya® Vodka—and social video distribution platform Sharethrough, this combination led to significant brand impact.
Stolichnaya's® campaign, "The Most Original Moments, Deserve The Most Original Vodka", consisted of three films that embody the spirit of Stolichnaya®. The videos were distributed online by Sharethrough so that Stolichanaya's audience of adults 21-34 could organically discover and share the content. Together, Stolichnaya and Sharethrough saw an overall 30.8% brand lift in the campaign's primary marketing objective, purchase intent, among those who were exposed to the video through both paid placements and shared views.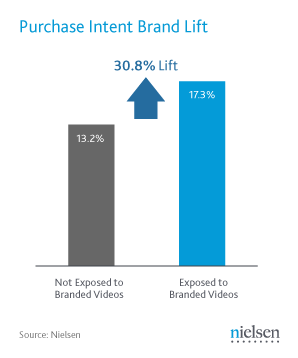 Click here to download the case study.
Methodology
Nielsen Online Brand Effect, formerly Vizu Ad Catalyst, allows advertisers to collaborate with their digital media ecosystem around optimizing brand lift metrics. Consumer sentiment is captured through a web-poll that asks each consumer sampled a question to measure how the campaign performed against its primary objective. Using an intuitive, web-based dashboard, Stolichnaya® and Sharethrough were able to get a real-time understanding of the brand building effectiveness of their online video campaign, and its performance against their primary marketing objective – purchase intent. The performance of key campaign elements driving overall brand lift – creative, frequency, and audience segments – were also highlighted, providing opportunities to improve performance in-flight and across campaigns.