By Eva Gonzalez, Executive Director, Diverse Consumer Insights, and Trini Monistere, Sr. Research Coordinator
Fútbol has long reigned as the king of sports among Hispanics, but recent research shows that many Latinos in the U.S. are warming to American football and the NFL. The 2012 NFL season attracted a record number of Hispanic viewers, and Super Bowl XLVII drew in nearly 10 million Latino viewer ages 12 and up. So how long will soccer keep its crown, or has the NFL already edged the beautiful game?
Marketers who can tap into this fast-growing group of Latino NFL enthusiasts are setting themselves up for success, but not all Hispanics are the same and savvy marketers need to know the difference.
The NFL is Gaining Ground Among English-Speaking Latinos
NFL viewing among Latinos is dominated by consumers who speak mostly English, or only English. Conversely, bilingual and Spanish speaking Hispanics overwhelmingly favor (97%) Mexico National Soccer.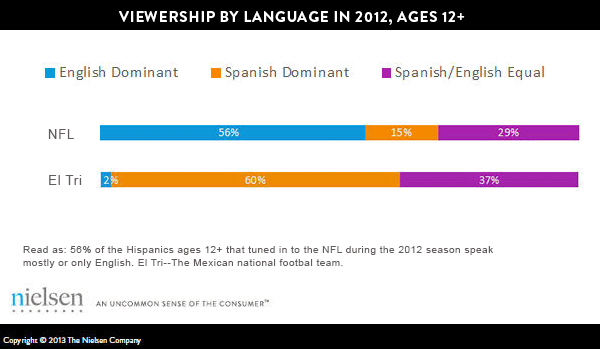 Country of Origin Drives Sporting Preference
Sporting preference depends on more than just the language Latinos speak. Successful marketers need to be keenly aware of the diverse range of Hispanic customs and habits. For example, Hispanics of Mexican and Caribbean descent are more likely to watch the NFL, while soccer games still dominate the screens of South and Central American and Mexican Hispanics.
Fútbol Remains Culturally Relevant
It may seem as if the NFL has successfully courted the lucrative Hispanic market by capitalizing on English-speaking Hispanics, but the NFL still has opportunities with Spanish-speaking and bilingual Latinos. To that effect, we expect this group's appetite for American football to grow as the consumers acculturate.Spanish-speaking and bilingual Hispanic consumers display the greatest affinity for fútbol games played at the national level. National fútbol games featuring Mexico are among the hottest sports properties and draw immense viewership among Spanish-speaking sports fans. Considering that 73 percent of Mexican Americans speak mostly Spanish or are bilingual,  these games are a sure bet to draw huge audiences, emphasizing the combined influence of language and country of origin.
It's Fourth Down and Goal. Reach and Resonate With Hispanic Consumers
Hispanic consumers are increasing their engagement with American football and providing marketers with an open field of opportunity. But traditional fútbol remains a fixture within Latino culture, which gives marketers a variety of sporting avenues to reach consumers through. With more than 52 million Hispanic consumers in the U.S., it's critical for companies to reach and resonate with Hispanics.
So has the NFL edged out fútbol? No. While the NFL has certainly made in-roads, and is actually more popular in small segments, soccer still dominates. Both football and soccer matter to American Hispanics, and those that watch them, prefer fútbol in Spanish. While Mexican Americans dominate the share of viewers, different messaging is required for a healthy number of Latinos of South and Central American origin.
For more insights, download Nielsen's From Fútbol to Football. A Matter of Passion report.