There's no shortage of people tweeting about live TV these days—it's a digital phenomenon and picking up speed. In 2013 alone, 36 million people sent 990 Million Tweets about TV, according to Nielsen SocialGuide. Until now, however, we haven't known how many people tweet about TV and brands—critical information for advertisers who want to leverage the momentum of Twitter TV activity to amplify brand messages.
To get a handle on this key intersection, Nielsen SocialGuide, which now tracks Twitter conversation about 500+ brands in addition to capturing Twitter activity about every program across 250+ U.S. TV networks, recently completed an analysis of the overlap of brand and TV tweeters between August and October of 2013. In its analysis, Nielsen SocialGuide found that 5.5 million people tweeted about both brands and TV during that period.
The biggest finding, however, was the percentage of brand tweeters that also tweet about TV. Notably, TV tweeters made up 73 percent of the total number of people who tweeted about brands during that time, and they sent an even greater portion—89 percent—of the Tweets about brands. Knowing that the majority of people who tweet about brands also tweet about TV is significant for advertisers, agencies and TV networks looking understand how brands can reach people who will socialize their messages.
The initial analysis also found that TV tweeters talk about brands across categories. Of the 5.5 million Unique Authors who tweeted about both brands and TV from August through October 2013, Nielsen SocialGuide found that 74 percent tweeted about consumer electronics brands, 48 percent tweeted about restaurant brands, 29 percent tweeted about food brands, 27 percent tweeted about beverage brands, and 24 percent tweeted about car brands.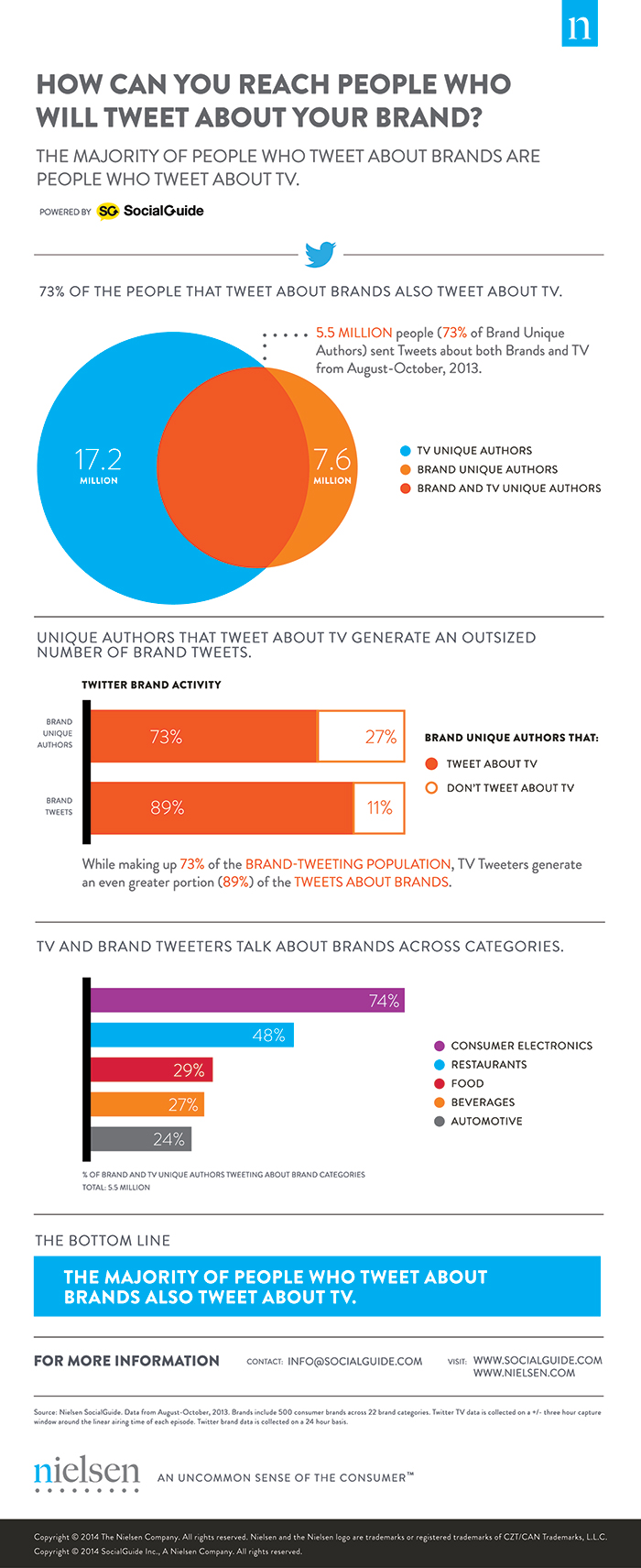 With Affinity, a new application within SocialGuide Intelligence, it's now possible to find the TV audiences that are most likely to tweet/retweet about a brand or brand category. For additional information, visit Nielsen SocialGuide.